Saturday, September 8, 2018 - 1:00pm

to

Sunday, September 9, 2018 - 5:00pm
The SFMTA and our non-profit partner Market Street Railway present the annual Muni Heritage Weekend at the San Francisco Railway Museum on September 8 - 9, 2018, from 1 p.m. to 5 p.m.  
Muni Heritage Weekend is a unique opportunity to ride vintage vehicles and enjoy family-friendly activities. The festivities are located at the San Francisco Railway Museum at 77 Steuart Street, San Francisco, at the edge of Justin Herman Plaza next to the Ferry Building.
Special events, including activities and games for kids, a sidewalk sale of vintage ephemera, exhibits and presentations will start at noon and run until 5 p.m. On Saturday at noon, enjoy a bell ringing demonstration by ten-time Bell Ringing Champion Carl Payne, in the plaza directly across from the Railway Museum.Both days, vintage vehicle rides will start at 1 p.m., with the last rides going out at 5 p.m. All free rides depart from the San Francisco Railway Museum.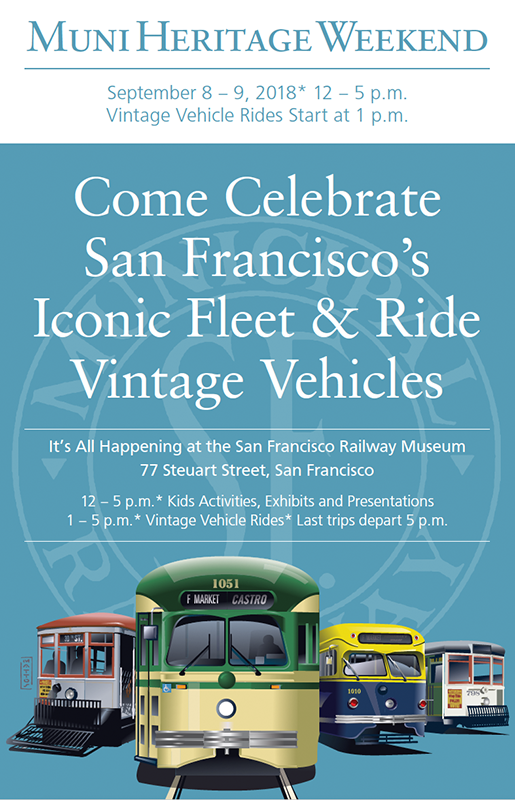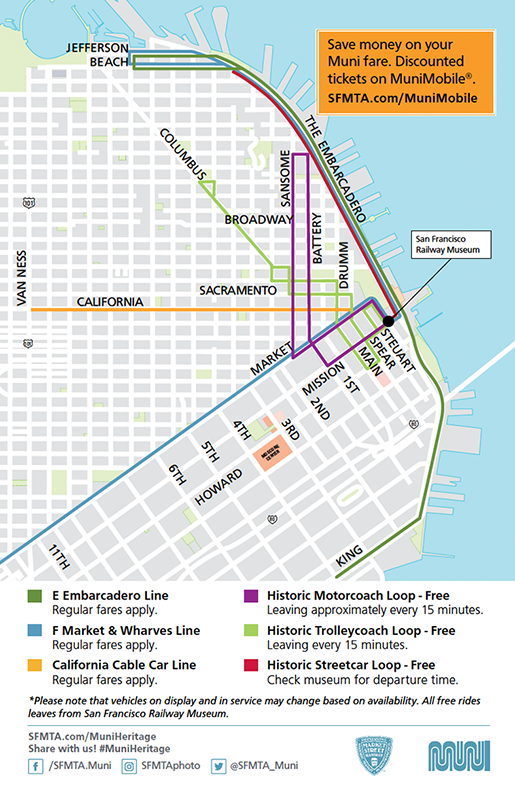 Vintage vehicles operating this year will include:
Free vintage streetcar rides will include Streetcar 1, dating back to Muni's opening day in 1912, as well as Streetcar 578, built in 1896 in San Francisco and the oldest operating streetcar in the United States. Also running on the free streetcar exposition line to Fisherman's Wharf will be a "boat tram"-- a nautical-looking streetcar built in 1934 in Blackpool, England.
Other free vintage vehicle rides departing from the museum include Muni Trolley Coach 776 dating from 1950, and 1975 Muni Trolley Coach 5300 in the classic "Sunset" orange colors created by San Francisco designer Walter Landor. The recently renovated 1956 Mack Motor Coach 2230, 1938 Motor Coach 042 and 1969 Motor Coach 3287 will also be offering free rides.
Many other unusual vehicles will be running in regular Muni service, including newly restored Cable Car 23 and Cable Car 56, and also Streetcar 496 from Melbourne, Australia, running on the E Embarcadero line. Regular fares apply to vehicles on the E and F lines, as well as cable car lines.
Save on fares with discounted tickets on the MuniMobile app. More details can be found at streetcar.org/muni-heritage-weekend.