Saturday, September 7, 2019 - 11:00am

to

Sunday, September 8, 2019 - 5:00pm
Muni Heritage Weekend - September 7 - 8, 2019
11am - 5pm Saturday and Sunday
The SFMTA and our non-profit partner Market Street Railway present the annual Muni Heritage Weekend at the San Francisco Railway Museum, September 7 - 8, 2019.
Muni Heritage Weekend is a unique opportunity to ride rare vintage vehicles and enjoy family-friendly activities and exhibits. The festivities are located at the San Francisco Railway Museum at 77 Steuart Street, San Francisco. This year affords the extra special opportunity to ride Sacramento-Clay Cable Car 19, which will run in service for the first time in 77 years!
Activites will include:
Rides on unique streetcars, buses and cable cars

Market Street Railway "dinky" Streetcar 578 built in 1896 - Both Saturday & Sunday
Open-topped "boat tram" streetcar - Both Saturday & Sunday
Muni's very first streetcar Streetcar 1 built in 1912 - Saturday only
Melbourne tram 916 - Sunday only
Cable Car 19, Muni's largest and oldest cable car will run for the first time in 77 years on the California Street Cable Car Line.
Plus retro buses, vintage electric trolley coaches and rare cable cars

Games and hands on activities for kids, plus a chance to climb on board and ring the bell on motorized Cable Car 62 an authentic cable car dating back to the 1900s that has been featured in movies filmed in San Francisco such as

I Remember Mama

(1948) and

The Hulk

(2003)
"Ride Them All" scavenger hunt challenge to see if you can hop on every vehicle
Exhibits and presentations on the history of SF transit and the Municipal Railway heritage fleet
Free admission to the SF Railway Museum
This year, Muni Heritage Weekend will also kick off the start of Transit Week, a week-long celebration of Muni riders by the San Francisco Transit Riders (SFTR).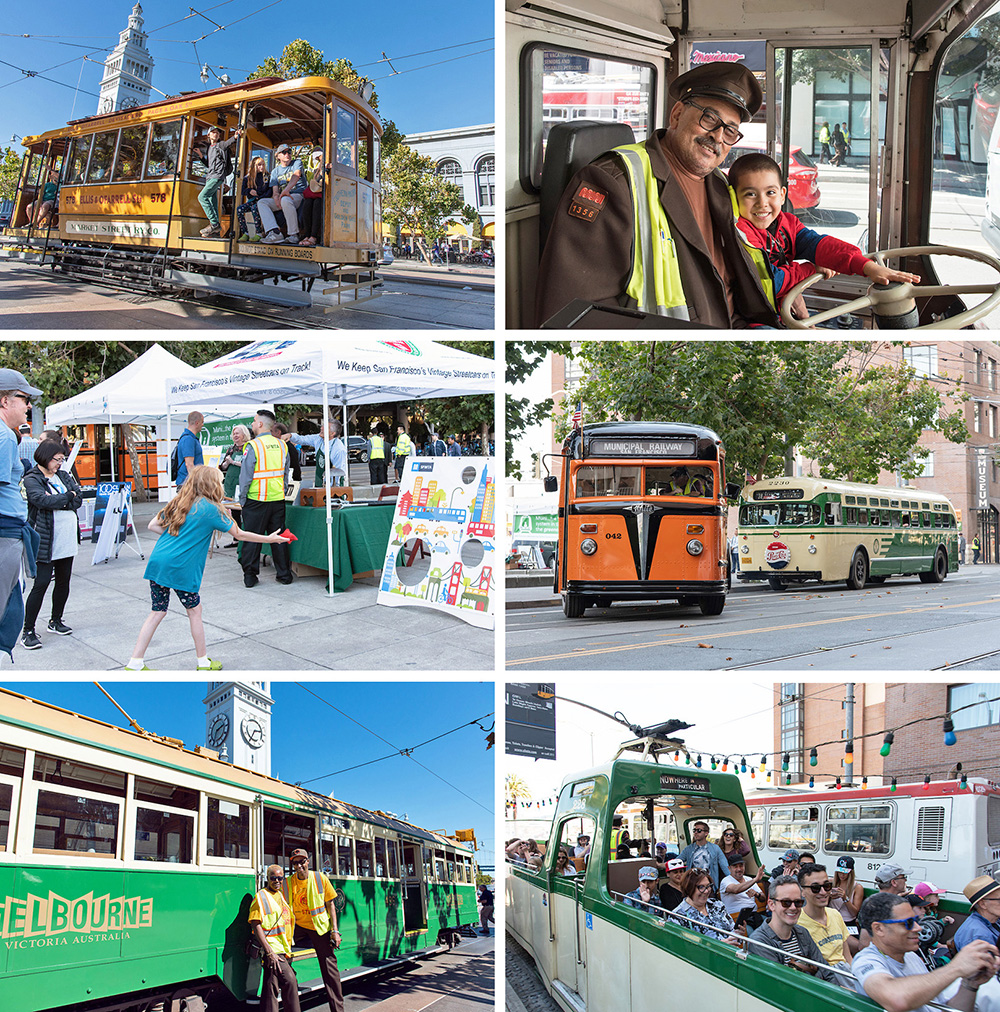 Both Saturday and Sunday of this event the last vehicle trips of the day will depart between 4 and 5 pm.
Standard fares apply to vehicles operating in regular service on the F Market and Wharves streetcar line and the E Embarcadero streetcar line, as well as all cable cars.
Vintage vehicles are subject to change based on availability.