Effective Date
Wednesday, August 5, 2020 - 9:00am
TO: Color Schemes and Medallion Holders
As the Taxi Industry was notified on June 23rd (memo attached) the medallion renewal process has been modified this year. Instead of exchanging the medallion plates, SFMTA will issue a permit renewal sticker to be affixed to the current medallion plate. We are writing today to let you know MTA will mail the permit stickers to Color Scheme, for distribution to medallion holders. The permit stickers should be affixed in the upper right corner of the medallion by August 15, 2020.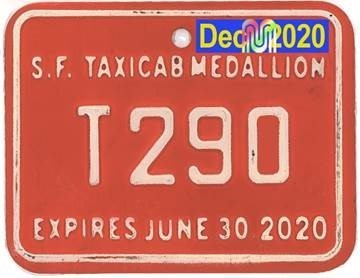 There are no medallion renewal fees because the SFMTA Board has waived all taxi fees for the next two fiscal years effective July 1, 2020-June 30, 2022.
The permit stickers are being sent only for medallions that have completed the annual sworn statement and are in compliance with the taxi regulations. Stickers may only be affixed to the medallion that it has been issued to – stickers may not be affixed to medallions that are not in compliance with taxi regulations. Each color scheme will receive a list of compliant medallions and the corresponding number of permit stickers. Reminder that for the duration of the Shelter in Place Order, which may be updated periodically, the Full-Time driving requirement for Post-K medallion holders will be suspended.
If a permit sticker is affixed to a medallion that is not in good standing with the MTA, that will be considered an infraction of the San Francisco Transportation Code, Sec.1105(a)(1). The penalty for operating without a permit is $2,500 for first offense and $5,000 for subsequent offenses.
SEC. 1105.  GENERAL PERMIT CONDITIONS.
   (a)   Conditions Applicable to All Permits.
      (1)   Permits Required. No person, joint tenants, or Business Entity shall drive, or operate or cause to be operated any Motor Vehicle For Hire within the City, nor shall any person, business, firm, partnership, association or corporation operate any Dispatch Service or Color Scheme, without a permit issued by the SFMTA authorizing such driving or operation in accordance with this Article 1100. 
SEC. 310.  SCHEDULE OF FINES.
CONDITIONS APPLICABLE TO ALL PERMITS

TRANSPORTATION CODE SECTION

DESCRIPTION

FINE AMOUNT
Effective July 1, 2018

FINE AMOUNT
Effective July 1, 2019

Div II § 1105(a)(1)

Operating without a permit – first offense

$2,500

$2,500

Div II § 1105(a)(1)

Operating without a permit – subsequent offense

$5,000

$5,000
If you have any questions, please email Sarah Hellman at sarah.hellman2@sfmta.com.