6th Street Pedestrian Safety Project - July 2019
Thanks for your interest in the 6th Street Pedestrian Safety Project.
This message provides an update on the progress we have made over the past month.
Status
The 6th Street & Safer Taylor Street project teams are partnering up to host an Urban Design Open House at the Bayanihan Recreation Center from 4:30 to 6:30 pm on Thursday, July 25th. The Bayanihan Recreation Center is located at 88 6th Street, but the entrance is located along Mission. For both projects, SFMTA and SF Public Works have been working with members of the community and businesses to design streetscape elements that reflect the identity of both corridors. At this open house, project teams will be presenting various design elements, including decorative crosswalks and street furnishing. We look forward to hearing from you and seeing you there!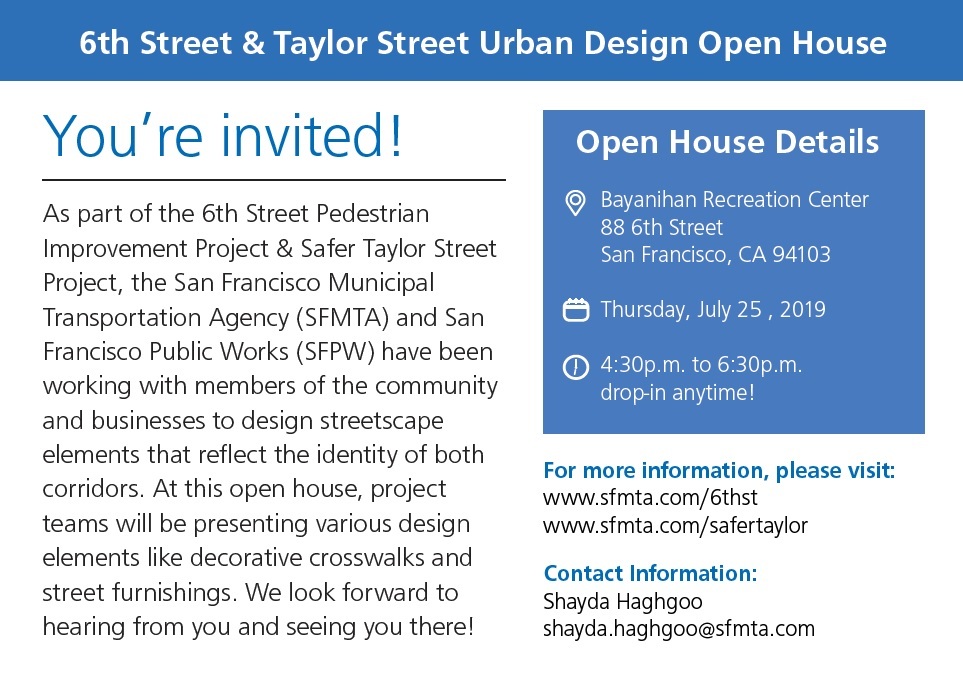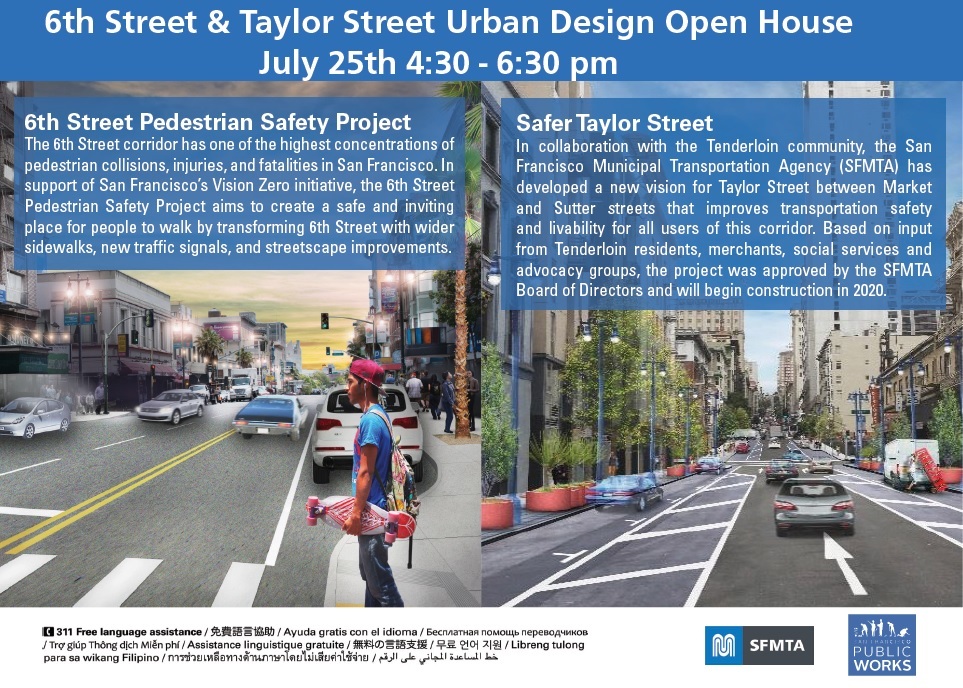 Detailed Design
As we noted in our June update, the 6th Street Pedestrian Safety Project's design includes new signals intersections, wider sidewalks, and reconfigured parking and loading zones. While many of these improvements will require heavy construction, which will begin in April 2020, we will be implementing quick-build improvements in mid-August to immediately improve the safety and livability of the corridor.
Business Impact
Because changes to streets and sidewalks can have an impact on businesses along the corridor, we and staff at the Office of Economic and Work Force Development are in ongoing dialogue with merchants on 6th Street to find out ways to support them during construction
Stay Updated
We provide regular project updates via e-mail and on our website, which includes past e-mail updates, to ensure interested members of the public can easily get up-to-speed on the project status. Please don't hesitate to reach out to the SFMTA with any questions, concerns, or recommendations on how the project team can move forward in a way that best supports the interests of the local community and the city of San Francisco generally. 
Thanks for reading and looking forward to getting in touch with you again in August.