6th Street Pedestrian Safety Project - June 2019
Thanks for your interest in the 6th Street Pedestrian Safety Project. This message provides an update on the progress we have made over the past month.
Status
Our engineers continue to proceed with the detailed design work that is necessary in order to undertake construction, which is still planned for the spring of 2020. This additional work to finalize the design is needed any time we build changes to streets and sidewalks. In the case of the 6th Street Pedestrian Safety Project it includes such items as changes to new signals intersections, wider sidewalks, and reconfiguring loading zones, and updated parking zones.
Quick-Build
You may have noticed that some "quick-build" safety improvements have begun on Taylor Street, which connects to 6th Street, northbound, at Market Street. In the coming months, we will install a similar quick-build project on 6th Street in advance of the larger construction project scheduled to begin in 2020. The quick-build project will bring immediate safety improvements to 6th Street, even as we continue the design process to implement the community's larger-sacle vision for the corridor.
The 6th Street quick-build includes the following key elements, and is consistent with the overall vision for 6th Street approved by the SFMTA Board in 2018:
eliminate one southbound travel lane on 6

th

Street from Market Street to Howard Street to reduce speeding and improve safety;

add pedestrian safety zones and remove the parking spaces closest to each intersection from Mission to Howard, to provide motorists and sidewalk users with a clearer view across streets and alleys on the corridor; and

restrict left turns from 6th Street onto Mission to reduce conflicts between vehicles and people on sidewalks and crosswalks.
These changes can also be seen in the graphic below.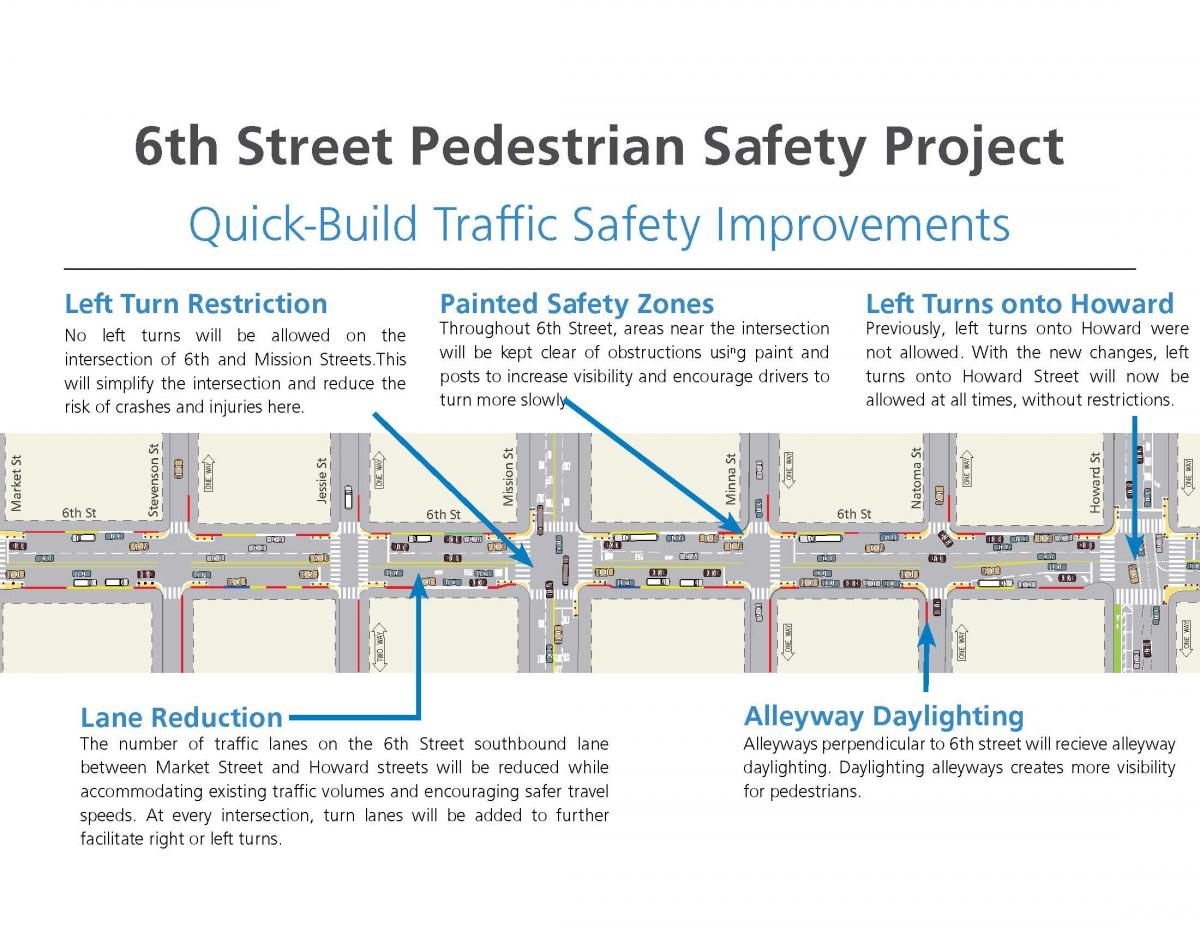 Community Impact
The key reason to improve streetscape design is to develop safer streets and sidewalks for all users. But communities are the directly affected by how these changes are actually put into place. The SFMTA and our partner Public Works are working with the businesses, organizations, and residents to find opportunities for the community to direct our efforts in a way that supports community identity. For example, we have been meeting with community group representatives to help us identify decorative design features for crosswalks between Market and Howard. After reviewing the input received, San Francisco Public Works and the SFMTA will be holding an open house at the end of July to reveal the crosswalk designs and other streetscape amenities that were chosen.
Business Impact
Because any changes to streets and sidewalks can have an impact on businesses that line the corridor, we are in ongoing dialogue with merchants on 6th Street both to let them know how they might be affected and to ask what services might help them maintain their routines during the time that construction is underway. Working with the Office of Economic Workforce Development, we have already begun compiling responses to a pre-construction survey that will help all of our city's agencies in supporting businesses during the course of this improvement project.
Stay Updated:
We provide regular project updates via e-mail and on our website, which includes past e-mail updates, to ensure interested members of the public can easily get up-to-speed about project status. Please don't hesitate to reach out to SFMTA with any questions, concerns, or recommendations on how the project team can move forward in a way that best supports the interests of the local community in particular, or the city of San Francisco generally.
Thanks for reading and looking forward to getting in touch with you again in July.