Active Communities Plan - June 15 Events Update
Greetings from the Active Communities Plan team!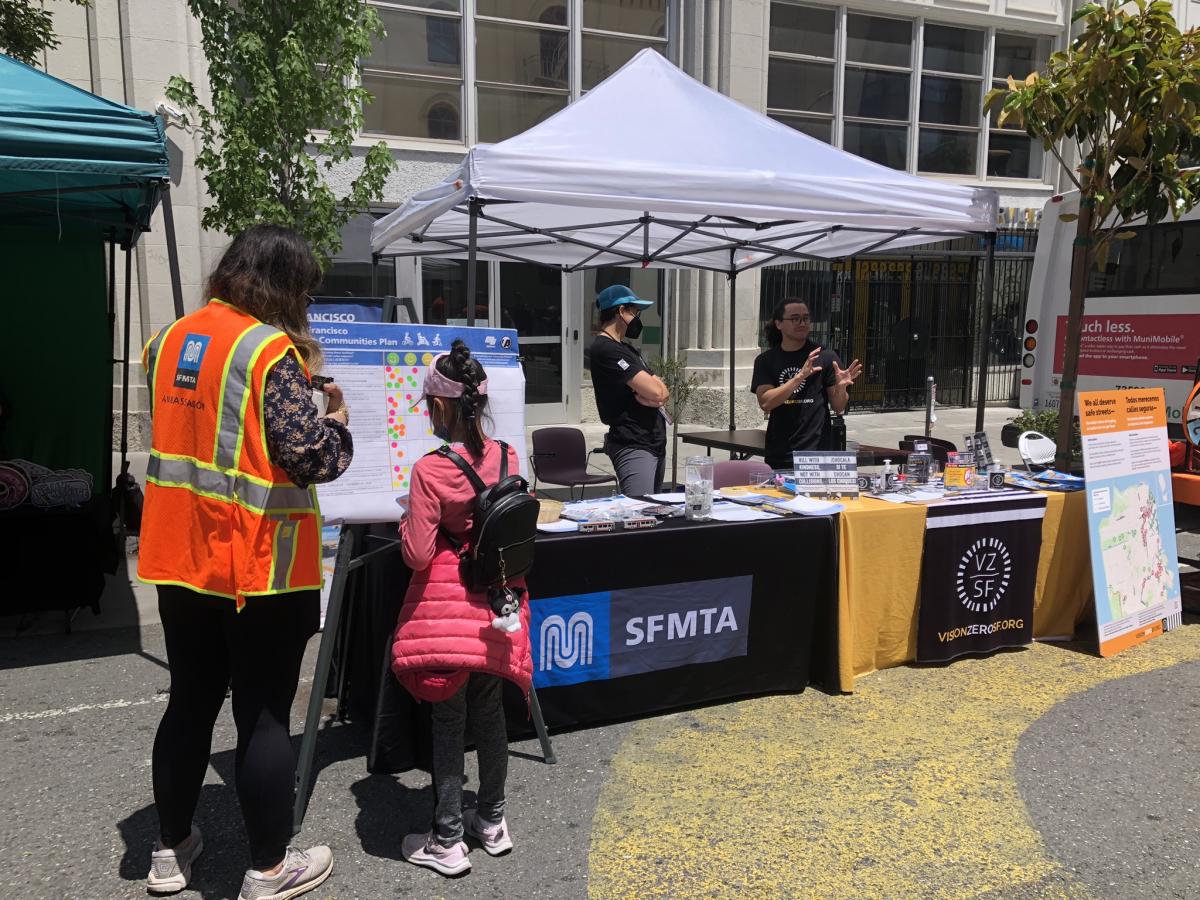 Caption: The Active Communities Plan team at Tenderloin Sunday Streets
Thanks to everyone who has taken the survey or joined us at one of our events earlier this month! The Active Communities Plan Survey is still open through July 31st – we want to hear from YOU about what you need to bike, scoot, or roll around the city. Your input will inform active transportation programs and policies in the City and help us prioritize investments. We also have plenty of events coming up this summer, we hope you can join us!
June 17: SFMTA Audit Ride: Dogpatch to Visitacion Valley - 

Piccino Coffee Bar

, 11AM
June 17: 

Fillmore Juneteenth Festival

, 1330 Fillmore St, 11AM-6PM

June 18, Bayview Juneteenth Festival, Gilman Park, 12AM-3PM

June 21: Excelsior Collaborative presentation, Zoom meeting, 10-11AM

June 23/24: District 7 Community Ride,

Java on Ocean

, 9AM
June 25: SFMTA Audit Ride: North Beach & Chinatown – 

Caffe Trieste

, 1:30 PM
July 1: SFMTA Audit Ride: Mission & Noe Valley – 

Stable Café

, 1:30 PM

July 9: 

SFMTA Audit Ride: Richmond District – 

Velo Rouge Cafe

, 1:30 PM
July 12: ShapeUp Coalition, Zoom meeting (registration link), 9-10AM
July 15: SFMTA Audit Ride: Outer Sunset, MLK Jr Dr & Chain of Lakes Dr,, 1:30 PM

July 22: Outer Sunset/Excelsior community workshop, Hummingbird Farm

July 30: Valencia Sunday Streets, 12-5PM
If you're not able to make these events, don't worry – there will be even more coming up. As always, if you want us to attend your community meeting or event, contact ActiveCommunities@sfmta.com and let us know!
Roll with Joy,
The ACP project team