Construction on Van Ness at a glance
Service Affected
Accessibility
Motorcycle
Parking
Taxi
Driving
Transit
Walking
Construction on the Van Ness Improvement Project began October 24, 2016, and the strategic construction schedule brings many changes to the two-mile stretch of Van Ness Avenue between Lombard and Mission streets expected through 2021. Watch an animation of  the construction plan outlined below.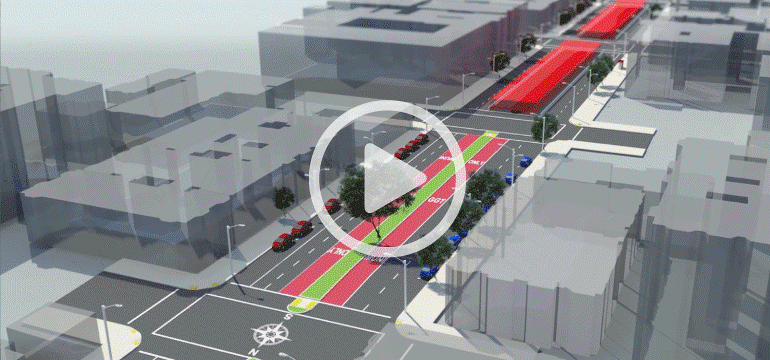 When the project first broke ground, a few things happened right away:
Travel lanes were reduced to two lanes in each direction
Most left turns from Van Ness were removed (except southbound at Broadway and northbound at Lombard—and for a short time northbound at Hayes)
Most of the median, the raised center island on Van Ness, was temporarily removed and paved
These immediate changes were necessary to provide room for construction and to preserve as much on-street parking as possible. They also closely reflect the final conditions of the project, meaning people may adjust their routes of travel early and know that minimal change will take place going forward.
Traffic is moved to the median to make space for the utility phase of construction. The utility phase comprises the much-needed curbside utility work on the corridor like replacing the 100-year-old water and sewer systems.
During this phase of work, Van Ness is divided into two segments—north and south—at Sutter Street. One crew works on the eastern side of Van Ness at Lombard, while another works on the western side of Van Ness at Sutter. Both crews work their ways south until they reach the end of each segment (Sutter and Mission streets). At that point, crews repeat the sequence on the opposite side of Van Ness.
By working in this pattern, neighbors will be less impacted and on-street parking can be preserved as much as possible on one side of Van Ness.
When the utility work is complete, traffic is moved to the outside lanes while construction crews begin phase two of construction: building San Francisco's first Bus Rapid Transit system—also called BRT. This work includes building new boarding platforms and paving physically-separated, center-running transit-only lanes.
During construction of the BRT phase, parking will be lost where boarding platforms are built in order to maintain two lanes of travel in each direction.
The final six months of the construction focuses on safety improvements, beautification, testing and Operator training. This includes building sidewalk extensions at intersections (also known as bulb-outs) to increase visibility and decrease crossing distances for people walking, as well as planting 210 new trees in the median.
At the end of the 36-month construction schedule, Van Ness Avenue will be transformed into a safer, greener, more efficient street for everyone.