Fillmore Jazz Festival: July 1-2, 2023
Service Affected
Accessibility
Driving
Transit
Weekend Traffic and Transit Advisory
Event Summary
The annual Fillmore Jazz Festival will take place on Saturday and Sunday. Blending art and soul in one of the country's most unique neighborhoods, the Fillmore Jazz Festival is the largest free Jazz festival on the West Coast. The two-day festival takes place from 10 a.m. to 6 p.m. on both days on Fillmore Street between Jackson and Post streets.
On This Page
Street Closures
The following streets will be closed from 4 a.m. on Saturday to 11:59 p.m. on Sunday.
Fillmore between Jackson and Post
Washington between Webster and Steiner
Clay between Steiner and Webster
Intersections:

Fillmore & Wilmot
Fillmore & Washington
Muni Reroutes
The following Muni routes will be rerouted around the event area all day Saturday until approx. 9:30 p.m. Sunday.
Note: Be sure to receive real-time Muni service alerts via email or text by signing up through our Email and Text Subscriptions page.
Route & Direction
Duration
Summary of Changes
Missed Stops
Alternate Stops

22 Fillmore

Saturday, 4 a.m. to Sunday, 9:30 p.m.

Inbound to The Marina:
From Fillmore & Geary via Geary, Steiner, Jackson, Fillmore to regular route

Outbound to Mission Bay/UCSF:
From Fillmore & Jackson via Jackson, Steiner, Post, Fillmore to regular route

 

Inbound:

Outbound:

 

Inbound:

Outbound:

24 Divisadero

Saturday, 4 a.m. to Sunday, 9:30 p.m.

Inbound to Pacific Heights:
From Jackson & Fillmore via Fillmore, Pacific, Webster, Jackson

Outbound to Bayview:
Regular route from terminal

 

Inbound:

Inbound:
Note: The 1 California, 2 Sutter, 38 Geary, 38R Geary Rapid, and 45 Union/Stockton routes may experience heavier ridership and minor delays near the event area.
Event Service Map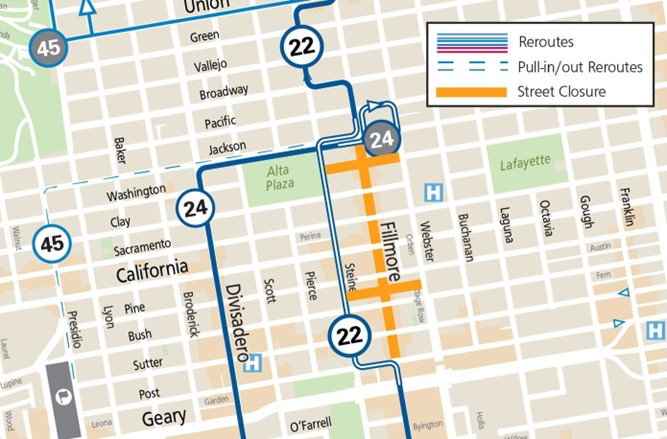 Contact
Call 311 within San Francisco; TTY 415.701.2323