Fillmore Jazz Festival: July 6-7, 2019
Service Affected
Accessibility
Driving
Transit
Weekend Traffic and Transit Advisory
The annual Fillmore Jazz Festival will take place on Saturday and Sunday. The festival goes from 10 a.m. to 6 p.m. on both days. Streets closures to prepare for the event start at midnight Saturday morning and Muni will reroute starting late Friday night.
On This Page
Street Closures
The following streets will be closed from 12:01 a.m. on Saturday to 11:59 p.m. on Sunday.
Fillmore, between Jackson and Eddy
Washington, between Webster and Steiner
Clay, between Steiner and Webster
O'Farrell, between Steiner and Fillmore
Intersections:

Fillmore & Ellis
Fillmore & Wilmot
Fillmore & O'Farrell
Fillmore & Washington
Fillmore & Clay
Muni Reroutes
These Muni routes will be rerouted off Fillmore and Jackson streets in the festival area.
Temporary Service Changes by Route and Direction

Route

Start Time
End Time

Summary of Change

3 Jackson

Start: Saturday, All Day
End: Sunday, about 9:30 p.m.

Reroute will be on Steiner between Jackson and Sutter.

22 Fillmore

Start: Friday, 11:45 p.m.
End: Sunday, about 9:30 p.m.

Reroute will be on Eddy, Webster, Geary, Steiner and Jackson.
Along the reroute, board at:

To The Marina

Eddy & Fillmore, southeast corner
Steiner & Sutter, southeast corner

To Potrero Hill

Steiner & Sutter, northwest corner
Fillmore & Eddy, southwest corner

24 Divisadero

Start: Friday, 11:45 p.m.
End: Sunday, about 9:30 p.m.

Temporary layover will be at Jackson & Fillmore.
The stops at Fillmore & Jackson and Washington & Webster will be missed.
Note
The 1 California, 2 Clement, 31 Balboa , 38 Geary and 38R Geary Rapid routes may experience delays when crossing Fillmore.
Event Map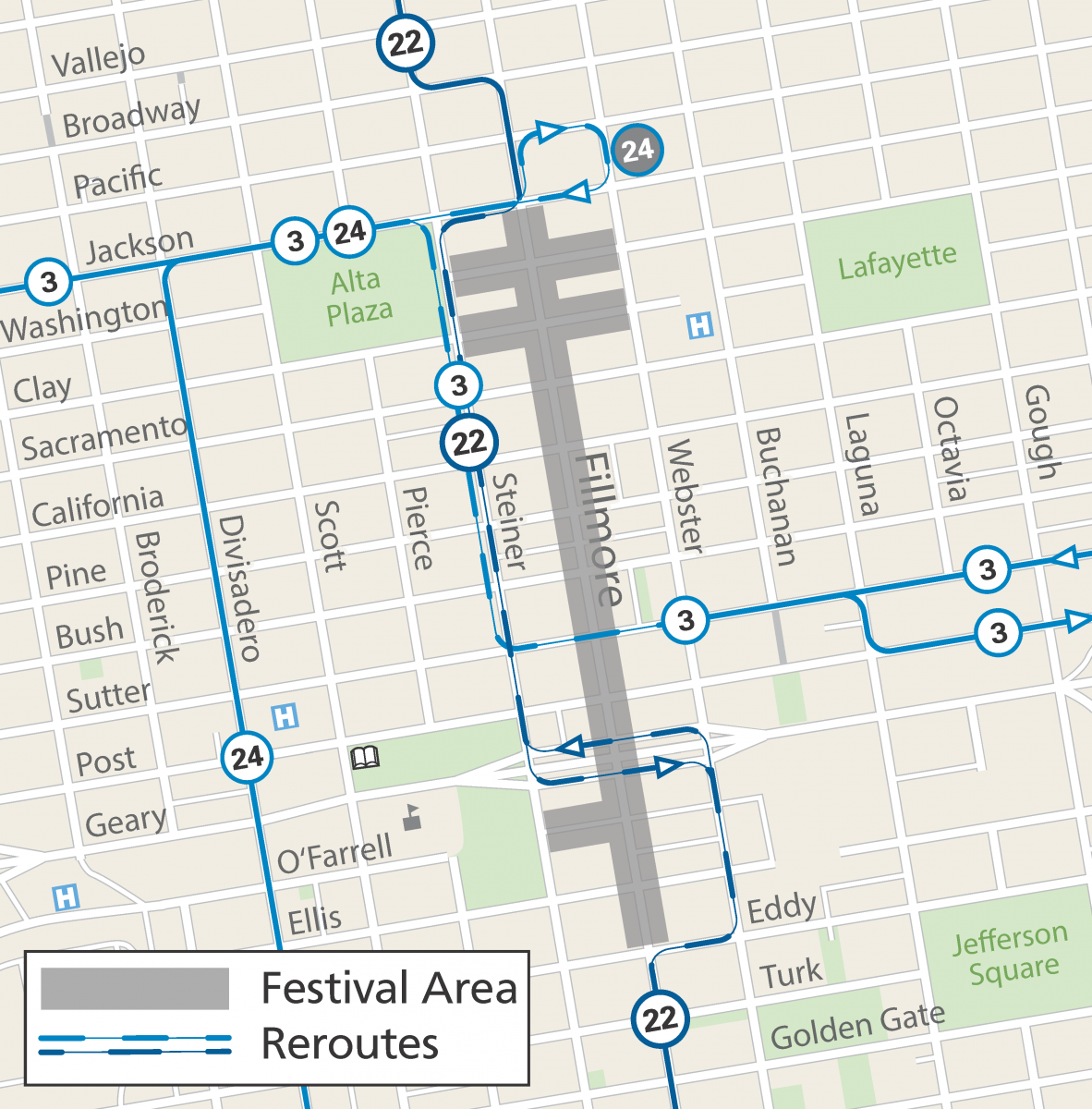 Contact
Call 311 within San Francisco; TTY 415.701.2323