Juneteenth Freedom Celebration in the Fillmore: Saturday, June 17, 2023
Service Affected
Accessibility
Driving
Transit
Weekend Traffic and Transit Advisory
Event Summary
The Annual San Francisco Juneteenth Parade and Celebration will take place on Saturday in the Fillmore. The celebration will be from 11 a.m. to 6 p.m.; the parade will be will be from 11 a.m. to 1 p.m. Streets will be closed from 4 a.m. to 10 p.m. and the 22 Fillmore will reroute around the festival area.
Street Closures
The following street closures will be in effect from 4 a.m. to 11:30 p.m. on Saturday:
Fillmore between Geary and Fulton.
Fulton between Fillmore and Laguna
Golden Gate Ave. between Steiner and Webster.
Additionally, the following intersections will be closed from 4 a.m. to 11:30 p.m.:
Fillmore & Golden Gate
Fillmore & O:Farrell
Muni Reroute
The 22 Fillmore will reroute onto Webster between Fulton and Sutter. The reroute will be from 3:30 a.m. to 10 p.m. The table below summarizes which stops will be missed.
Note: Be sure to receive real-time Muni service alerts via email or text by signing up through our Email and Text Subscriptions page.
Temporary Service Changes for the Juneteenth Freedom Celebration

Route and
Direction
Missed Stops
Alternate Stops

22 Fillmore
to The Marina

On Webster St.:

Grove
McAllister
Eddy
Geary

22 Fillmore
to Potrero Hill

On Webster St.:

​Geary
Eddy
McAllister
Grove
Transfers
These are the transfer points from the 22 Fillmore to other routes:
Note
The 5 Fulton, 31 Balboa, 38 Geary and 38R Geary Rapid may experience delays and crowding during the festival hours.
Event Map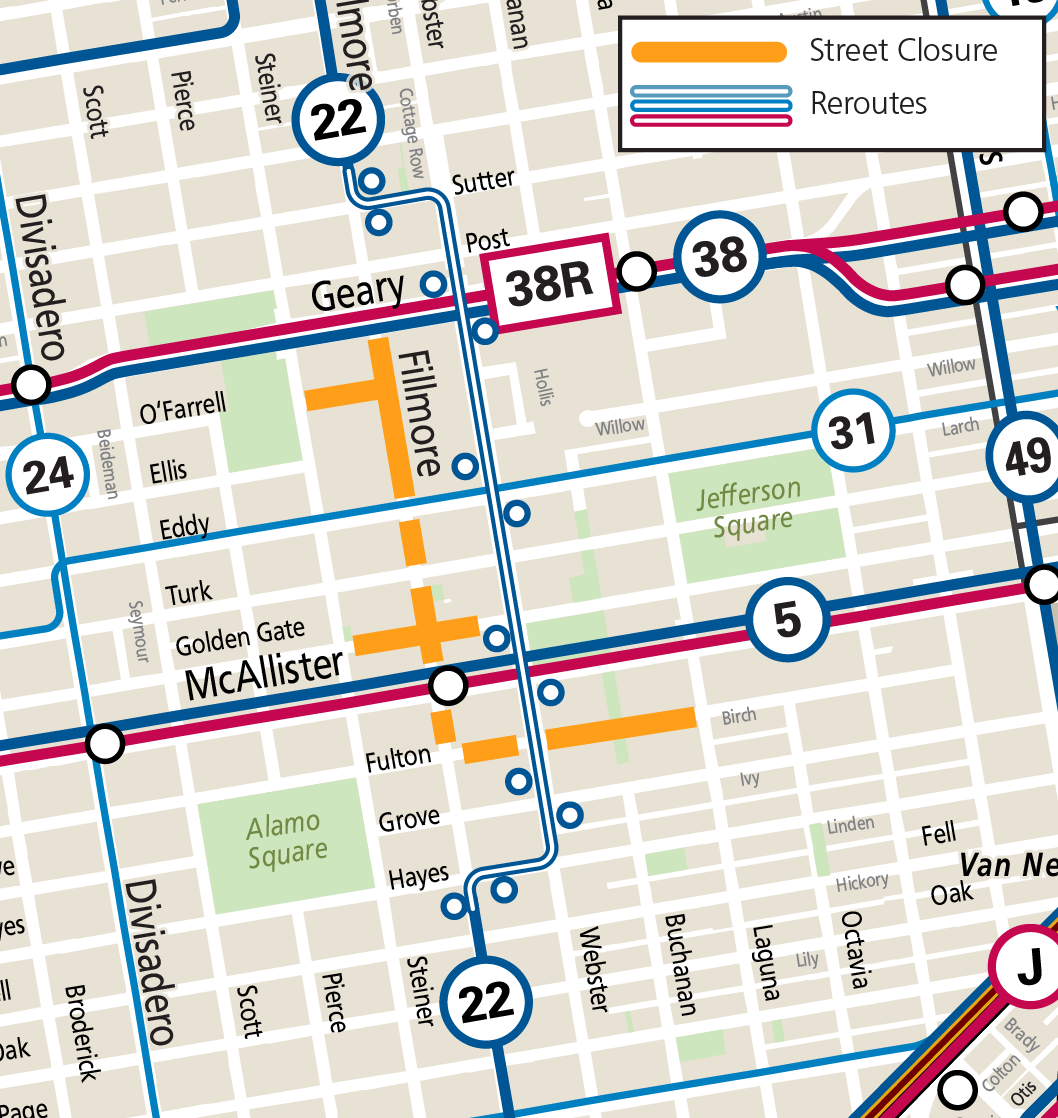 Contact
Call 311 within San Francisco; TTY 415.701.2323