M Ocean View Bus Substitutions for Safety and Transit Improvements
Service Affected
Driving
Transit
Weekend Traffic and Transit Advisory
Starting in late October, the M Ocean View will be substituted by bus service on four weekends in order to complete pedestrian safety and transit improvements on 19th Avenue. SFMTA is improving vital transit infrastructure and making the street safer for people who walk and use Muni on 19thAvenue. Improvements being made include replacing aging tracks between Winston Drive and Eucalyptus Drive, building a new pedestrian island crossing on 19th Avenue at Junipero Serra Boulevard, installing vehicle safety measures at the track entrance, and upgrading traffic signals. 
---
Locations
Two areas on 19th Avenue will be under construction:
Intersection of 19th Avenue and Junipero Serra Boulevard
19th Avenue between Winston Drive and Eucalyptus Drive
M Ocean View Bus Service
On four weekends starting in late October, M train service will be substituted by buses. Starting at 9 p.m. Friday nights until the start of regular train service Monday mornings, buses will run between West Portal and Balboa Park stations. Trains will resume regular service on Monday mornings. Muni customers may check Nextbus for bus arrivals times and should plan for more travel time. 
Weekend bus substitutes will run on the following weekends:
October 27-30
November 3-6
November 10-13
November 17-20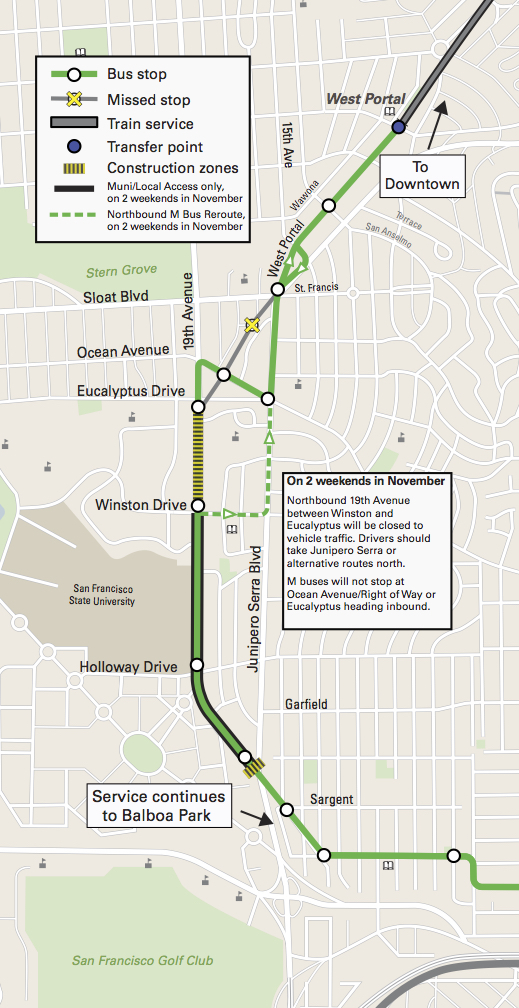 Driving on 19th Avenue
Preparatory construction at the 19th/Junipero Serra intersection is expected to begin on October 9. There may be a partial lane closure on 19th Avenue or Junipero Serra at times to allow crews to work next to the sidewalks. The remainder of construction, between Winston and Eucalyptus, will begin later in October and is expected to be completed before Thanksgiving, weather permitting.
On two weekends in November, northbound 19th Avenue between Winston and Eucalyptus will be closed to all vehicle traffic. Drivers are advised to take alternative route heading north. Muni buses will detour around this section of 19th heading north. Southbound 19th Avenue will remain open. The closure on 19th may cause increased traffic on side streets and other thoroughfares.
Sign up for project updates and learn more about improvements being made on the M Ocean View Improvements Project website.
Contact Public Information Officer Kelley McCoy (kelley.mccoy@sfmta.com or 415-646-2551) with questions about the project.