Near-Term Safety Improvements Coming to Southbound Embarcadero from Broadway to Mission Street
Service Affected
Bicycle
Parking
Driving
Walking
The Embarcadero is a thriving business corridor, a key transportation artery, a key destination in the city's tourism industry, a popular recreational route, and a worldwide attraction.
The Embarcadero also has a traffic safety problem. Conflicts between different user groups occur daily, resulting in a disproportionate number of injury-causing collisions – and in certain cases, loss of life. Between 2011 and 2016, 241 people were seriously injured on The Embarcadero, including two fatalities. More recently, a vehicle hit-and-run led to the death of a pedicab driver and injuries to passengers riding in the southbound bike lane.
The time has come to make a change. As part of citywide efforts to eliminate such tragedies and prioritize safety no matter how one gets around (an initiative called 'Vision Zero'), the SFMTA and Port of San Francisco have committed to installing near-term safety improvements along The Embarcadero as quickly as possible. These changes will begin in mid-October 2018 in the southbound direction between Broadway and Mission Street and will continue later into the year with additional crosswalk upgrades between Bay Street and Green Street.
All-Day Parking and Bike Lane to Replace Peak-Period Travel Lane / Parking Restrictions
Current Conditions from Broadway to Mission Street
Current conditions along southbound Embarcadero include a "tow-away no stopping" curb lane restriction during the morning and afternoon peak commute periods (7-9am, 3-7pm).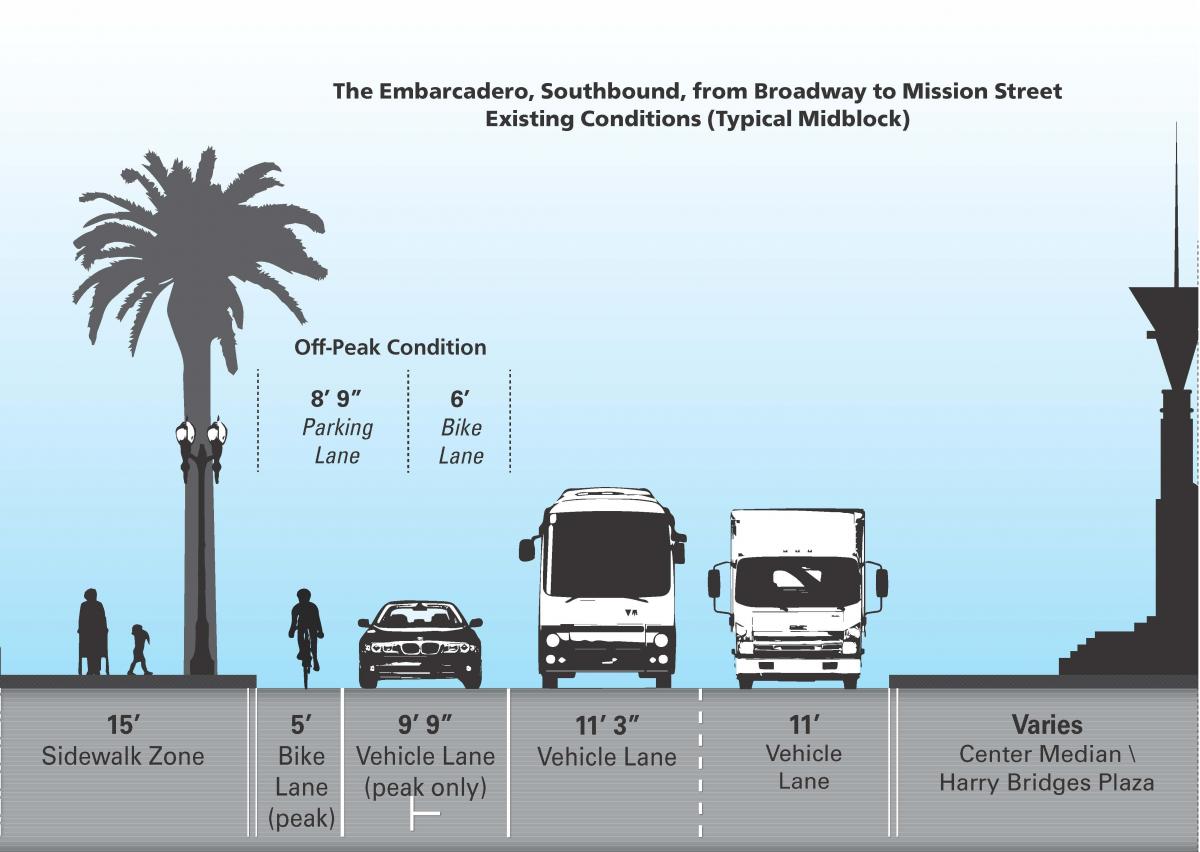 Typical Existing Midblock Cross Section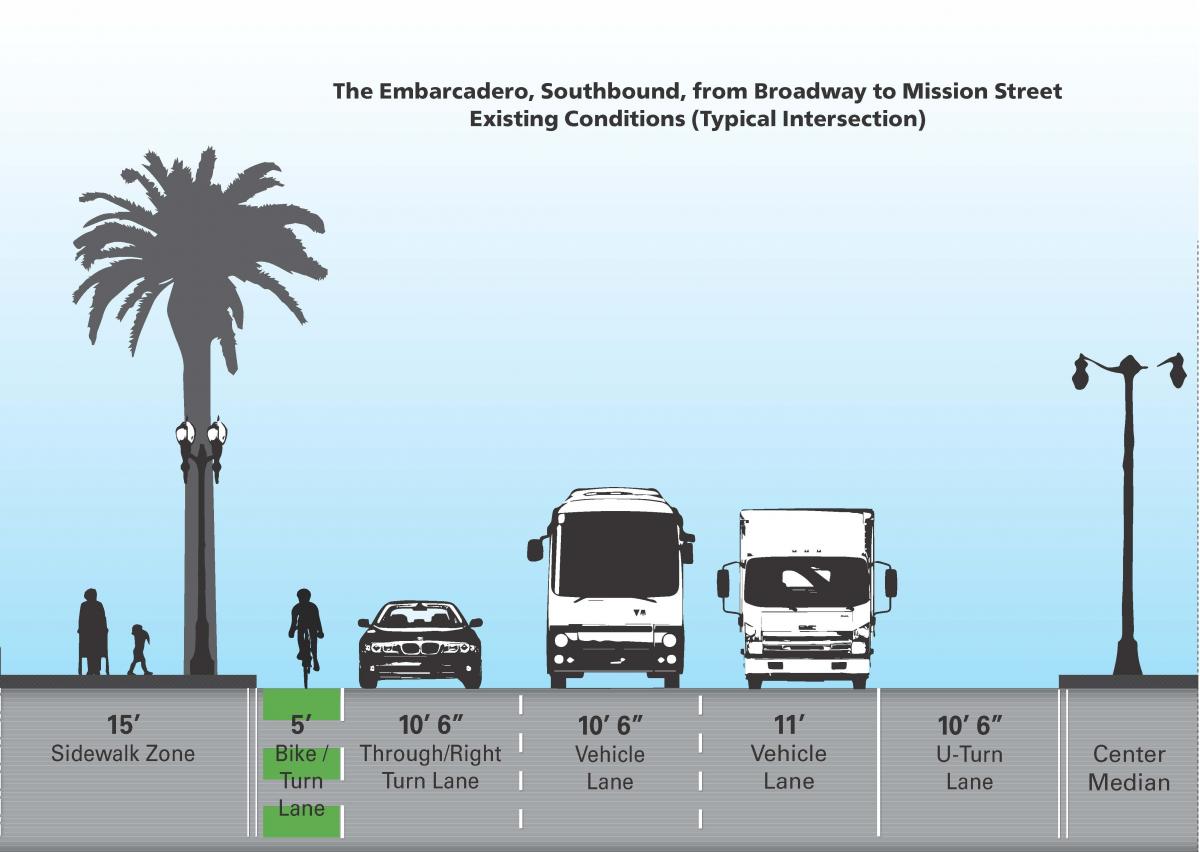 Typical Existing Intersection Cross Section
Changes Coming Mid-October
To improve safety and comfort for all users of The Embarcadero, the SFMTA and Port will allow all-day parking and re-stripe The Embarcadero with a full-time, green bike lane. Vehicle right-turn lanes will be provided at Washington and Mission streets to support the continued movement of people and goods. These changes will help provide a safer, more consistent, and more intuitive user experience along the city's northeastern waterfront.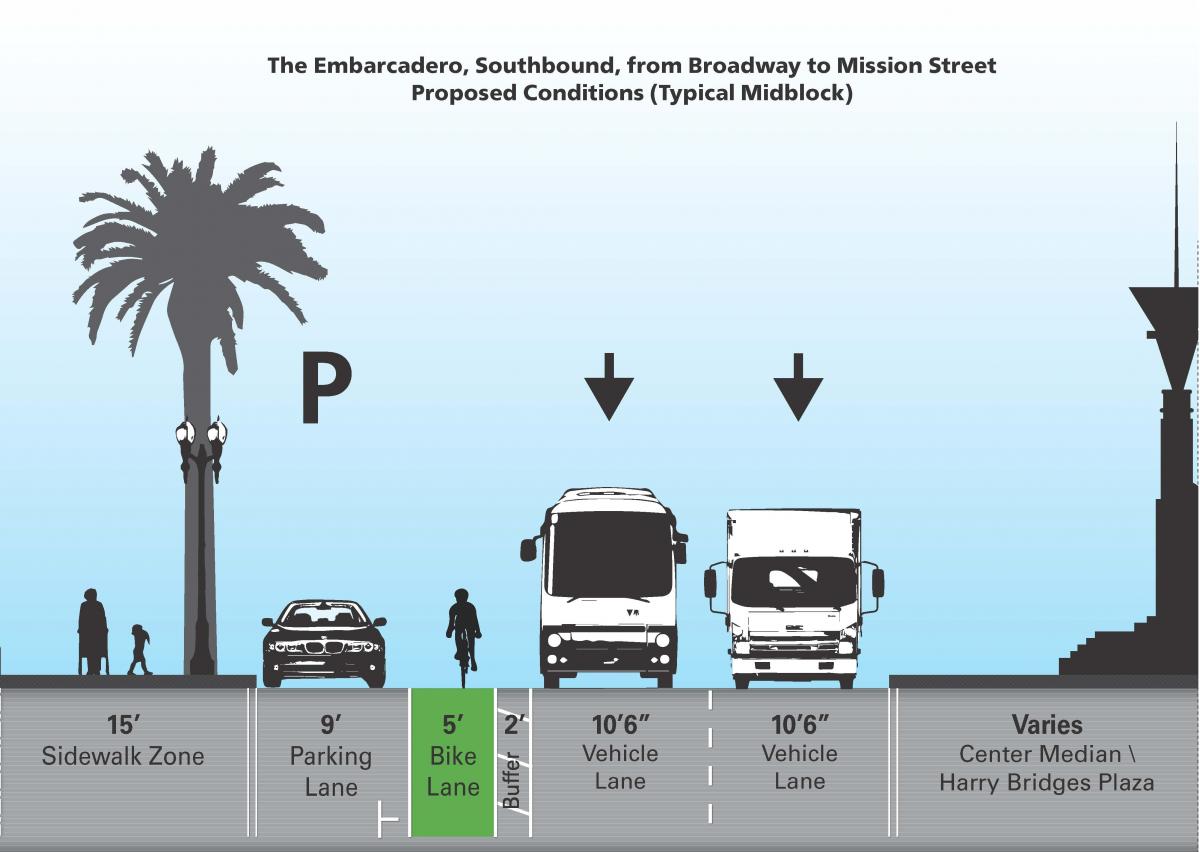 Typical Midblock Cross Section after Near-Term Implementation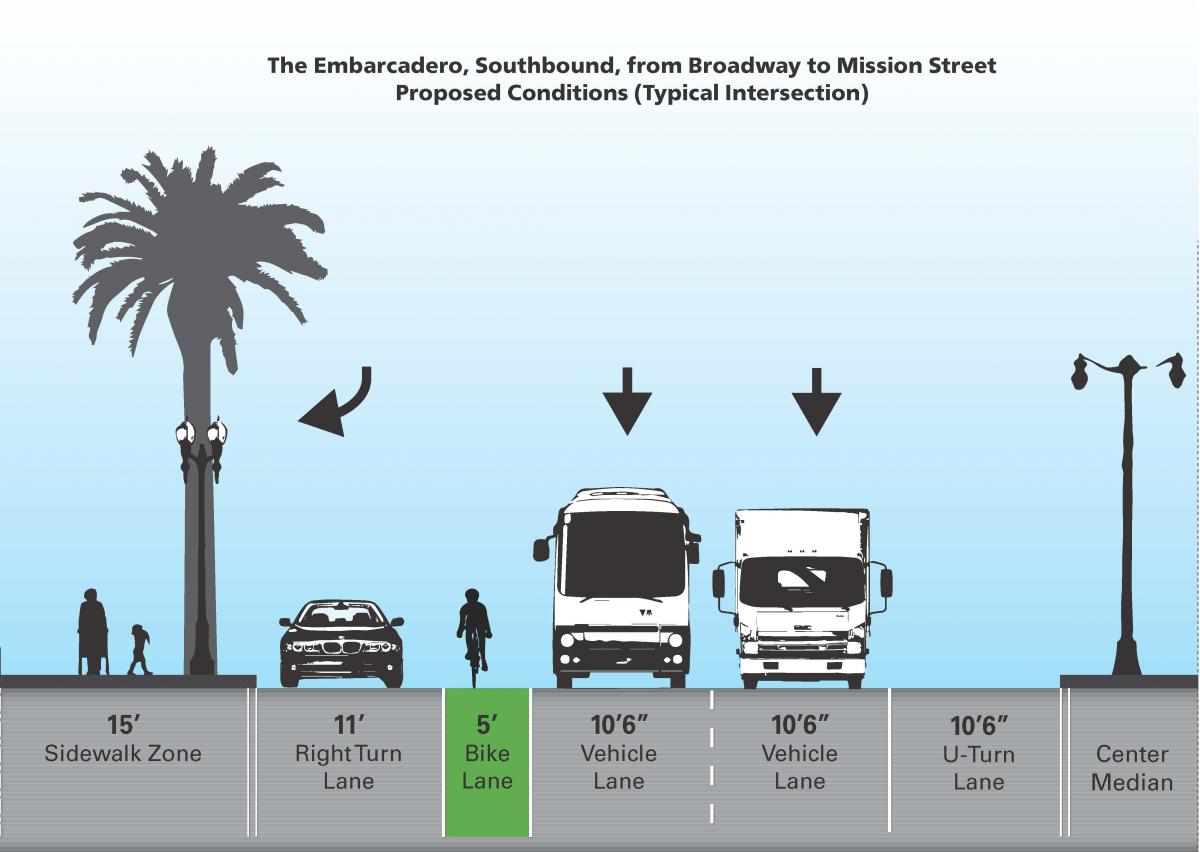 Typical Intersection Cross Section after Near-Term Implementation
Implementation of these safety improvements are expected to begin in mid-October and should be substantially completed before Thanksgiving. Except for brief periods outside of peak commute times, two travel lanes will be maintained during implementation, while temporary parking restrictions will be in effect as crews work to complete the striping of the parking and bike lanes.
Additional crosswalk upgrades along The Embarcadero (new high-visibility striping) and potential bike lane adjustments will also be implemented later this year (focused between Green and Bay streets), with limited construction impacts.
The near-term safety improvements have independent value but help complement the longer-term Embarcadero Enhancement Project, which is prioritizing and designing more significant capital investments to The Embarcadero, including a two-way, physically-protected bikeway on the water-side of the corridor between North Point and Townsend streets.
Join us at our 'concept design showcase' event on October 25, 2018 on the 2nd floor of the Ferry Building between 5-7:30pm. Attendees can expect to see and comment on conceptual designs for The Embarcadero corridor between North Point and Townsend streets as well as more information on what to expect as the project heads into the environmental review and preliminary engineering phase.
For the latest information on near-term construction activities, and to learn more about the Embarcadero Enhancement Project, please visit the Embarcadero Enhancement Project.