Page Slow Street: Aug 2022 Update – Changes at Divisadero & Public Hearing
Service Affected
Bicycle
Parking
Driving
Walking
Greetings from the Page Slow Street team,
We have updates on approval hearings for safety changes at the Page & Divisadero intersection and removing the temporary/emergency approvals for existing traffic restrictions. There is also an opportunity to speak with staff during outdoor office hours later this month. Finally, we share the progress of the construction of San Francisco's first raised intersection at Page & Buchanan. Things sure are busy on Page Street!
Changes approved for Stanyan and Masonic
New eastbound traffic diverters at Stanyan Street and Masonic Avenue were approved following a public hearing last month. We expect them to be installed by the end of August. These changes will further calm traffic and improve safety near schools, complementing existing local-traffic restrictions at neighboring intersections.
Changes proposed for Page & Divisadero
The SFMTA proposes restricting eastbound and westbound vehicle traffic on Page Street at Divisadero Street. Like at Stanyan and Masonic, these two intersections were not addressed formally by the pandemic-related changes (due to traffic signals).
The proposal would require eastbound and westbound vehicle traffic on Page Street to turn right onto Divisadero Street. Further, northbound left turns and southbound left turns from Divisadero onto Page would be restricted at all times.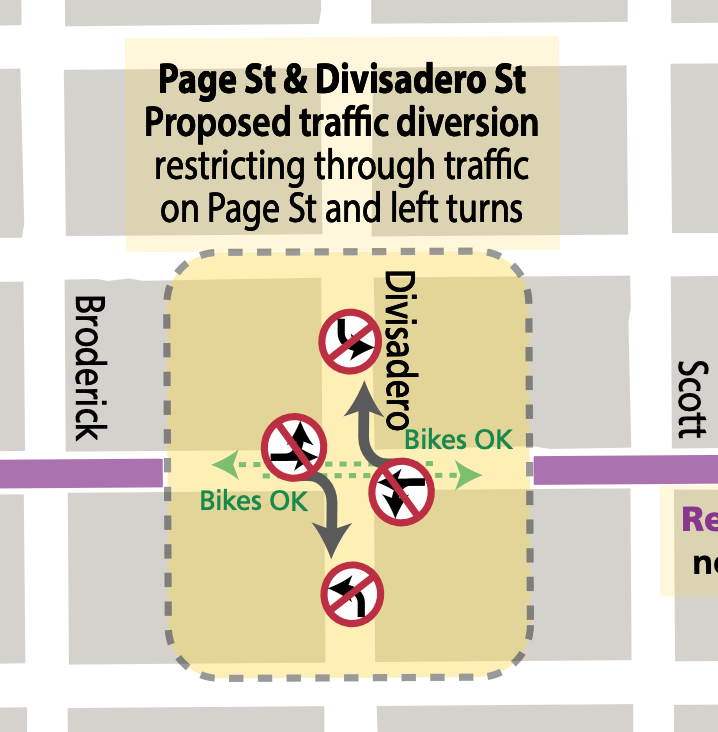 The proposed traffic diversion would more formally prioritize walking and bicycling on Page across Divisadero, replacing the informal barriers community members placed and making it easier to turn right onto Page from Divisadero. Left-turn restrictions on Divisadero would reduce delays for Muni and crosstown traffic.
Recommending approval for existing traffic restrictions
After over two years of outreach and evaluation, the SFMTA recommends approving existing through-traffic and turn restrictions between Stanyan Street and Octavia Boulevard. Establishing this post-pandemic roadway configuration would kick off further outreach to neighborhood and community groups to consider other changes on and adjacent to Page Street.
Public hearing on Friday, August 19th
The project team will seek feedback on proposals to add turn restrictions at Page & Divisadero and remove the temporary emergency approvals for existing traffic restrictions at an Engineering Public Hearing on Friday, August 19th, at 10am.
    
While no decision will be made at the public hearing, this is your opportunity to formally provide your opinions on the proposed traffic changes before they are presented to the SFMTA Board of Directors in the fall. If you can't make this time or prefer to write, you may submit your comments to PageStreet@sfmta.com.
Outdoor office hours on Wednesday, August 24th
Page Slow Street staff will be tabling on the corner of Page Street & Webster Street (at John Muir Elementary) from 3pm to 6pm. Come by any time to chat with the team about your experience traveling on Page Street and thoughts on the existing and proposed traffic-circulation measures. We look forward to seeing you there!
Construction underway at Page & Buchanan
Separate from the consideration of traffic circulation, a capital project is currently under construction to add pedestrian safety and green infrastructure to Page Street east of Webster Street. The Page & Buchanan intersection is closed to vehicle traffic (open for walking and bicycling) for much of this week to build the new raised, decorative intersection. Crews are working quickly to complete construction before John Muir Elementary students return to school later this month.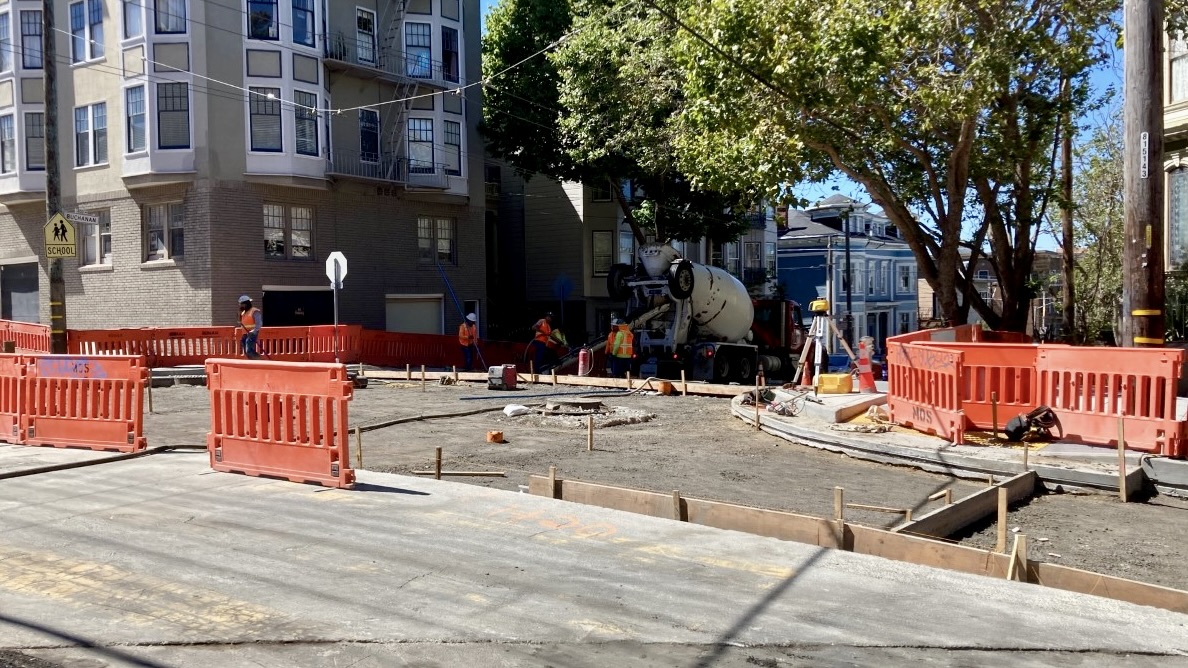 Construction of the improvements at the Laguna and Gough intersections is expected to last through fall 2022 due to ongoing delays with relocating PG&E and other unforeseen underground-utility conflicts.
Get in touch!
Sign up for updates on our project website to keep up on the next steps, and reach out to PageStreet@sfmta.com to speak with us directly. We otherwise hope you have a great rest of your summer!