After successful completion of Phase 1, track replacement between Winston Drive and Rossmoor Drive as well as pedestrian safety and performance improvements have now begun in Phase 2 or the project. To support this work, some lane shifts on 19th Avenue have already been implemented and will continue throughout the project.
Initial construction is scheduled to take place on Saturday June 16th and Saturday June 23rd. In order to create a safer work area, the curb lane will be closed on 19th Ave between Winston and Rossmoor in the northbound direction. Additionally, the crews will be working in the east sidewalk, however pedestrian access will remain open.
The larger track replacement work will coincide with the Twin Peaks Tunnel Improvements Project, during which the M train will be substituted with a bus. The Twin Peaks Project begins on June 25th and will continue for approximately 2 months. Crews plan to take advantage of this bus substitution to work on the rails.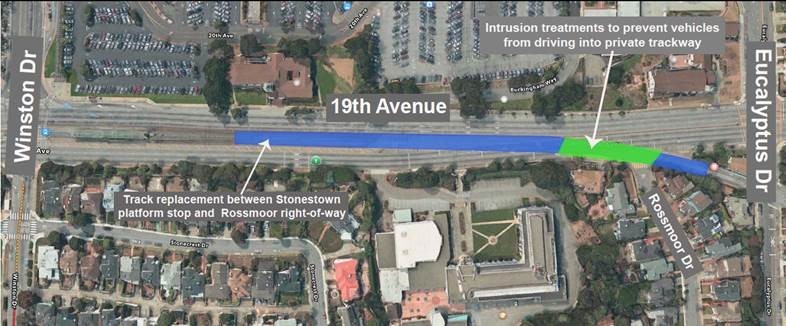 Phase 2 improvements include:
New train tracks between Stonestown train platform and the private Muni right-of-way at Rossmoor Drive

Existing traffic signal relocated before Rossmoor to keep the tracks cleared of cars, adding pedestrian countdown timers and train warning signals

New train sensors to keep trains running through the intersection

New accessible ramps at 19th Avenue and Rossmoor

Removal of median fence and existing island at 19th Avenue/Rossmoor; will be replaced with new fence and curb

Installing red dashed marking at "Keep Clear" trackway crossover