Proposed Great Highway Traffic Calming Strategy - Approved
UPDATE: On February 9th, the San Francisco County Transportation Authority approved the proposed Great Highway Traffic Calming Strategy.
Since April 2020, the Upper Great Highway between Sloat Boulevard and Lincoln Way has been repurposed as a public open space prioritizing recreational use, with no car traffic permitted. This change has brought great joy to residents who are able to enjoy the coast on foot, bike, scooter or wheelchair, drawing large numbers of San Franciscans to experience the beautiful stretch along the west side of our city. We also recognize that there have been unwelcome changes along Lower Great Highway and other Outer Sunset streets, including more cars on the street, greater demand for parking in the neighborhood, and unsafe driving.  The SFMTA has developed a comprehensive and integrated traffic calming strategy that responds to many of the concerns that we have heard from residents of the Outer Sunset.  
As this car-free promenade remains in place, several city agencies are working closely with Supervisor Mar to manage the safety and use of these nearby streets in District 4. The San Francisco Municipal Transportation Agency (SFMTA), along with Supervisor Gordon Mar, Recreation and Parks, the San Francisco County Transportation Authority (SFCTA), and the San Francisco Police Department (SFPD) are working to implement a comprehensive traffic calming strategy for the Outer Sunset to address safety concerns on the streets impacted by traffic due to the Upper Great Highway's repurposing during the city's COVID-19 response. The  strategy builds on existing mitigation efforts, including traffic diverters and turn restrictions along Lincoln Way and four speed tables on the Lower Great Highway, which have already been installed. The combination of traffic calming devices, increased enforcement by the SFPD Traffic Division and increased patrols of SFMTA Parking Control Officers will help divert traffic and manage parking. 
 The approved  traffic calming strategy includes the following integrated elements: 
24 new speed cushions 

One additional new speed table 

12 new stop signs spread along Lower Great Highway, La Playa Street, Irving Street, 48th Avenue, 47th Avenue, and 46th Avenue 

Six new changeable message signs to help divert traffic away from residential streets to corridors like Sunset Boulevard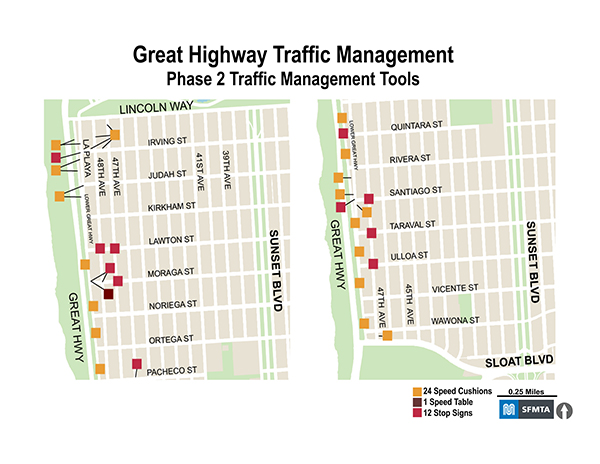 The traffic calming strategy was approved by the SFCTA on Feb 9th, and policy approvals from the SFMTA were secured in mid-February. Once  funded, the implementation will move quickly, with the changeable message signs and stop signs to be installed by mid-March, and the speed cushions and speed table construction beginning in March and completed by April 30, 2021. 
We recognize the changes in traffic are affecting residents. We are working together with SFRPD to support their efforts to create a more livable and family-friendly city with this pioneering car-free promenade that so many residents of District 4 and San Francisco enjoy, and are working hard to minimize the impacts on Outer Sunset residents. 
You can find more information about the meeting on February 9th at SFCTA's events page.