Union Street Festival: June 3-4, 2023
Service Affected
Driving
Transit
Weekend Traffic and Transit Advisory
Event Summary
The annual Union Street Festival will take place in the Marina District on Saturday and Sunday, June 3-4. Streets will be closed and Muni will reroute the 45 Union/Stockton. Read below for more information.
Street Closures
These streets will be closed to automobiles from 12:01 a.m. Saturday to 11:59 p.m. Sunday.
Union, between Gough and Fillmore
Octavia, between Filbert and Green
Laguna, between Filbert and Green
Webster, between Filbert and Green
Buchanan, between Filbert and Green
Muni Reroutes
The 45 Union/Stockton will be serviced by motorized buses and will reroute around the festival area all day Saturday and Sunday. The reroute is on Greenwich, between Franklin and Steiner. The table below details which stops will be missed.
Note: Be sure to receive real-time Muni service alerts via email or text by signing up through our Email and Text Subscriptions page.
Temporary Service Changes by Route and Direction

Route & Direction
Missed Stops
Alternate Stop Locations
45 Union/Stockton
to Caltrain

Union, before Steiner 
Greenwich & Fillmore
Greenwich & Buchanan
Greenwich & Laguna
Greenwich & Gough 
Union, after Gough

45 Union/Stockton
to The Marina

Greenwich & Gough
Greenwich & Laguna
Greenwich & Buchanan
Greenwich & Fillmore
Steiner & Union 
We want you to be safe! Some temporary stops are unmarked. Observe safety precautions.
Note: The 22 Fillmore may experience delays due to crowds near the festival entrance at Fillmore.
Event Map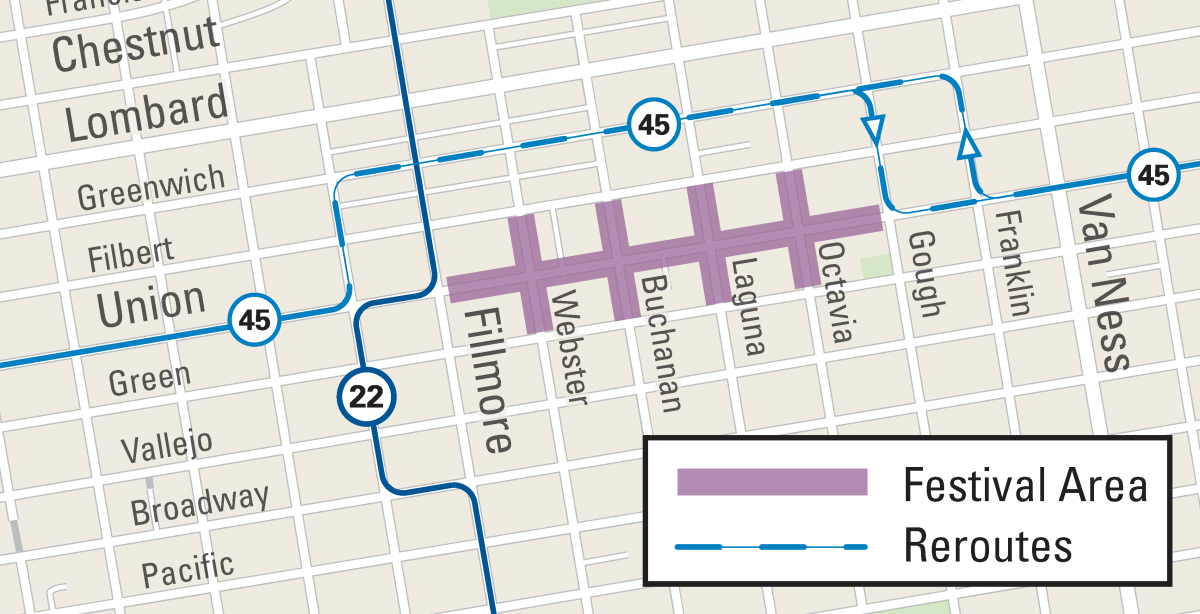 Contact
Call 311 within San Francisco; TTY 415.701.2323