District 11-Wide Traffic Calming Project
Project Introduction
With coordination and funding through the SFCTA's Neighborhood Transportation Improvement Program (NTIP), Supervisor Safai has committed to traffic safety improvements, district wide. The goal of this project is to make residential streets safer and more enjoyable for people of all ages who, walk, bike, and drive.
Between fall 2018 and spring 2019, the SFMTA will implement over a 100 traffic safety measures across District 11. Some of these improvements will include speed humps or speed cushions. Many of these measures were prioritized based on their proximity to parks and schools, community feedback, as well as supervisor input. These improvements will include crosswalk upgrades, speed humps, and raised crosswalks. Balloting for speeds humps will commence in November and continue through the winter.
These near-term efforts are closely connected to the community planning effort in the Excelsior that is focused on achieving broader neighborhood-specific traffic safety goals. The near-term safety improvements will be implemented throughout District 11.
Scope
Traffic calming measures in the District will be implemented in various phases. For a more detailed view of traffic calming measures in District 11, please view this comprehensive map.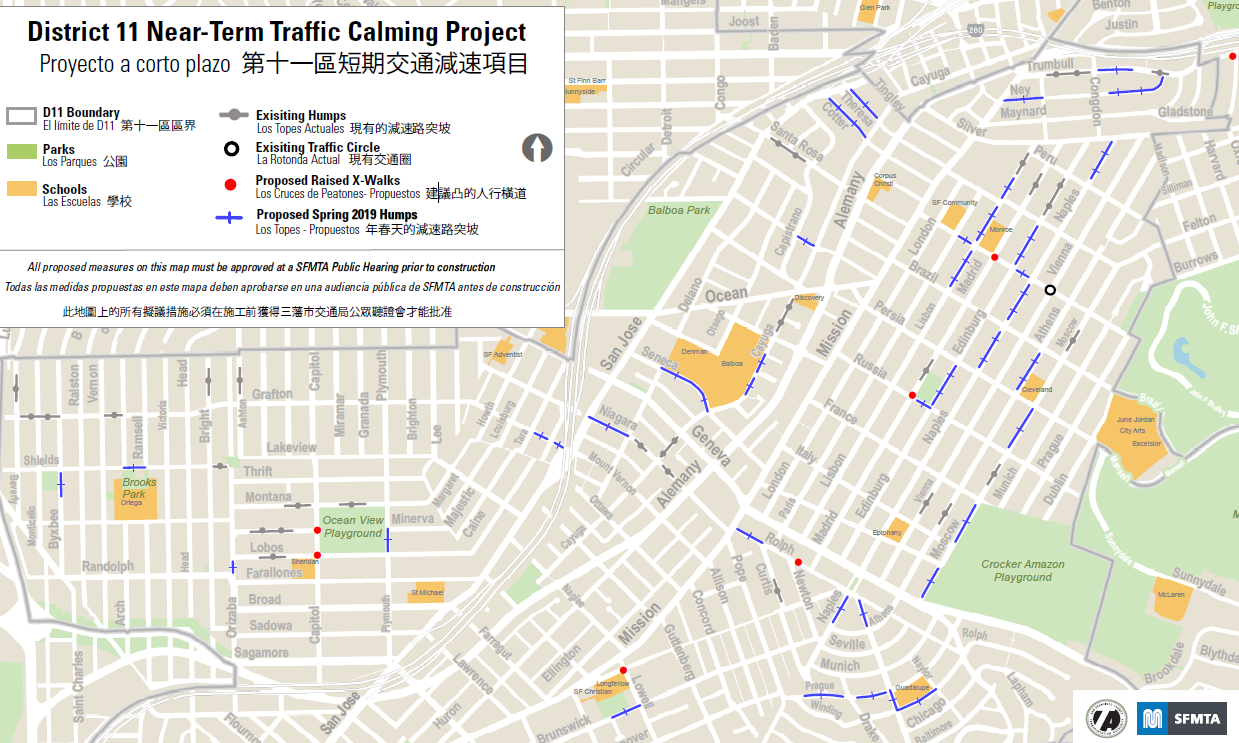 Project Schedule
July/Aug 2018 - Finalize proposed list with District 11 Office

Sep/October 2018- Initiate field work, inter-agency coordination

December 2018 to March 2019 – Legislation and balloting (20 locations will be batched at a time through legislation process)

March to May 2019 – finalize design

May to July 2019- construction