Asia-Pacific Economic Cooperation (APEC) Service Impacts: Legion of Honor
November 15-16, All service hours
Service Affected
Accessibility
Bicycle
Motorcycle
Parking
Taxi
Driving
Transit
Walking
Please note that information on this page may be subject to last-minute changes and additions. Any updates will be posted below.
Event Summary
San Francisco is proud to host the Asia-Pacific Economic Cooperation (APEC) conference in November, the largest conference of global leaders in San Francisco in decades. More than 20,000 people are expected to attend this historic conference, including heads of state and dignitaries from over 20 member economies in Asia, the Pacific, North America and South America. Visit the APEC website (APEC2023SF.org) for further information about the conference. 
Due to security, areas around APEC events and activities will be closed to vehicles and people walking except for event attendees or people who live or work within the security boundaries.
Please continue reading to learn more about the expected impacts of an APEC-related event in the area of the Legion of Honor between Wednesday, November 15 and Thursday, November 16.
Visit the full screen APEC map.
Travel and transit information included in the above map is described in detail below.
Street Closures
The following street closures will be in effect on the specified dates:
Thursday, November 16:
Thursday, November 16:
Clement between 33rd and 42nd avenues
Muni Service Changes
Muni will implement a reroute on the 18 46th Avenue . See the table below for full reroute details
Note: Be sure to receive real-time Muni service alerts via email or text by signing up through our Email and Text Subscriptions page.
Muni Service Changes near the Legion of Honor during APEC
Route
Duration
Route Details
Missed Stops
Alternate Stop Locations
18 46th Ave
Inbound to The Outer Richmond
All Service Hours

Regular route to 33rd Ave & Geary Blvd.

18 46th Ave
Outbound to Stonestown
All Service Hours

From temporary terminal at 33rd Ave & Geary Blvd via Geary, 31st, Clement, 30th, Geary, 33rd to regular route

Use the outbound 38 Geary stop at:
Event Service Map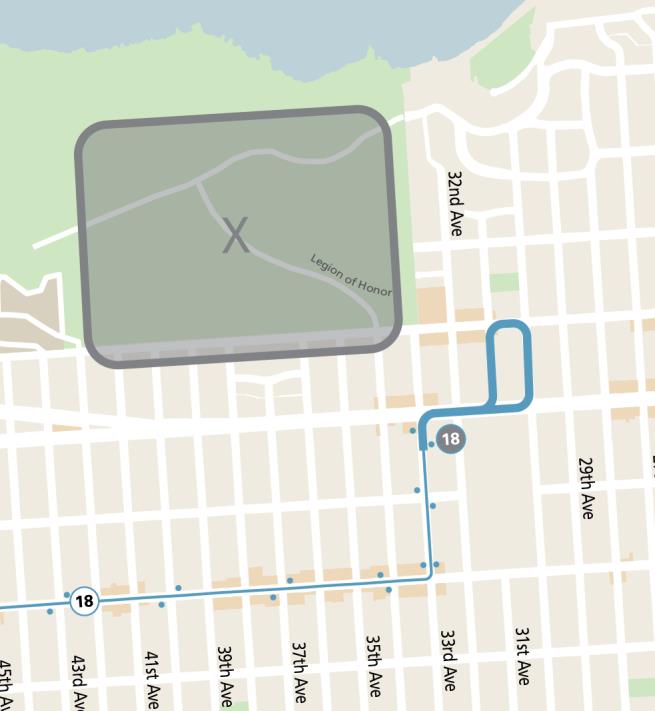 Contact
Call 311 within San Francisco; TTY 415.701.2323