Nightly Early Subway Closure for Critical Maintenance
Service Affected
Accessibility
Transit
Weekend Traffic and Transit Advisory
The subway will close between Embarcadero and West Portal stations nightly at 9:30 p.m. starting August 12 and continuing for approximately 2 weeks. Bus substitution service will connect to all stops.
When the subway closes at 9:30, buses will run above ground to connect all stops through the normal end of train service. Owl service will remain unchanged. Trains will start regular morning service each day.
Transit service plan – 9:30 p.m. to 1 a.m.
Shuttle buses will serve all Muni Metro stops between Embarcadero/Brannan and St. Francis Circle

K/M – Train service between Balboa Park and St. Francis Circle

L – Buses will run between Embarcadero/Brannan and Zoo. No L trains running.

N – Train service between Ocean Beach and Church/Duboce (Inbound N trains become outbound J trains at Church/Duboce)

J – Train service between Balboa Park and Church/Duboce (Inbound J trains become outbound N trains at Church/Duboce)

T – Train service between Sunnydale and Embarcadero/Brannan
Trains of inbound N Judah and outbound J Church will use the accessible stop entering the Duboce Portal to serve customers needing the ramp.
Muni customers are encouraged to leave extra travel time when riding Muni during subway closure. Regular bus fares will apply on bus shuttles and valid transfers will be accepted.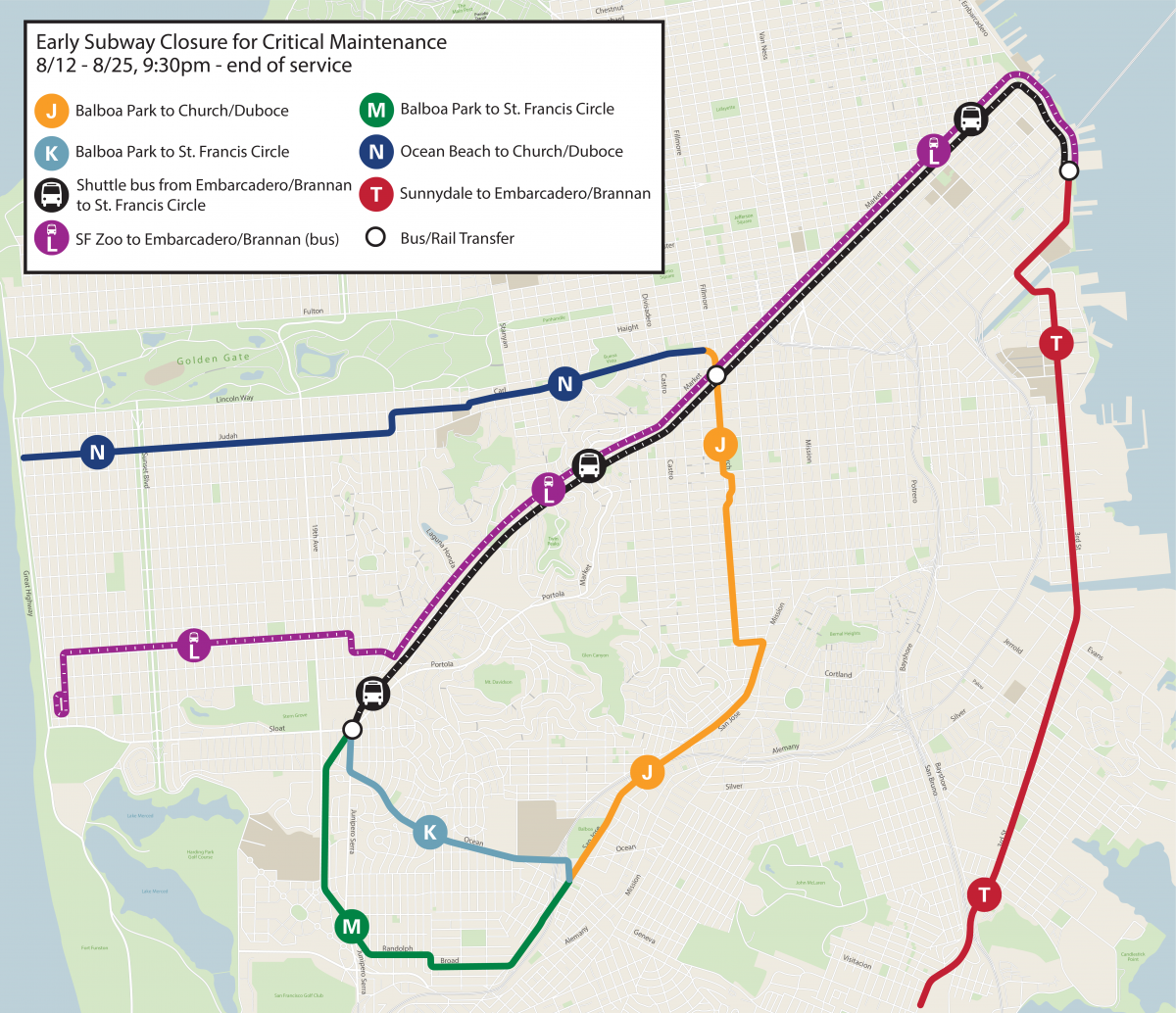 Note
On Tuesday, August 13, the subway closure will be held back to accomodate crowds exiting Oracle Park after a game. The full subway closure will happen once the crowds have cleared.
The subway will remain open east of Church Station to service fans leaving the ballgame.




Embarcadero, Montgomery, Powell, Civic Center and Van Ness will remain for open as exit-only.

Church, Castro, Forest Hill, West Portal will be closed at 10pm.

Shuttle trains will make all stops from King & 2nd St to Duboce & Church. People looking to go further west must transfer to bus shuttles at Market & Church or to J and N trains at Church & Duboce.

T trains will run to Embarcadero (instead of Brannan) until crowds clear.
Contact
Call 311 within San Francisco; TTY 415.701.2323