Permanent Muni Service Changes Starting Saturday, February 22, 2020
Service Affected
Accessibility
Transit
Website
Weekend Traffic and Transit Advisory
Starting Saturday, February 22, 2020, Muni is introducing major changes to improve service.
On This Page
New Weekend Early Morning Metro Bus Service
On weekends, all Muni Metro lines will be served by bus after the end of Owl service and before Metro stations open. Metro stations open at 6 a.m. on Saturday and 8 a.m. on Sundays. The new early morning metro bus will be a one-seat ride to your destination. Each of these new routes has its own Route Page and schedule, which will be available on NextMuni as well as other transit data providers.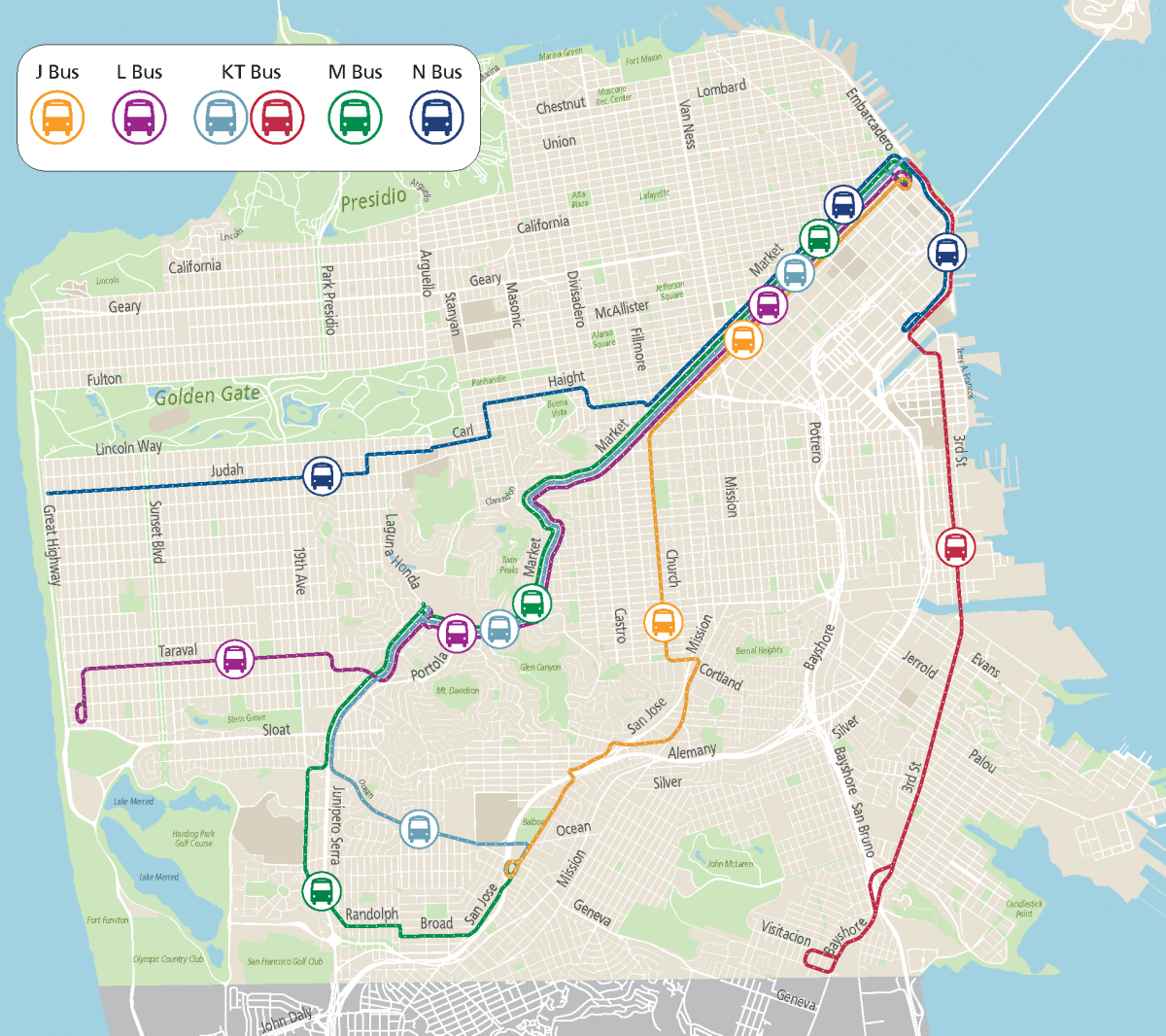 23 Monterey Reroute
Due to construction at SFPUC's Southeast Treatment Plant, the 23 Monterey will be rerouted from Jerrold to Palou between Toland and Phelps. New bus stops will align with the 24 Divisadero. These changes are reflected on the 23 Monterey Route and Schedule pages, as well as NextMuni and other transit data providers.

7 Haight/Noriega Upgrades
To reduce overcrowding and increase transit reliability on weekdays, the 7 Haight/Noriega will begin running 60-foot buses.  Adding bigger buses to weekday service will provide Muni customers more seats and comfort during morning and evening commutes.
Express Schedule Changes
The last outbound trips for the Richmond Express service (1AX, 1BX, 31AX, 31BX, 38AX, and 38BX) will change to 6:42 p.m. Customers are advised to check schedules and note alternate routes. For customers traveling outbound after the last express trips, consider the alternate routes below:
Last Outbound Express Service to The Richmond with Alternatives
Routes
Last Trip
Alternative Route and Stops
1AX California "A" Express
1BX California "B" Express
6:42 p.m.
1 California
31AX Balboa "A" Express
31BX Balboa "B" Express
6:42 p.m.

31 Balboa

38AX Geary "A" Express
38BX Geary "B" Express
6:42 p.m.
38R Geary Rapid