Ruth Jackson Sunnydale Family Day: Sunday, June 11, 2023
Temporary, from 7am to 8pm
Service Affected
Accessibility
Driving
Transit
Weekend Traffic and Transit Advisory
The annual Ruth Jackson Sunnydale Family Day street festival will take place on Sunday, June 11, from 10 a.m. to 6 p.m. Streets will be closed and Muni will reroute around the event.
Street Closures
These streets will be closed to automobiles from 8 a.m. to 8 p.m.
Hahn between Leland and Sunshine
Leland between Sawyer and Visitacion
Visitacion between Mansell and Sawyer
Muni Reroutes
Muni will reroute the following routes from 7 a.m. to 8 p.m.
Route Direction
Reroute Details & Missed Stops
Alternative Stop Locations

8 Bayshore
to Fisherman's Wharf

Reroute will be from Sunnydale & Hahn via Sunnydale, Sawyer, Visitacion to regular route

Stops Missed:

8 Bayshore
to City College

Reroute will be from Visitacion & Sawyer via Sawyer, Sunnydale to regular route

Stops Missed:

56 Rutland
to Visitacion Valley

Reroute will be from Sawyer & Visitacion via Sawyer, Sunnydale to regular route

Stops Missed:

56 Rutland
to Executive Park

Reroute will be from Sawyer & Visitacion via Sawyer, Sunnydale to regular route

Stops Missed:
Event Map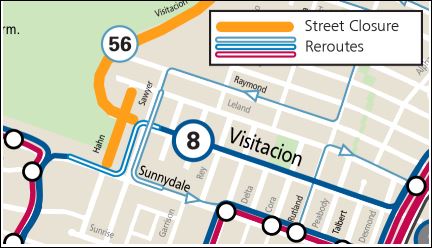 Contact
Call 311 within San Francisco; TTY 415.701.2323