Third Street Bridge Closure: December 11, 2017 - January 26, 2018
Crews will raise and lock the bridge in the full upright position to perform counterweight repair work on the Third Street Bridge starting on Monday, December 11, 2017. Access to cross the bridge will be closed to all pedestrian, bicycle and vehicle traffic during this period. Maritime traffic through the channel will not be impacted during counterweight repair work. Work is anticipated to continue through Friday, January 26, 2018. Parking control officers will be onsite to monitor traffic conditions and help direct traffic in the area surrounding the Third Street Bridge. SFMTA will restrict parking along the north side of Berry Street during this period and will install a temporary bicycle lane along the north side of Berry Street to accommodate rerouted traffic. Parking restrictions will be in effect 24-hours a day, Monday-Sunday and drivers are advised to not park or pull into the restricted area/bicycle lane. Normal parking continue to be available along the south side of Berry Street. Along the north side, drivers may pull into the designated white curb loading zone for active loading and unloading. Following completion of counterweight repair work, parking will be restored on the north side of Berry Street. Trash receptacles may be put into the designated crosshatch area on Berry Street (but not place into the bike lane) for collection as normal.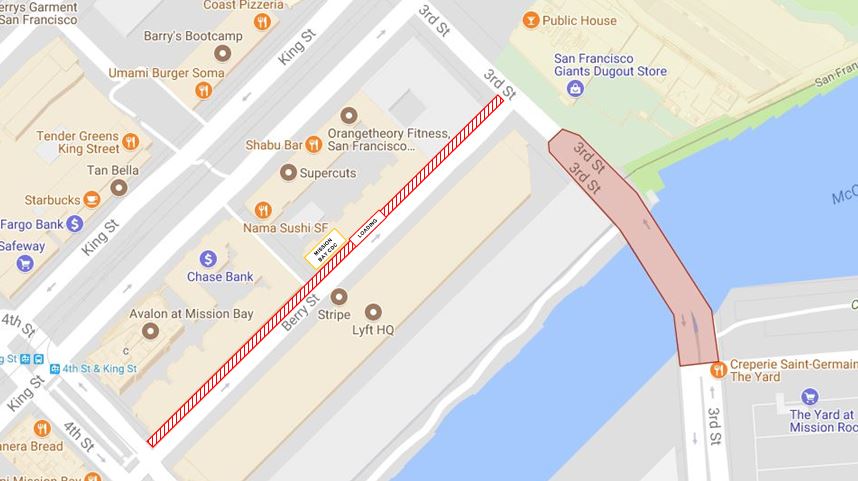 For more information, please visit the Department of Public Works web page at http://www.sfpublicworks.org/thirdstreetbridge.
CONTACT: Coma Te at the Department of Public Works
PHONE: 415-558-5283
EMAIL: coma.te@sfdpw.org