100 and Counting – More New Trains Join the SFMTA Fleet
Wednesday, March 15, 2023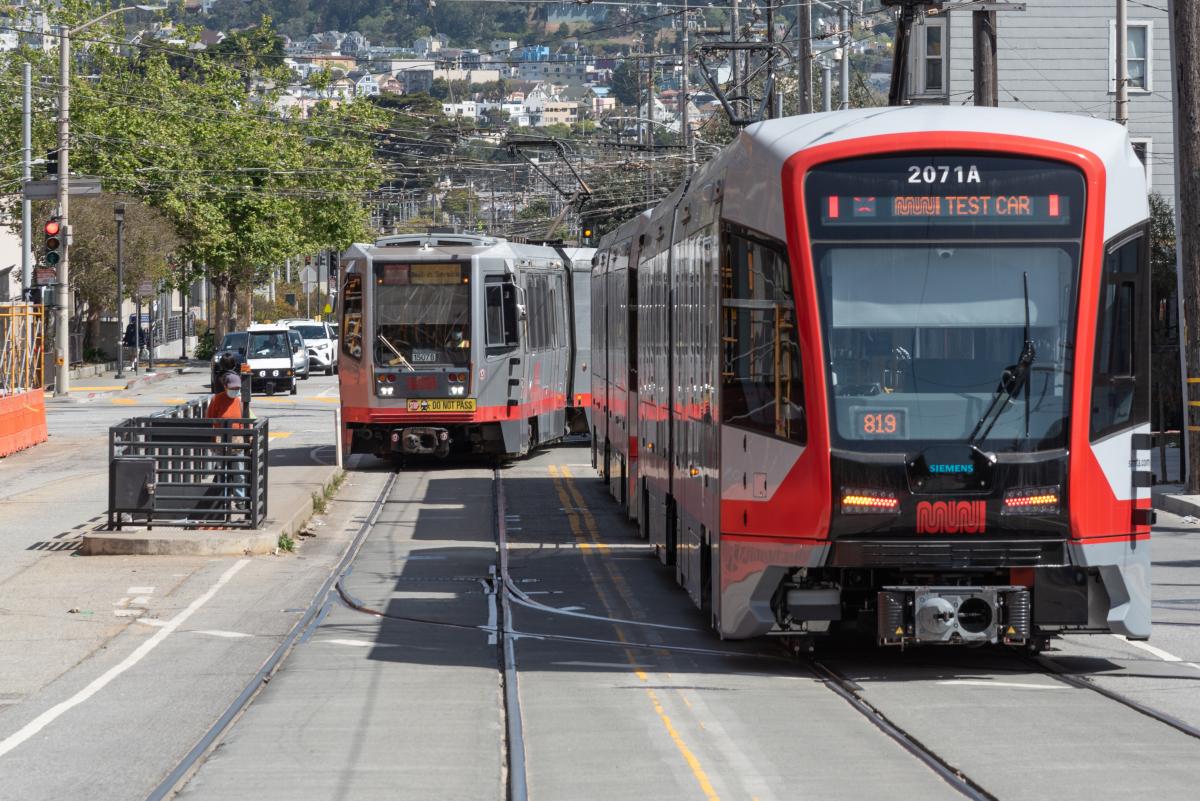 Muni continues to expand its fleet with its 100th light rail vehicle four-series (LRV4) on San Francisco streets, broadening the reach of transportation in the city! 
The SFMTA received its 100th new LRV4 (light rail vehicle four-series) in December 2022, closing out a year of big accomplishments for the agency. This train represents a milestone in the continued progress of the LRV Fleet Replacement Program.  
The SFMTA is steadily expanding its fleet with about three new LRV4 train cars arriving every month. We expect 219 total cars to be delivered by 2025. This allows us to retire the aging Breda vehicles, which have been in use by the SFMTA since 1995. Compared to the mostly grey Bredas, the new LRV4 trains are easy to spot on the street, with their distinctive "red ribbon" that wraps around the front of the vehicle and down the sides.  
The new LRV4 trains are also far more reliable than the outdated Bredas. With better design and engineering, these trains have fewer breakdowns and require less maintenance. This makes them more reliable and less expensive to operate, which means better service for Muni riders. 
The new LRV4s have improved safety and service features. In response to customer feedback, the seats are color-coded – blue indicates priority seating for seniors and people with disabilities, and red indicates general seating. We also added more visible, yellow grab rails. The LRV4s also have digital displays that show information about upcoming stops and nearby alternate routes at transfer points. These same interior upgrades will be added to earlier LRV4 trains over the next year.  
Learn more about the history of LRVs, look into Muni Light Rail Through the Years and follow us on the SFMTA's Instagram.