150 Years Ago Today – The Cable Car is Born
Wednesday, August 2, 2023
August 2, 2023, marks the 150th anniversary of the world's first successful cable railway, born right here in San Francisco. To celebrate the occasion, we bring you the story of Andrew Hallidie and the very first cable car company, the Clay Street Hill Railroad. 
Andrew Hallidie (1834-1900) was a pioneering inventor and entrepreneur who changed urban transportation. In 1852, at the age of 18, Hallidie emigrated with his father from the United Kingdom to San Francisco during the California Gold Rush. His father, an engineer and inventor, had a wire rope patent that played a crucial role in his son's future success.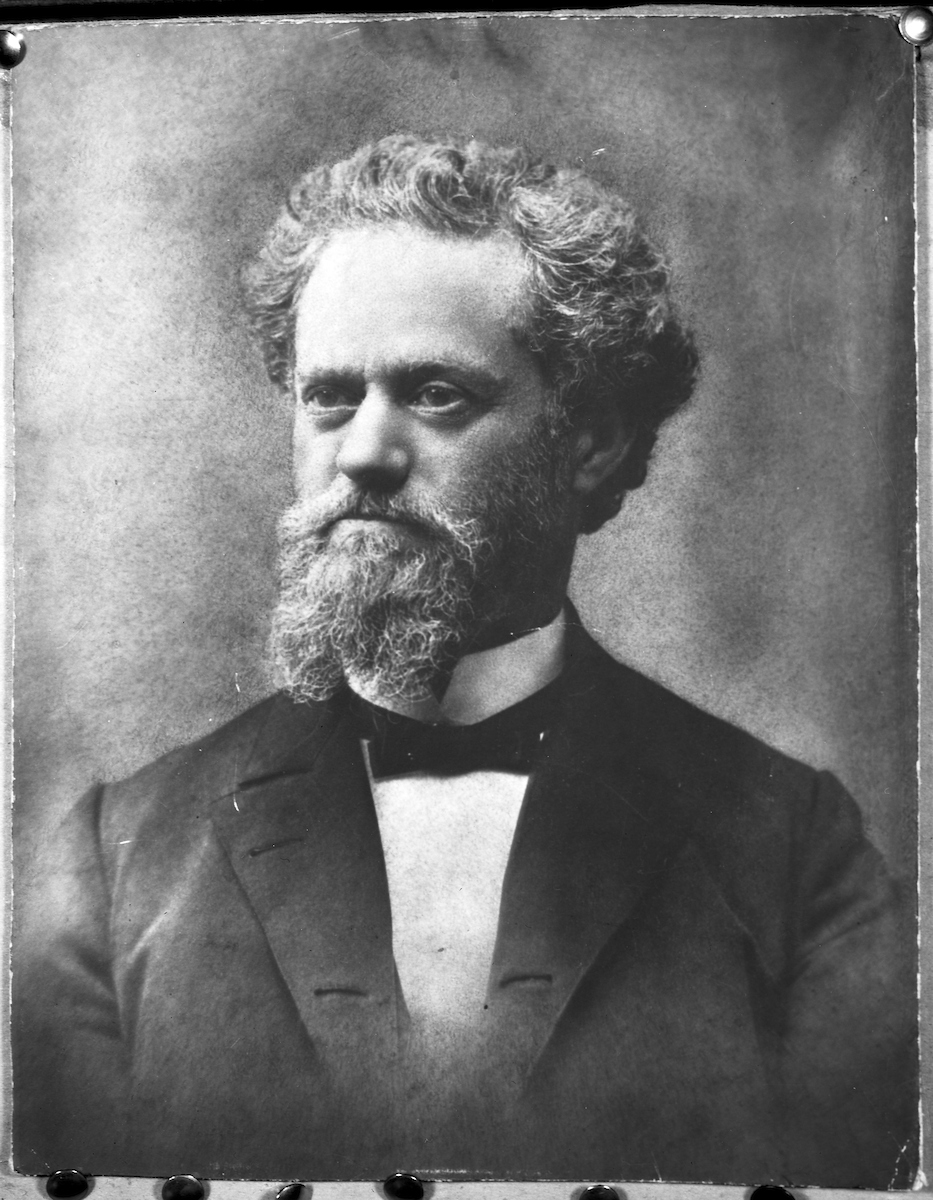 Portrait of Andrew Smith Hallidie in 1890.
Inspired by his father's wire rope business, Hallidie developed a steel cable mineral mine hauling system in 1857. About a decade later, he designed a wire rope aerial tramway for transporting materials over mountainous terrain. Then, after a stint in bridge construction across California, he returned to San Francisco. 
Legend has it that the idea to build a cable car came to Hallidie one foggy, wet San Francisco evening in 1869 when he witnessed a tragic accident. A team of horses pulling a streetcar up a steep cobblestone hill slipped, causing the streetcar and horses to slide down the hill into a heap of wreckage. Drawing on his mining experience, Hallidie believed he could come up with a better way to transport people up and over San Francisco's many hills.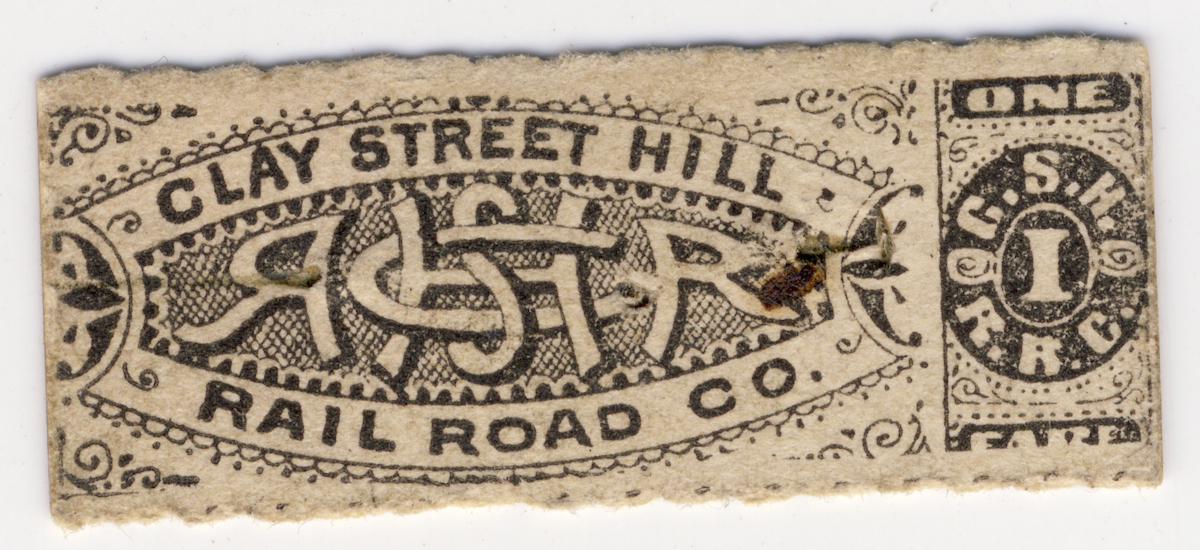 Transfer from the Clay Street Hill Railroad Company used until early 1875.
Hallidie chose Clay Street between Kearny and Jones as the first route and raised $118,000, including significant investments from the residents of Clay Street. With engineering design work by William Eppelsheimer, construction began in early 1873. By mid-summer, the double-track line, powerhouse, cable and cars were completed at a total cost of $85,150. The first test run took place in the pre-dawn hours of August 2, 1873, and proved to be a tremendous success. One month later, on September 1, 1873, the Clay Street Hill Railroad Company began regular passenger service with a fare of five cents.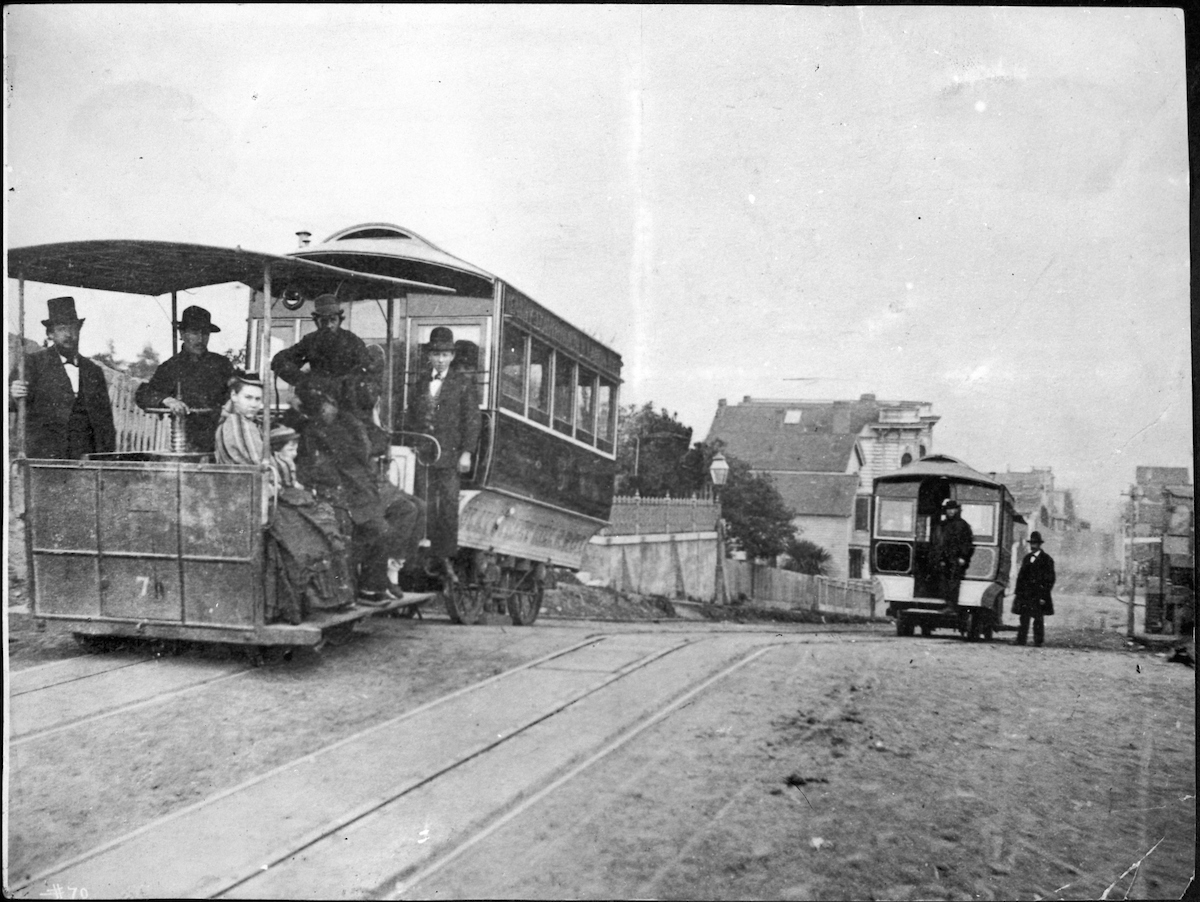 Clay St. Hill Railroad Co. Dummy 7 and Trailer on Clay and Jones Streets in 1873.
Hallidie's historic efforts not only revolutionized transportation but also yielded profitable returns for his investors. His invention provided a safe and efficient means of travel up and down the city's hills and spurred the expansion and development of San Francisco's neighborhoods and businesses. The Clay Street Hill Railroad marked the beginning of many cable car railways in San Francisco and around the world. Within just two decades, eight different companies operated cable cars on 54 miles of track around the city. 
Throughout his life, Hallidie remained active in various engineering ventures and played a vital role in founding the San Francisco Mechanics' Institute, promoting scientific and technological education. Hallidie Plaza, near the Powell and Market Street cable car turntable, and the Hallidie Building in the city's Financial District are named after him. 
Dedication Ceremony for Hallidie Plaza at Market and Powell Street on March 14, 1973
Although none of the original Clay Street Hill Railroad line remains today, its legacy lives on. Muni's 1 California bus route traverses the same path over Nob Hill and two cable cars that once served the line survive to this day. An original 1870s grip car, number 8, is on display in the San Francisco Cable Car Museum, and "Big" Cable Car 19, one of the last cable cars to run on Clay Street, is back in limited service through the fall in honor of the 150th anniversary.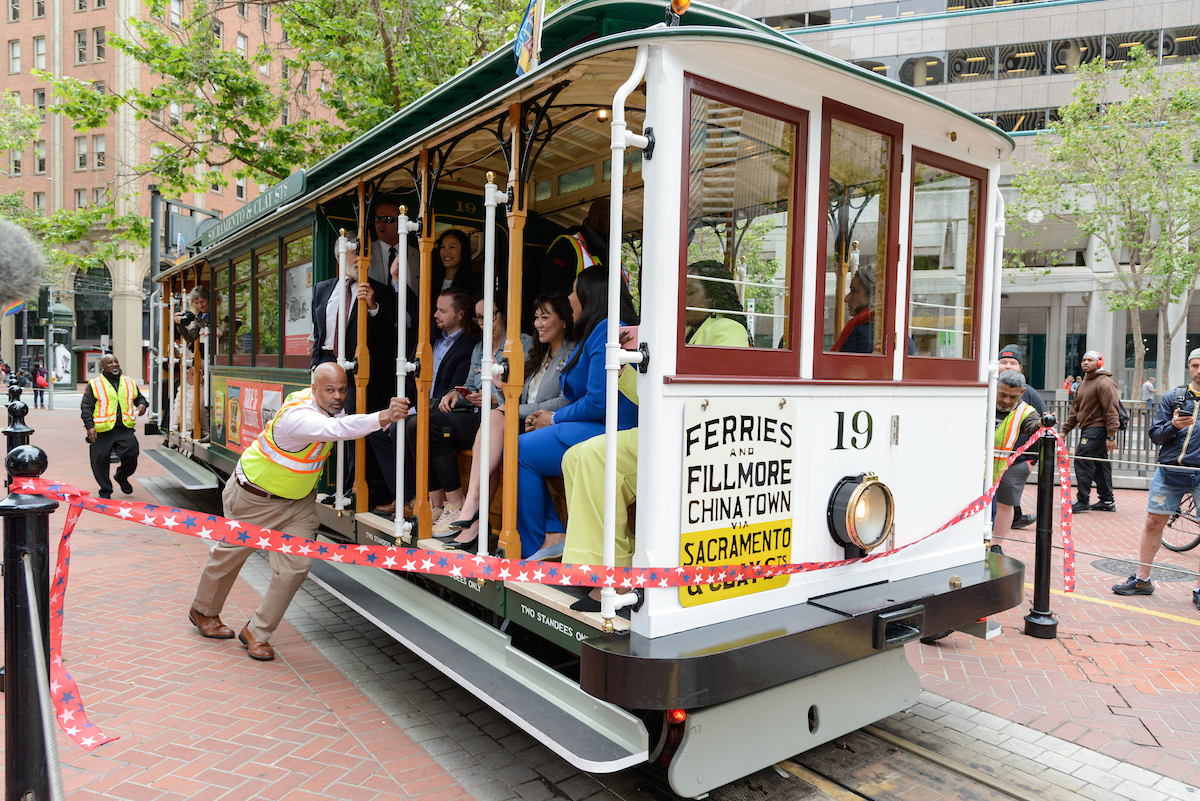 150th Anniversary of the cable cars kickoff event with "Big 19," on July 10, 2023
Celebrate the 150-year legacy by hopping on San Francisco's iconic cable cars or catching a special anniversary event. Find more information at Celebrating 150 Years of Cable Cars and the 150 Years of Cable Cars websites.