27 Bryant Project Proposes Improvements to Route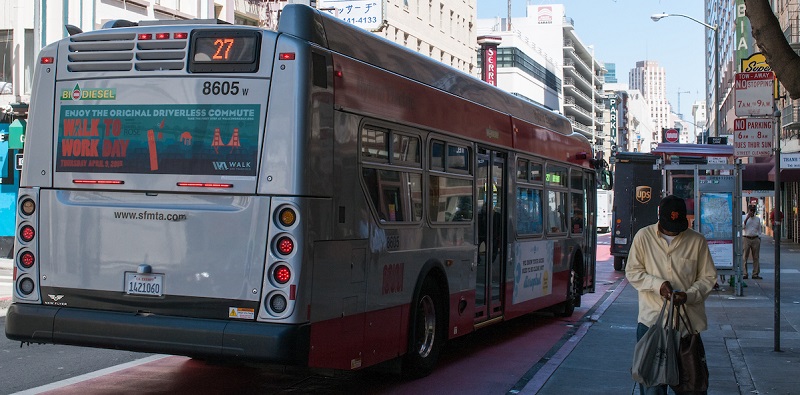 At the May Sunday Streets event in the Tenderloin, residents shared their experiences with the 27 Bryant bus line and how it serves them. We put together a short video of what they had to say.
The 27 Bryant serves 6,700 riders each weekday and connects the Tenderloin, Nob Hill, SoMa and the Mission neighborhoods. This serves diverse populations, including seniors, people with disabilities, and multicultural communities that depend on it to commute to work and connect to other transit lines. It is also a neighborhood lifeline that many use to reach grocery stores, hospitals, schools, senior centers and more.
Although it is an important north-south connection, it is one of Muni's ten slowest lines. The buses often get delayed as they wind their way through the Tenderloin and Nob Hill. The 27 Bryant Project focuses on improving the line north of Market Street where most of the delays occur.
With input from more than 500 Muni customers, 80 merchants along the route and local community organizations, the 27 Bryant Project has developed proposed improvements to the line. To reduce delays and improve reliability, improvements include a route adjustment, wider sidewalks at bus stops for easy boarding and bus stop location changes. Upgrading signals, installing high-visibility crosswalks and extending sidewalks at corners are proposed to make it safer for people walking.
Saturday, November 10, 1 p.m. - 3 p.m.
Boeddeker Park Clubhouse
Nearby Muni Routes: 5, 19, 27, 31, 38, Powell Station.
Community members can view the project proposals and provide feedback at an upcoming open house this Saturday.  Following the event, the proposed improvements will be available to view online as well.
The 27 Bryant was identified as a priority line in the Muni Service Equity Strategy, a neighborhood-based approach to improving the transit lines most important to households with low incomes, people of color, seniors and people with disabilities. Improving the reliability of the 27 Bryant and safety for people walking is critical to better serving the Tenderloin, SoMa and Mission communities.