Adaptive Scooters for People with Disabilities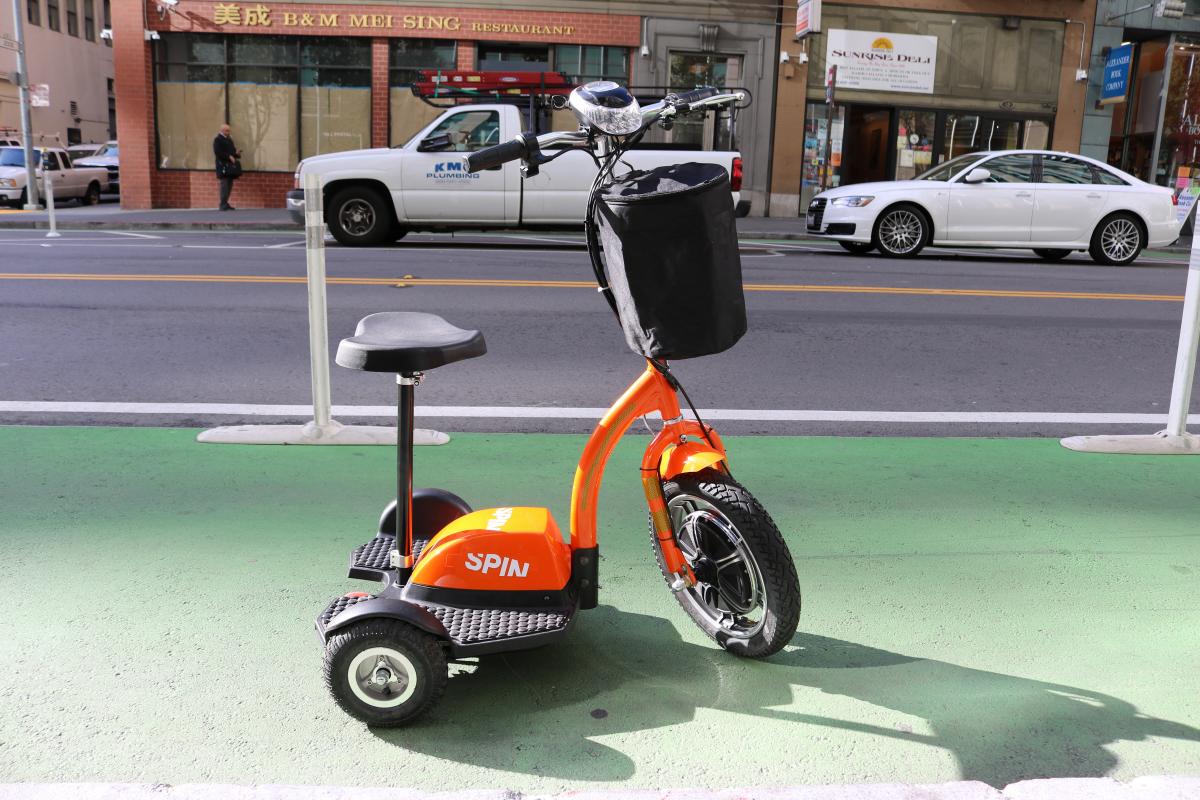 We are committed to a transportation system that serves everyone. However, the recent and rapid introduction of new transportation services has not always included all San Francisco residents and visitors, especially people with disabilities. As an agency, we are actively shaping our approach to emerging mobility services and technologies to ensure that they are accessible to all. That is why we were a proud partner in last summer's adaptive bike-share pilot and, when we established a permanent permit program for Powered Scooter Share, we required that all permittees develop an adaptive scooter pilot program to make shared micromobility more accessible to people with disabilities. Starting January 15, 2020, four unique adaptive scooter pilot programs, with a total of 50 adaptive scooters, are now available to the public through our permitted scooter operators, Jump, Lime, Scoot, and Spin.
A program of this kind is very new and we do not have many peer programs to look toward for guidance. Because of this, the SFMTA did not require applicants to deploy a specific vehicle type or service model. Rather, permittees were instructed to develop vehicles and corresponding services that are based on input from people with disabilities. Below we have prepared a summary of each permittee's respective pilot program. As these programs may change over time, we encourage you to visit each company's website for current updates.
From the pilots, we hope to better understand the device types, fleet sizes, and program models that will best fit the needs of a diverse group of riders with disabilities who have not had access to the standard shared scooter program.  Permittees are expected to actively solicit input and feedback on their pilots and iterate on their initial vehicle and program designs in order to best meet community needs. Our learnings throughout the pilot will help to inform any permanent program or requirements moving forward.
In addition to providing equal access to all services, we are always committed to ensuring that scooters and other shared micromobility vehicles do not endanger pedestrians or otherwise hamper accessibility of the streets and sidewalks. We are closely monitoring operator performance so that we can enforce and, when needed, void operator contracts. Our enforcement team is out in the field tracking scooter activity and responding to complaints. Investigators cite shared scooters that do not comply with our parking guidelines and notify scooter companies of sidewalk riding. Permittees must investigate and resolve all sidewalk riding reports. We are also working with 311 to improve processes and make it easier for the public to make complaints about both improper parking and riding.
We want to hear from you and look forward to hosting formal opportunities for feedback during the mid-point of the pilot. In the meantime, you may submit a comment through our Regulated and Emerging Mobility Comment Form or through 311. And, if you are a resident or regular visitor to San Francisco and have a disability, we encourage you to complete this survey on your experiences, perceptions, and priorities around emerging mobility services. Respondents are eligible to win a $50 Safeway gift card from the survey administrator, UCLA.
 

Jump

Lime

Scoot

Spin

Device Type
3-wheeled scooter
2-wheeled scooter with seat
2-wheeled scooter with seat

3-Wheeled Device with
Seat, Standing platform & Handlebar

Number of Devices

2 RASSINÉ Tristar Scooters at launch (plan to scale to 10 total vehicles)

22 at the start with plans to increase to 33
10

10 - 15

Reservation Process

Please call or email to make a reservation 24 hours in advance. Phone Number: (415) 326-4880
- Email
- Online

Reserve in-app, at least 24 hours in advance. The scooter will be delivered and picked up to/from the rider.

This pilot is not yet open to the public. Please contact Bob at bob@scoot.co for more information.

Set up an account and make reservations:
- Online
- In-app (through FAQ section)
- By phone: (888) 262-5189 

Service Area/Pick-Up Drop Off Locations

Pick-up/Drop-Off at: 140 Bluxome Street, San Francisco, CA 94107

The whole city (except hilly park areas: Lincoln Park, GG Park, Panhandle, Lake Merced Park, and Twin Peaks Area)
Same as the standard device service area.
Rent from 1144 Howard St Return to 3 locations: 588 Brannan St, 530 Broadway St., 1537 Mission St. Devices limited to 10-degree slopes or lower
Service Hours
Monday - Friday 8:30 a.m. - 5 p.m.
Reservations 7 days/week, 8 a.m.- 6 p.m., excluding holidays. Once reserved, access for 24hr
Same as standard device availability.
All Weekdays 9:00 a.m. - 5:30 p.m., except in inclement weather
Cost
Free for limited time
$32/day (Lime Access users get 50% discount)
Free
Free, may change over course of the pilot.
Payment Method
Free for limited time
Credit card (and text-to unlock feature) or cash via Pay Near Me for Lime Access Users
Free
N/A