Applications are now open for SFMTA's 2021 Powered Scooter Share Program
Today the SFMTA opens applications for the next round of Powered Scooter Share permits. The current permits for operators expire in June 2021 and the next round will go into effect as soon as the current permits expire.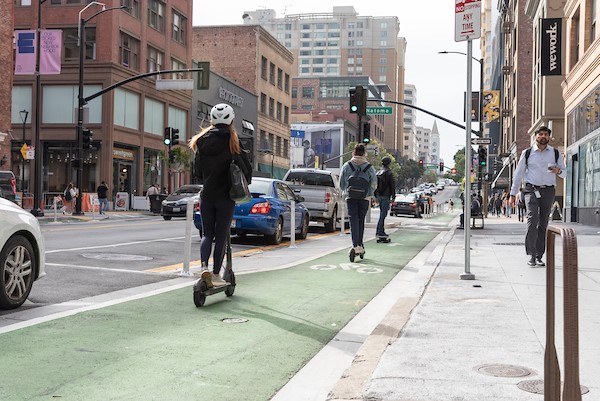 Powered scooters are an increasingly popular way for San Franciscans to move around the city.
SFMTA's Powered Share Scooter program is aligned with San Francisco's goal to provide numerous, reliable transportation choices for people moving in and around San Francisco. This is particularly important given the significant reduction in Muni service as a result of the COVID-19 pandemic.
The 2021 Powered Scooter Share Permit program builds on the lessons learned from the current permit program and feedback from our community stakeholders to create a more useful, safe, and equitable citywide program. As part of the development of the updated application process, staff conducted community outreach and solicited input via a public survey on aspects of the program that staff considered in need of refinement. Full details on the survey can be found in the Report for 2021 Scooter Share Permit Issuance.
The application is accompanied by a series of supporting documents to establish additional guidance and clear requirements around three key issues:
Community engagement requirements: adding a mobility justice training requirement and additional outreach requirements
Distribution requirements: emphasizing the importance of ensuring that all neighborhoods in San Francisco are served by scooters
Adaptive scooter program requirements: transitioning from an adaptive scooter pilot program to a permanent program.
The SFMTA expects to issue approximately three new scooter permits to applicants that meet San Francisco's high standards for safety, equity and accountability. We anticipate announcing successful applicants in spring 2021, and the new permits will take effect on July 1, 2021.
New permits will be effective for an approximately one-year term, with the option to extend for another year at the discretion of the SFMTA. We will establish a cap on the number of authorized scooters – anticipated to initially be between 1,000 and 2,500 scooters per permittee. As of February 2021, the three current permitees are allowed to operate the following numbers of scooters
Lime up to 2,000

Spin up to 2,000

Scoot up to 1,000
About the Application
All interested operators are encouraged to apply by the final deadline on March 31, 2021. Candidates are encouraged to submit clarifying questions in writing to ScooterShare@SFMTA.com by 12 p.m. on March 9th, which will be addressed in a Question and Answer Session on March 12th.   Applications will be evaluated against a standardized evaluation scorecard to determine the strongest proposals.
The Permit Application and accompanying guidance documents can be found on the SFMTA Powered Scooter Share Permit Application website.