Up for Approval: Pilot Protected Bikeways on Valencia Street
Friday, November 30, 2018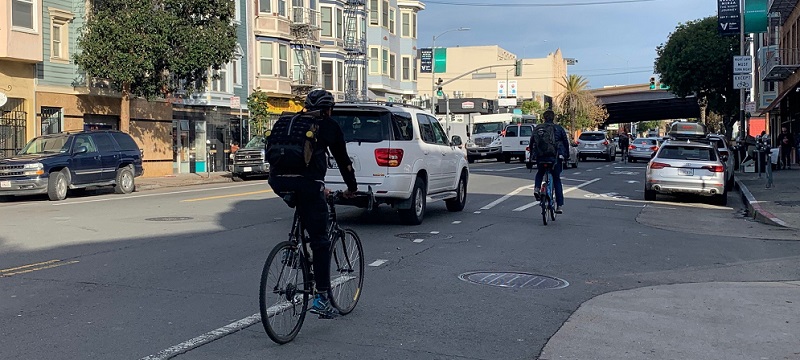 Pilot Parking-Protected Bikeways on Valencia Street will be considered for approval on Tuesday, December 4 at the SFMTA Board of Directors meeting.
With the SFMTA following through on Mayor London Breed's, call to expedite safety improvements on Valencia, the SFMTA has developed a proposal to pilot parking-protected bikeways from Market to 15th streets. This project will utilize quick and cost-effective measures, such as paint and flex-posts, to improve safety for those who bike, walk and drive on the corridor.
The new parking-protected bikeway will improve safety by providing a physical barrier between bikes and moving traffic. Pedestrians may also feel more comfortable with this design since they will be further away from moving vehicles and have an accessible path of travel between the bike lane and parking spaces.
Of the 268 reported collisions between Market and Mission streets from 2012 to 2016, 30 percent of the collisions occurred between Market and 15th streets. These collisions resulted in at least 65 injuries and one fatality.
In addition to the parking-protected bikeway, the agency is also proposing to:
Increase visibility at intersections with "daylighting" and advance limit lines

Install new school boarding islands (with protective railing) at San Francisco Friends School and Millennium School. The islands will provide students and parents with safe, designated areas for pick-up and drop-off

Increase loading zones to support the commercial needs of small businesses on Valencia
As part of the Valencia Bikeway Improvements project, the protected bikeway pilot will test and evaluate if parking-protected bikeways are a suitable long-term option for the Valencia corridor.
Since starting the Valencia project in January 2018, the agency has engaged in over 200 hours of conversation with community members, held two well-attended workshops and consulted with more than 250 Valencia merchants. The bikeway proposals at the SFMTA Board reflect the public's detailed feedback, which was used to fine-tune the pilot's design.
As the project team continues with the planning process for the longer-term Valencia project, those community conversations will only continue.
The SFMTA Board of Directors meeting will be held in City Hall's Room 400, on Tuesday, December 4 at 1 p.m. As usual, the SFMTA invites you to attend and share your thoughts about these changes. If you're unable to attend, your feedback is also welcome! Please send your comments to the SFMTA Board of Directors by email at MTABoard@sfmta.com.
Contingent on the Board's approval, construction is expected to begin in December 2018 and completed in early 2019, weather pending.
For more about this project or to sign up for email updates, please visit SFMTA.com/valencia.