Back On The E Embarcadero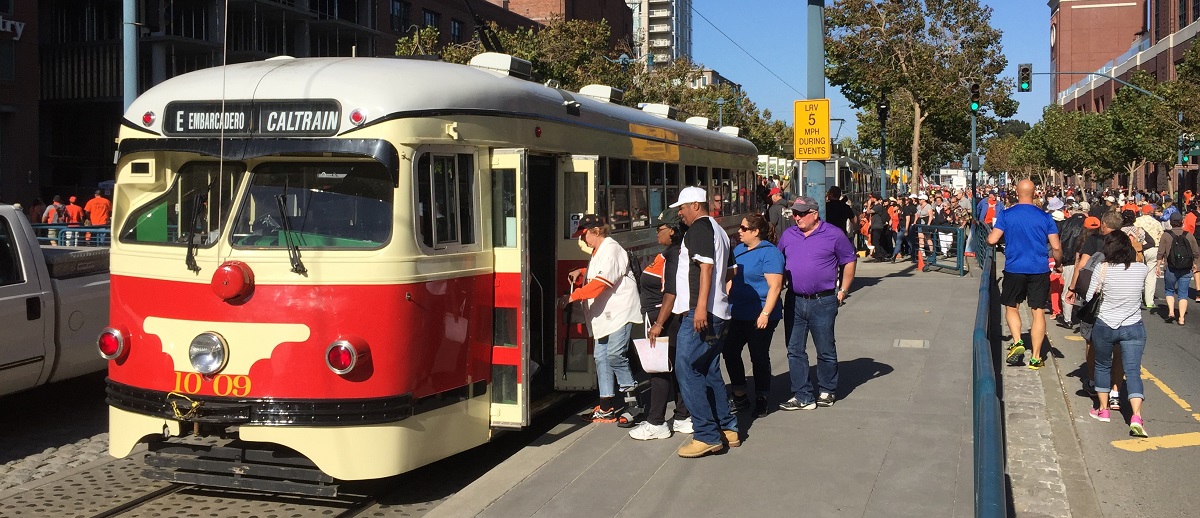 Photo courtesy of Market Street Railway
Starting on Sunday, April 21st, the E Embarcadero Line was put back in action. The historic E Line had been shut down due to construction on Third Street and the new UCSF platform. Now back and better than ever, the historic streetcar takes you from the Wharf to the ballpark, museums, shopping, attractions, famous chocolates and waterfront dining in-between.
Muni's first E Line was based on the Presidio & Ferries Railroad Company's Union Street Line, which the city purchased in 1913 in preparation for the 1915 Panama-Pacific Exposition. As Muni ramped up to be the primary provider of transit to the fair, it needed a line that would go directly from the Ferry Building to the Expo site in what is now the Marina District.
Today's E Embarcadero does not harken back to days of yore to mimic the old E Union. Instead, it provides additional streetcar service to and from some of the city's most popular waterfront destinations. Running along the Embarcadero from 4th and King to Jefferson and Jones, the E Embarcadero features "double-ended" historic streetcars that can be operated from either end, including Muni's 1006 and the sharp-looking Market Street Railway Co. 1011.
So next time you're out along the Bay and need to get down to the Caltrain Depot or the ballpark, keep your eyes peeled for the "E Embarcadero" and ride in style on one of the most scenic routes in town. Be sure to snap a picture of your trip and tag us @SFMTA_Muni.