Balboa Park Gets Better, Safer Boarding Island
We are always focused on safer Muni service. So, while we've been working hard on rolling out the Muni Forward service improvements this week, we're also excited about a new infrastructure improvement out at Balboa Park Station.
Starting yesterday, J Church and K Ingleside customers heading downtown will find it easier, safer and more accessible to board their trains at Balboa Park.
Recently completed construction of a new elevated boarding platform with an Americans with Disabilities Act-accessible ramp along the San Jose Avenue side of Balboa marks the end of the first phase of the larger Green Light Rail Center Track Replacement Project, which, when completed, will reduce infrastructure maintenance and enhance Muni reliability and efficiency.
The new elevated ADA-compliant platform, or "key stop," features a covered cantilever shelter and a second area with seating and a NextBus sign.
Its location along San Jose Avenue provides much easier sidewalk and ramp access for customers with disabilities. Energy-efficient LED lighting will not only illuminate the platform but will also cast light on the nearby sidewalk, creating a better customer experience at night.
Prior to construction of the new platform, Balboa Park customers catching an inbound J or K Line would gather at the northwest corner of Geneva and San Jose avenues inside the perimeter of the Curtis E. Green Light Rail Center.
The former boarding area, adjacent to a concrete wall inside the Green yard, put customers waiting to board within arm's length of moving trains. It also could not accommodate customers in wheelchairs. Instead, those in wheelchairs would have to take a circuitous route through the Balboa Park Station to board Muni trains. They often had to board early and then wait through driver layover time while the trains were at the end of the line.
SFMTA ambassadors were out at the station all weekend, through today, informing riders about the change and passing out customer alerts.
Construction of the new platform started in September 2014. Along with the platform, the first phase of the project included new curb ramps on San Jose Avenue and track replacement work inside the Cameron Beach Yard, which is located diagonally across from the Green facility.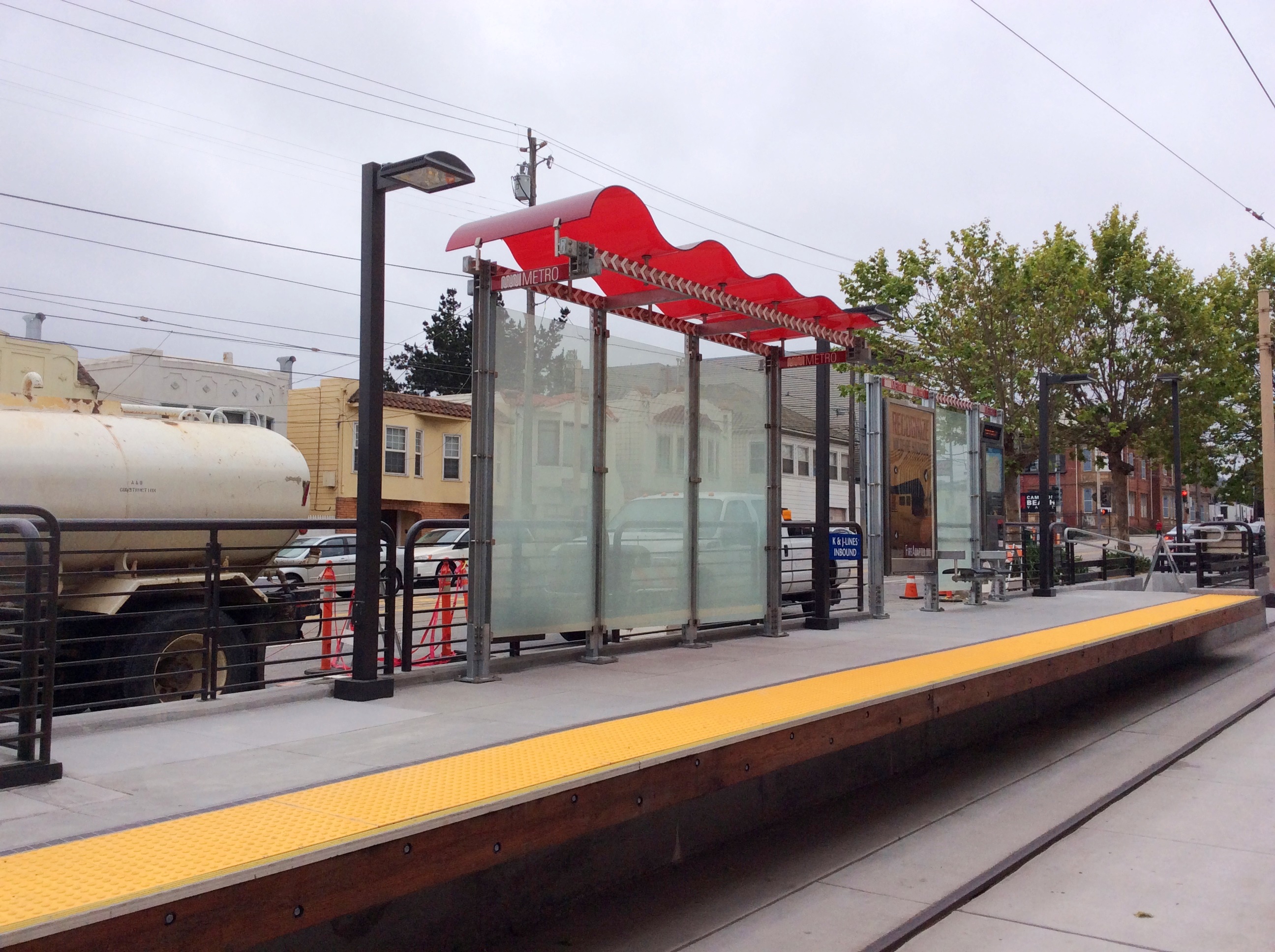 The safer, new ADA-compliant boarding island on San Jose Avenue went into operation this week.
Each Tuesday we bring you a tidbit of transit news or trivia, either from our own backyard or from around the globe.