Bay Area Artists Wanted for Muni Art 2018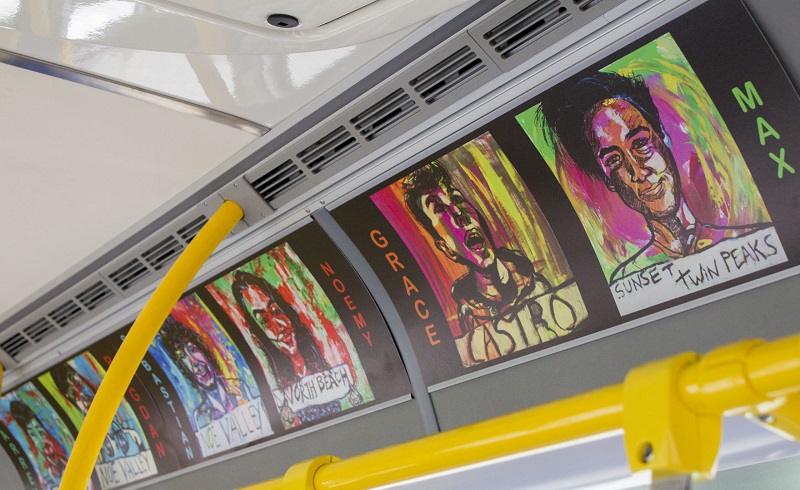 The work of Monica Tiulesci (shown) and four other artists was displayed on Muni buses earlier this year. Photo: SF Beautiful 
Muni Art will return for its third year in 2018, and we're calling for Bay Area artists to create breathtaking art to display for the people who make more than 700,000 trips on Muni every day.
For the first time, our effort to transform ordinary Muni buses into art galleries will go beyond visual art. In addition to our continued collaboration with San Francisco Beautiful and Supervisor London Breed, we've partnered with the Poetry Society of America to incorporate local poetry as part of Muni Art.
As with the most recent installation of Muni Art, artwork from five selected artists will be displayed on 100 Muni buses next January through April. The deadline for submissions is Friday, June 16.
The 2018 Muni Art theme, "The Art of Poetry in San Francisco," asks artists to visually interpret five preselected poems written by Bay Area poets.
Muni Art is an opportunity for artists to have their work displayed in rolling art galleries for hundreds of thousands of commuters in every San Francisco neighborhood. We're glad to continue this beautiful relationship with local artists to help make transit more attractive and engage with our diverse communities.
A committee of local gallery owners and arts institutions will select 10 finalists by June 30. The public will get to vote for the top five artists between July 24 and August 28, and the winners will be announced on August 29. In addition to having their art displayed, the winner with the most votes will be awarded $2,000, and the other four winners will be awarded $1,250 each.
Check out the SF Beautiful website to get the full details on Muni Art, peek at winning art from previous years and apply for the competition by June 16.