Beginning April 8: Modified Owl Service to Start Earlier at 10 pm
The COVID-19 public health crisis is changing ridership patterns and affecting the availability of key staff who operate, clean and maintain our buses. Due to these shifting resources and needs, the SFMTA will be starting late-night Owl service at a new, earlier time during this crisis. Instead of switching from daytime Muni service to Owl service at 1 am, beginning Wednesday, April 8, our late-night Owl routes will start every night at 10 pm. All regular Owl routes will operate with the exception of the 5 Fulton and 48 Quintara/24th Street, which will be temporarily discontinued.
We know that this and other Muni Core Service Plan changes will be difficult for many San Franciscans. We are making these changes to ensure that the limited resources we have are used to provide service for essential trips on our busiest lines with the highest demand with adequate space for passengers.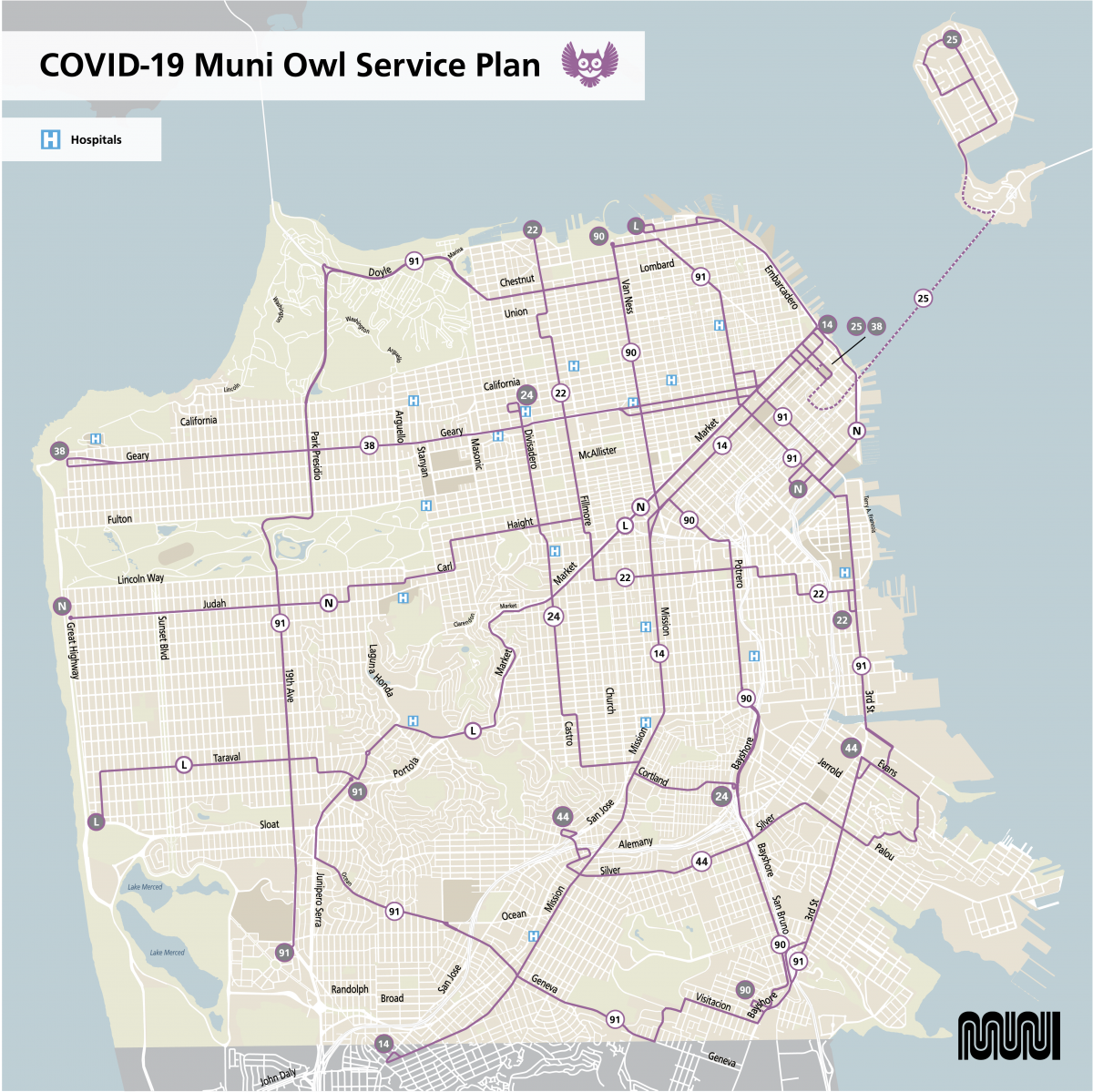 Starting Wednesday, April 8 - Map of the Owl Service to run daily from 10pm – 5am
The following lines will be running 24 hours a day or providing special Owl Service:
L Owl*

N Owl*

14 Mission

22 Fillmore

24 Divisadero*

25 Treasure Island

38 Geary

44 O'Shaughnessy*

90 San Bruno Owl

91 3rd Street/19th Avenue Owl
*Owl route is different than the daytime route. Check the map for exact alignment.
The SFMTA has instituted some of the strongest health protections for our operators, mechanics, car cleaners and customers to minimize the risk of transmission on our buses. Many of our operators are more vulnerable to COVID-19 due to their age or preexisting health conditions, so they are sheltering in place in accordance with the city's order. This has made it difficult for us to fully staff all of our routes.
We must focus available resources on the lines that most critically serve essential trips at the most used times to provide social distancing.
Our priority is to be transparent with the community. Our goal is to restore as much service as possible as soon as possible. In the meantime, these service changes are necessary to keep the system moving during this crisis.
The SFMTA asks San Franciscans to:
Comply with the shelter-in-place directive 
Make only essential trips 
Use Muni for essential trips only when other options are not available 
For more information on all our service changes, visit SFMTA.com/COVID19