The Bells Behind the Cable Car Bell Ringing Contest
Muni's Cable Car Bell Ringing Contest  has been a crowd pleaser for its entire history of more than 50 years. Tonight, cable car operators will step up to ring their hearts out in the preliminary competition, which will determine who goes on to compete in the finals on July 7.
This year, we thought it'd be fun to share a little knowledge about the big brass bell behind the contest, which is not the only bell found on a cable car.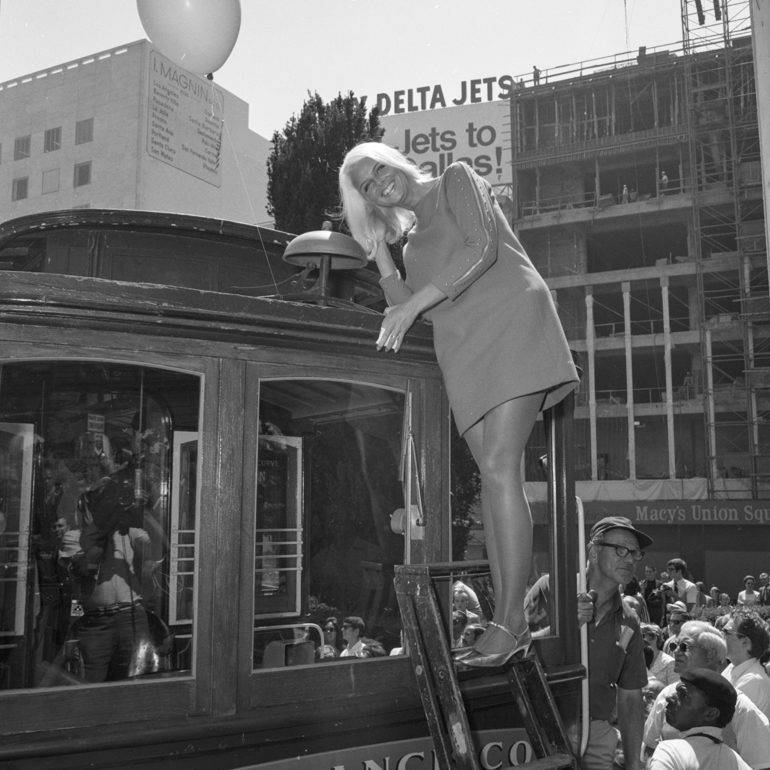 Cable Car Queen 1968 listens closely to hear that unmistakable sound in Union Square, August 22, 1968.
A cable car has two main bell systems which are equally important, but not equally known.
The lesser-known of these is the conductor's bell, which is smaller and quieter and located on the ceiling of both the front and rear of the car. It's kind of like a 19th-century walkie-talkie for the conductor and the grip to communicate. Conductors, who typically ride in the rear of the car and collect fares, direct passengers, and run the rear brakes, use this bell to tell the grip (the operator up front who "drives" the car) when to go, stop, reverse, or if there is a problem.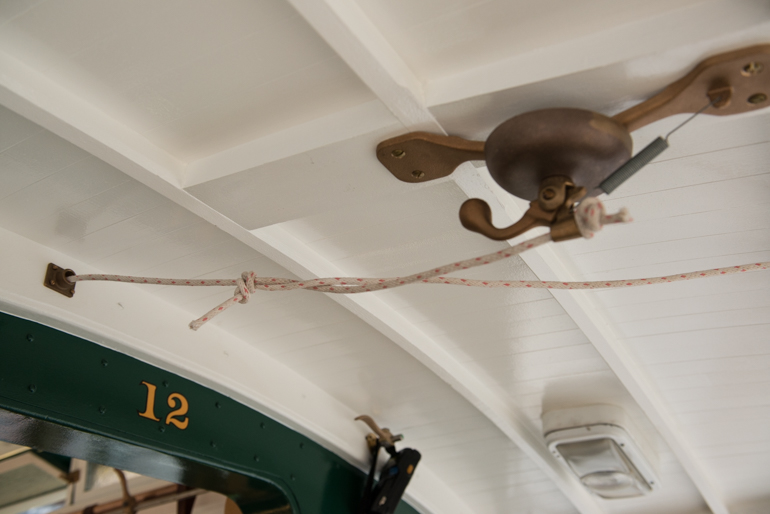 Detail of conductor's bell on restored Cable Car 12, June 15, 2016.
In the annual contest, operators ring the world-famous large brass bell that sits atop the front of the car and has a much louder and deeper tone. The grip has exclusive control over this bell and uses it to alert people on the street of the cable car's presence. Unlike electric streetcars or buses, cable cars have no electrical or compressed air supply to blow horns or ring bells, so this resounding brass bell gets its ring from a quick snap of a rope.
Finessing the pull of that rope into a melody is the skill at the heart of the Bell Ringing Contest.. Despite their separate roles (and bells) on the car, both conductors and grips get to compete. Some even combine the sounds of both bells to make a real cable car orchestration.
Good luck to tonight's competitors. Be sure to join us in Union Square on July 7th at noon for the final competition to see who will become this year's world-champ.
For more cable car photos past and present, check out the SFMTA Photo Archive online and follow us on Twitter and Instagram.