Celebrate Walk to Work Day This Thursday
Join us for San Francisco's fifth annual Walk to Work Day this Thursday, April 6 to celebrate foot-based transportation in one of the most walkable cities in the country.
Walk to Work Day, organized by Walk SF and sponsored by the SFMTA, is a great chance to see how easy, fun, and energizing it can be to integrate walking into your daily life. Every trip – whether it's by car, transit or even bicycle – starts and ends with walking, so just about anyone can work in an opportunity to see the city by foot.

Celebrate Walk to Work Day on April 6 – even walking for 15 minutes of your commute counts.
With more Vision Zero street safety improvements than ever, like more visible crosswalks and safer traffic signal timing, there's never been a better time to explore San Francisco from the ground up.
You can enjoy our latest pedestrian-friendly project in Hayes Valley, where a block of Octavia Street at Patricia's Green (Hayes Street) is closed to vehicle traffic for a week-long "open streets" trial. From 11:30 a.m. - 1:30 p.m., on Thursday we'll hold a "Lunchtime Walk n' Talk" starting there, where you can discuss ideas for improvements to make the neighborhood safer and more livable.
Walk for just 15 minutes of your morning commute – your efforts will be rewarded if you stop at one of the 11 Walk to Work Day hubs throughout the city to get free tote bags, safety lights, coffee, breakfast snacks and more. As with past events, we'll be out to encourage participants at the hub outside SFMTA headquarters at the corner of Market Street and South Van Ness Avenue.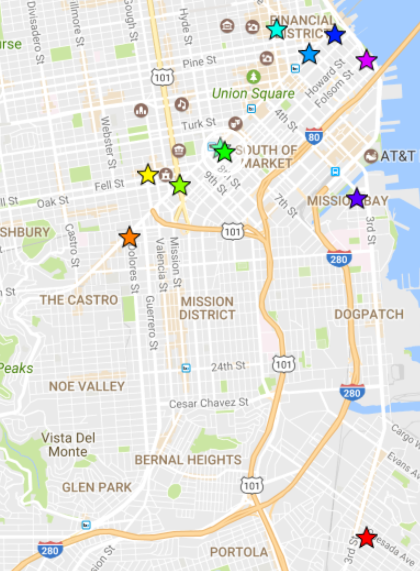 Stop by one of these Walk to Work Day "hub" locations to get rewards for your walking commute on Thursday. See location details in the full Google Map.
Share Your #Walk2Work and Win Prizes: You can also post about your walking commute on Twitter, Facebook or Instagram with the hashtag #Walk2Work to compete for prizes for the "Longest Walking Commute," the "Most Interesting Sight" and the "Best Shoe Bling."
Join us Thursday in celebrating walking, the most healthy and sustainable form of transportation. Learn more on the SF Walk to Work Day website.