Celebrating City Hall at 100
This year marks the centennial of the completion and opening of our beautiful City Hall, a masterpiece of architecture and testament to the city's return from the destruction of the 1906 earthquake. In celebration of City Hall's 100th, we bring you a selection of Archive photos that showcase our civic building and some Muni events held at the Hall throughout the years. And tomorrow night, Friday, June 19, you are welcome to join your fellow San Franciscans and SF-philes in Civic Center Plaza for huge public celebration!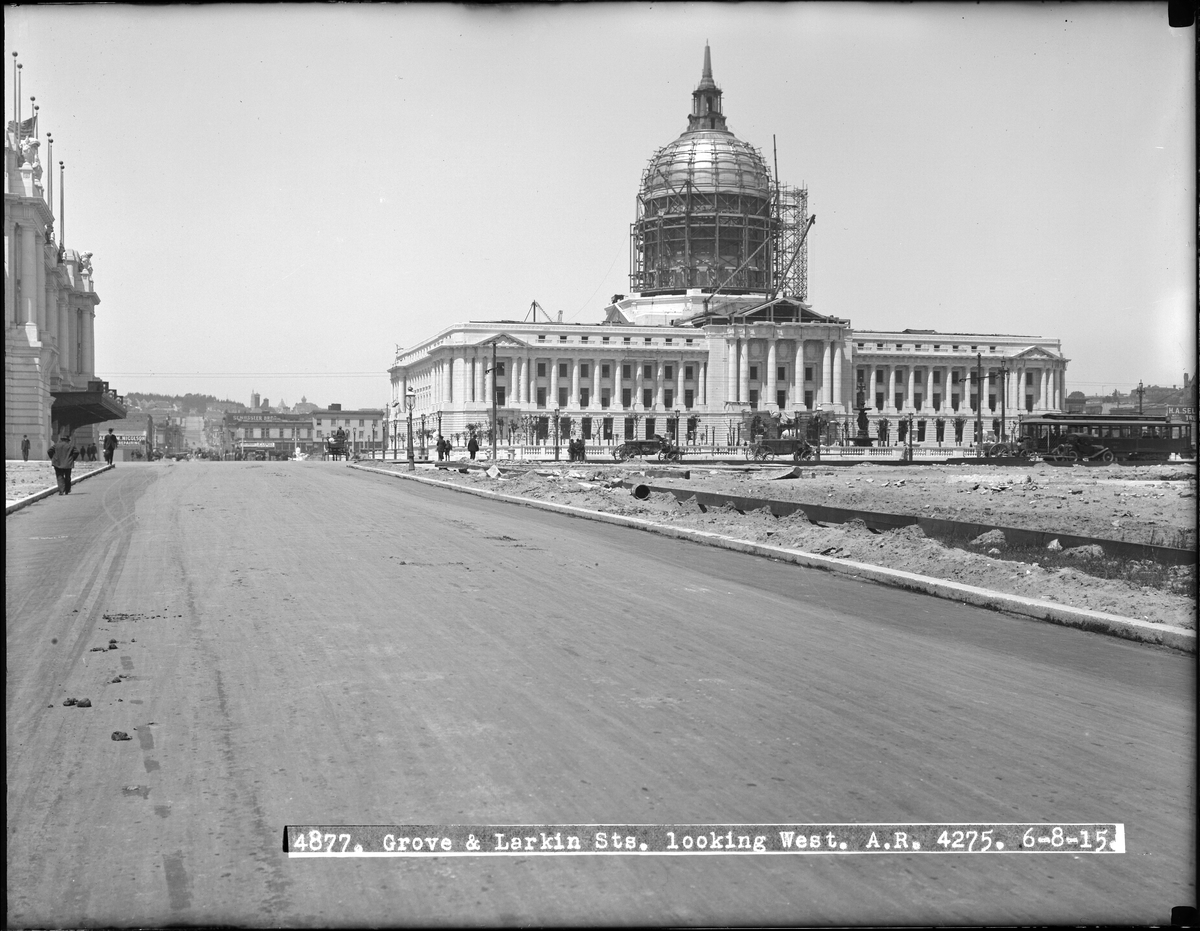 Looking West on Grove and Larkin Toward City Hall Under Construction | June 8, 1915
One of our earliest shots of the "new" City Hall was taken 100 years and 10 days ago on June 8, 1915 and shows the final stages of construction on the dome and eastern pediment. Civic Center Plaza is just beginning to take shape with the Civic Auditorium to the left and the original fountains and landscaping going in across from it. What would become the present day site of the San Francisco Public Library's new building is seen as an empty dirt patch at frame right.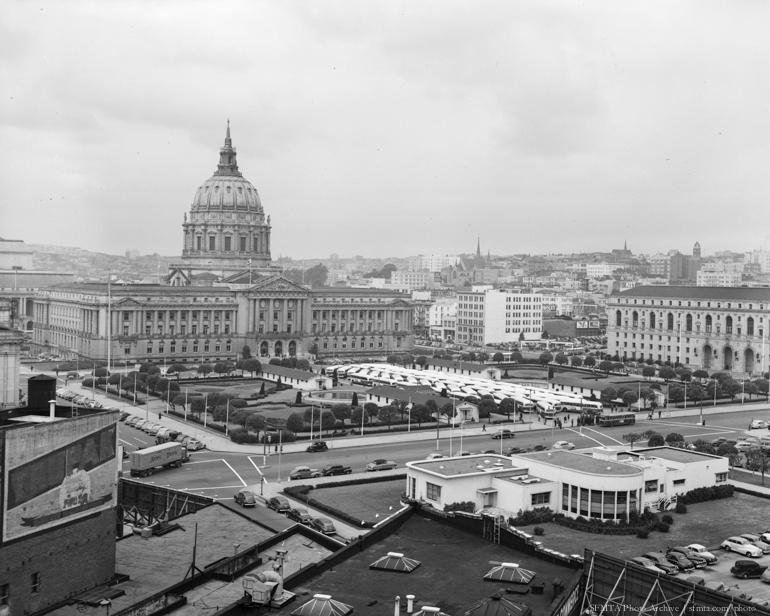 55 New White Motor Coaches at Civic Center Plaza | June 4, 1948 | X1680
Next, we jump ahead 33 years to 1948 for a view of the plaza from the southeast, filled with Muni's newest additions to the bus fleet. Muni purchased 55 buses built by the White Motor Company, and to celebrate they paraded the buses down Market Street to the Civic Center where they were parked en masse for the public to check out. Note the barracks in the central plaza, used during the war to provide temporary housing for soldiers.
 

New GM Motor Coaches Going into Service at City Hall | July 8, 1969 | M0651_2
Another 20 years brings us to 1969 with yet another celebration of new Muni equipment. In '69, Muni got a whole new batch of GMC coaches painted in the gold & maroon livery of the day (same as our restored Coach 3287). Again, they were paraded past City Hall and out for public inspection and a press conference. This time around, the barracks, gardens and circular fountain pools are gone, having been removed during the excavation of the plaza for a parking garage and replaced with grids of trees and paths.
Over the years, City Hall and its plaza have undergone many changes, but the building stands strong as the headquarters of our city government and a public palace to be enjoyed by all. The gilded dome still towers above Van Ness Avenue and thousands of people visit the awesome and ornate rotunda within. Once again, City Hall will play host to a great public event in celebration of its 100 years. Held in Civic Center Plaza tomorrow, the free, family freindly event will feature live music, food and drink stands and a light show against the facade of City Hall.  Be sure to turn out and celebrate our civic "crown jewel" at this 100th birthday bash!
Be sure to check out more historic photos on the SFMTA Photo Archive website and follow us on Flickr, Twitter, Google+, and Instagram!