Central Subway Brings More Art to Union Square
Wednesday, December 14, 2022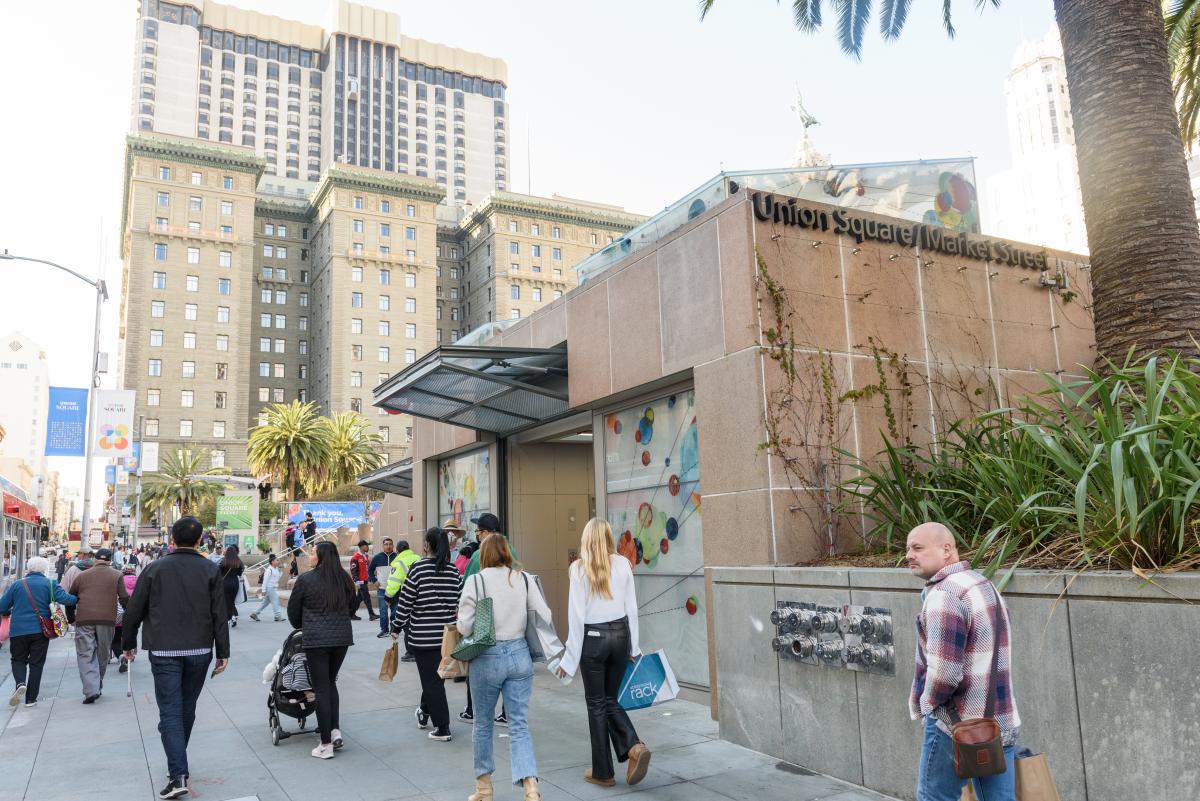 Main entrance to Union Square/Market Street Station during special weekend service 
The Union Square/Market Street Station is centered in the heart of the Union Square neighborhood, known for world-class shopping and notable art galleries. With the opening of the Central Subway, a new public art collection arrived, with color schemes complementing the station's modern architectural design. Collaborations between artists reign at this station, allowing a blend of different artistic concepts. 
Erwin Redl titled his piece Lucy in the Sky. It is an illuminated installation comprised of hundreds of translucent 10 x 10 inch light panels, each containing an array of color LEDs. A diamond-shaped pattern is formed by suspended light panels along the entire length of the concourse level corridor's ceiling. They are computer programmed to slowly change color and display simple patterns, creating an immersive and kaleidoscopic experience.  

Jim Campbell and Werner Klotz created a site-specific stainless-steel sculpture called Silent Stream, located on the station's platform level. Comprised of highly polished steel disks, the overhead installation loops its way through the struts along the length of the platform and reflects the passengers and trains passing below.  

Hughen/Starkweather integrated a design into the glass deck and the front faces of the glass elevator enclosures. Titled Convergence: Commute Patterns, the artwork is based on the dynamic and diverse pathways, commute patterns and arterial structures above and below the streets of the Bay Area. The artwork's visual impact on the station's exterior alternates from being subtle during the day to backlit at night.  
Watch an interview video with comments from Amanda Hughen, Jennifer Starkweather, Erwin Redel, Jim Campbell and Werner Klotz. Get to know the artists and learn directly from them about their work at the new Union Square/Market Street Station. A special thank you to the San Francisco Arts Commission for making public art possible at the four new stations. 
Special Weekend Service started on Nov. 19 and will last through the end of the year, Saturdays and Sundays from 8 a.m. to midnight. Full revenue service will begin January 7, Monday through Friday, 6 a.m. to midnight and Saturdays and Sundays, 8 a.m. to midnight. 
For more artist information: 
Hughen/Starkweather: 
Erwin Redl: 
 Jim Campbell  and  Werner Klotz: