Central Subway's Chinatown Station Couplet Contest Winner
Through the middle of San Francisco lie the tunnels and caverns that will become the Central Subway extension of Muni's T Third Line. The 1.7-mile tunnel between SoMa and North Beach has been built and the construction of the three stations is well underway — the project is 60 percent complete and under budget. Recently crews mined a cross-cut cavern under Stockton Street that will become the main entrance to the Chinatown Station concourse. In addition to the main construction, other preparations are underway. Not only does the Central Subway Project include earth moving and concrete pouring, it also includes poetry writing.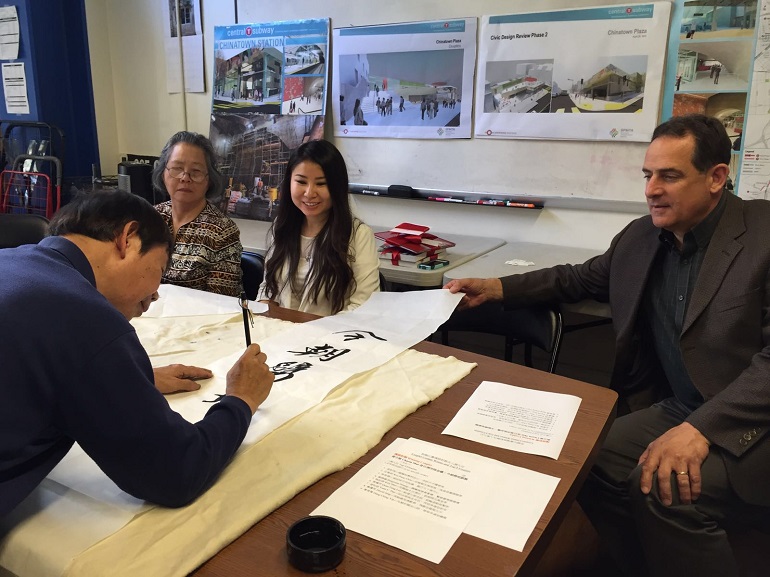 Artist Terry Luk paints the winning couplet for the Chinatown Central Subway Station, as composer Carin Mui, CCDC staff and member of Central Subway outreach team Jerri Diep and Central Subway Program Manager John Funghi look on.
In April, the Central Subway Project and their partners at the Chinatown Community Development Center began a search for a couplet, a form of Chinese poetry with two lines of verse that have a joined meaning and follow a list of exacting rules, to be turned into art that will adorn the entryway of the Chinatown Plaza at the Chinatown Station. A panel of three judges reviewed 120 entries. In addition to local contestants, poets from as far away as Boston and Hong Kong also submitted their couplets.
The contest was won by Carin Mui of San Francisco. She and her husband enjoy writing poetry in their spare time.
Mui's winning couplet reads,
In the past, we traveled across the Pacific to mine for gold;

Now, we break through earth to form a silver dragon.
The expression reflects on the great sacrifice of Mui's ancestors and the first Chinese sojourners who labored to create a better life. It also alludes to the Central Subway trains, which will provide important transportation connectivity, as the silver dragon.

The winning couplet by Mui painted by Luk.
In true tradition, if placed outside of a door, the couplet blessing or idiom is meant to greet and welcome visitors. Mui's couplet will be transcribed into calligraphy by Terry Luk, and imprinted onto red opaque glass with black lettering outside of the Chinatown Plaza to greet visitors of Chinatown.
When open for revenue service in 2019, the Central Subway will provide an important service linking the northern and southern parts of the city to community, the arts and commerce.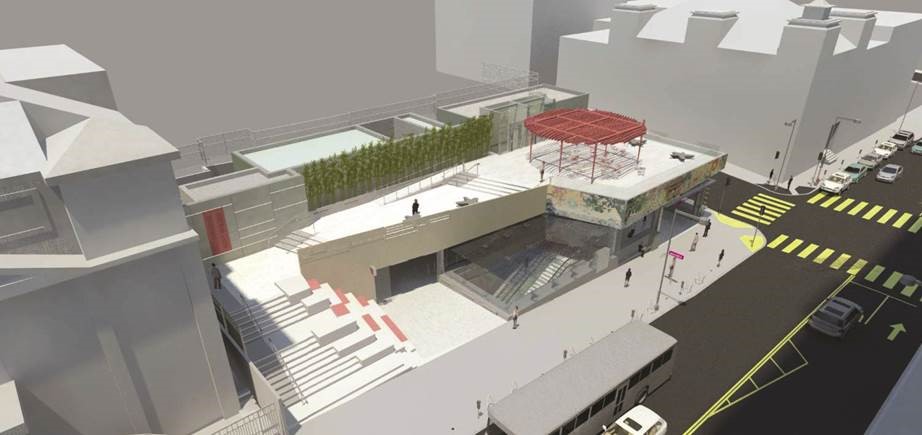 A rendering of the Chinatown Station Plaza above the Central Subway Chinatown Station.
We are excited and honored to have a couplet that will greet each and every visitor of Chinatown with a verse that reflects cultural history and pays homage to the first Chinese immigrants. The winning couplet and nine other finalists' couplets will be displayed at Chinatown CDC's art exhibit at 41 Ross Alley.