Challenge Accepted: Delivering Safer Streets for Cyclists
In May 2019, Mayor London Breed challenged the SFMTA to install 20 miles of new protected bicycle lanes over the next two years in order to more quickly achieve the city's Vision Zero goals. This will double the rate for delivery of protected bike lanes. These upgraded streets will contribute to a safer, more connected network for everyone who travels by bicycle.
Making our streets safer for cyclists and pedestrians is a core element of the City's Vision Zero commitment to eliminate traffic fatalities. Protected bike lanes are how we make bicycling a safer, more comfortable and ultimately, more attractive transportation choice.
Our city has long been a leader when it comes to sustainable transportation. By choosing to ride public transit, ride a bike or walk, San Franciscans are helping reduce greenhouse gas emissions and other impacts of traffic congestion around the city. But, if we are to expect people to ride, they need to feel safe and protected from traffic.
Protected bike lanes that separate bicycle riders from regular traffic are common in other countries and yet they are a relatively new concept in the United States. San Francisco installed its first protected lane in 2011 and has been consistently accelerating the pace of implementation. The map below illustrates how quickly protected bike lanes have become a critical part of the San Francisco bike network.
The city currently has nearly 25 miles of protected lanes and last year was our biggest year yet, with 5.5 miles of new lanes on streets including 8th St., Masonic Ave., Townsend St., Turk St. and Howard St.
So, delivering 20 new miles in two years…that's an ambitious goal. How are we going to get there? We are:
Focusing on "quick build" projects that can be delivered faster using city crews and/or on-call contractors (

more information on SFMTA's quick build program

)

Using low-cost materials, such as paint and posts. This won't work everywhere, but where it does, these inexpensive, easy to install options can reduce project delivery times from years to months

Working with our sister agency the San Francisco County Transportation Authority (SFCTA) to identify additional funding to accelerate these "quick-build" projects, including committing additional funds to expand the capacity of the SFMTA sign and paint shops

Working with the SFMTA Board of Directors to approve policy changes to help expedite the project approval process and allow staff to be more flexible and nimble at implementing and adjusting safety projects
So far this year, we have installed nearly four miles of protected bike lanes on streets including Valencia St., Howard St., 2nd St. and Polk St. In the next several weeks, SFMTA crews will add protected bike lanes to 7th St. between Townsend St. and 16th St., the first example of a protected bike lane delivered through this new approach.
Over the next two years, we expect the protected bike network in fast-growing SoMa to be complete while continuing to expand the network into other neighborhoods across the city. The map below identifies streets that could be part of the next wave of protected bike facilities.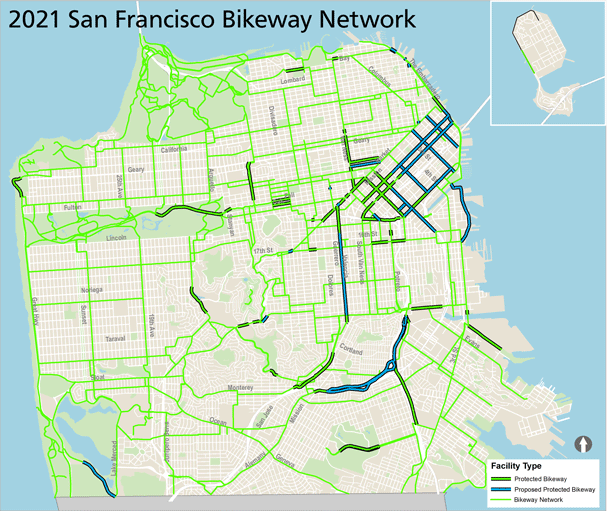 San Francisco's Vision Zero approach includes engineering safer streets, educating the public about safe driving behaviors, enforcing traffic laws and advocating for policies that support traffic safety, that's how we as a city, will continue to make our streets safer and more welcoming for cyclists.
We will continue to provide updates on these efforts and others as we work towards our Vision Zero goal of zero traffic fatalities, but we need your support. Making our city safe for cyclists requires a citywide commitment. Please let us know of any problem areas by reporting obstacles on our bike routes through Twitter and @SF311 to help inform our enforcement and future projects.