Check Out the New SF STREETS Interactive Map
Tuesday, November 5, 2019
Today we launched a new tool: the SF STREETS Interactive Map, the newest way to explore projects in San Francisco from three City agencies – San Francisco Public Works, San Francisco Public Utilities Commission (SFPUC) and the San Francisco Municipal Transportation Agency (SFMTA). This map is designed for individuals interested in what is happening in the public street, and to see at a glance which projects by agency are in the works or underway.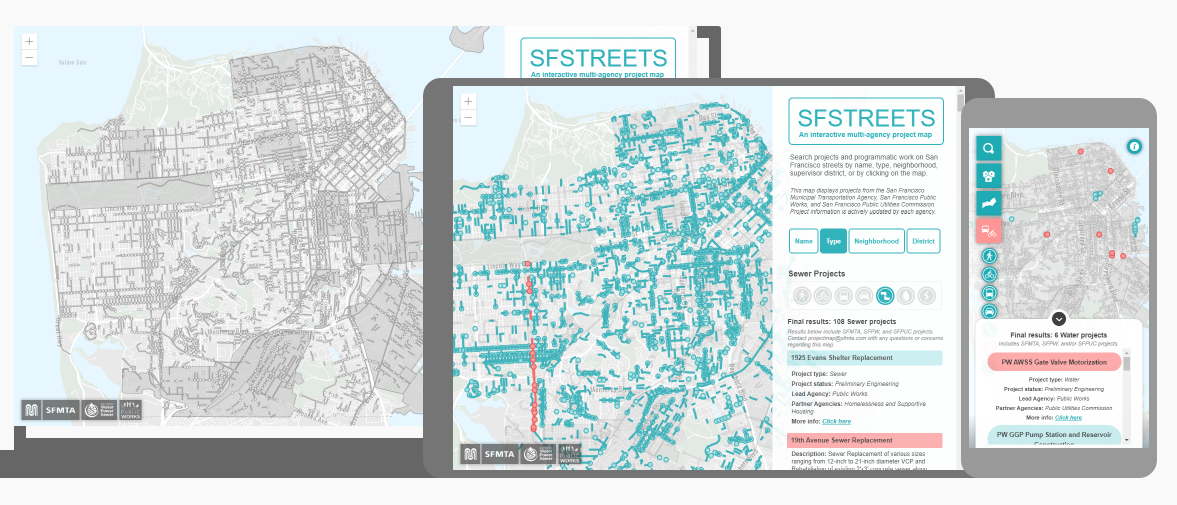 The goal of this project was to create a user-friendly way to search for information about city projects that touch the streets of San Francisco. The map helps us share information about work from three City agencies (San Francisco Public Works, SFPUC, and SFMTA) with members of the public, city leaders and our city partners. Staff can also use the map to minimize impacts to communities by seeing what other projects are happening nearby, allowing us to better coordinate construction schedules. Work featured on the SF STREETS Interactive Map includes SFMTA projects from our agency webpage and active San Francisco Public Works or SFPUC projects that are or will be underway within the next two years. Phases of projects included range from the Environmental Review Process to the Construction phase, and project data is maintained by the lead agency.
For specific comments and questions please reach out and drop us an email at ProjectMap@SFMTA.com.
More information about the map and how to use it can be found on our FAQs page.