Chilling in the Photo Lab
Thursday, September 10, 2015
Here at the SFMTA Photo Dept. & Archive we've been hard at work! After more than four years of intensive scanning, we're pausing to take a breath and take stock of what we've achieved. With the help of funds from the San Francisco's Historic Preservation Fund Committee (matched by the SFMTA), we've put over 5,000 digitized and keyworded images of SF history on the SFMTA Photo website for you all to view and enjoy.
Less visible, but just as important, our archivists hit a preservation milestone this August: 1,000 negatives frozen in cold storage. As part of our first major digitization project, we're rehousing thousands of negatives in new archival packets and boxes and putting a majority of them into frozen storage. By moving into chillier digs, our plastic-based film increased its lifespan by 500 years.

Chill out! Photographic negatives are packaged for a long-term deep freeze in cold storage. Here a photo archivist adds a box to deep freeze. As of August, cold storage holds over 1,000 negatives.
Without a long-term, low temperature storage environment, film-based photographs will eventually undergo serious chemical changes that can permanently damage the negatives.  The image below compares two film negatives on the left in a poor state of preservation with the two on the right, looking lovely despite approaching the ripe old age of one hundred years.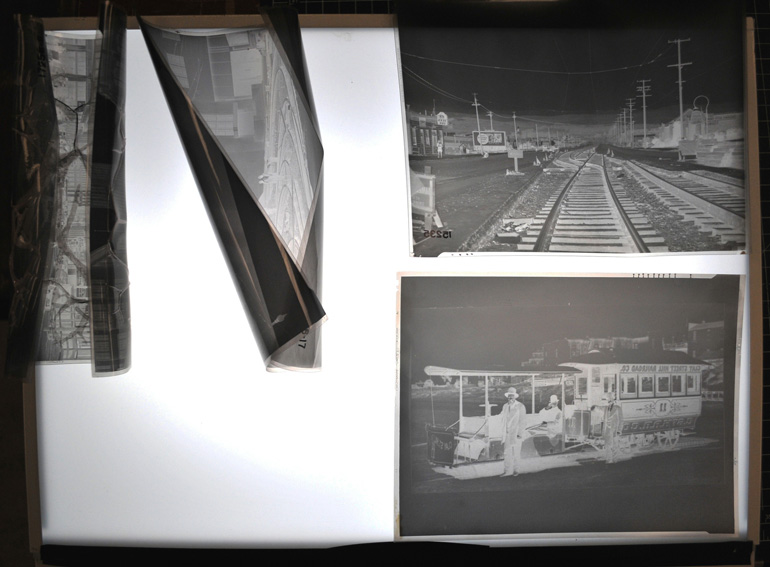 Cellulose acetate negatives illuminated on a lightbox.  Film negatives on the left are in a sorry state of advanced deterioration, curling inwards and rendering the image un-scannable (in preservation parlance they are "channeled" and "crackling").
To take the photo lab full-circle, for this week's Throwback Thursday feature we've got an unusual "peek behind the curtain" into the realm of the photography wizards from our transit past. The image below shows the photo lab at United Railroads of San Francisco (URR) in the 1920s, filled with a cornucopia of chemistry supplies to develop negatives and prints. Although they were originally privately-operated, the URR was eventually incorporated into the SF Municipal Railway (Muni) in the mid-twentieth century. In addition to rolling stock such as streetcars, motor coaches (buses) and cable cars, the large collection of historic transit photographs from "the United" was also transferred to the city and merged with Muni's already existing photo lab.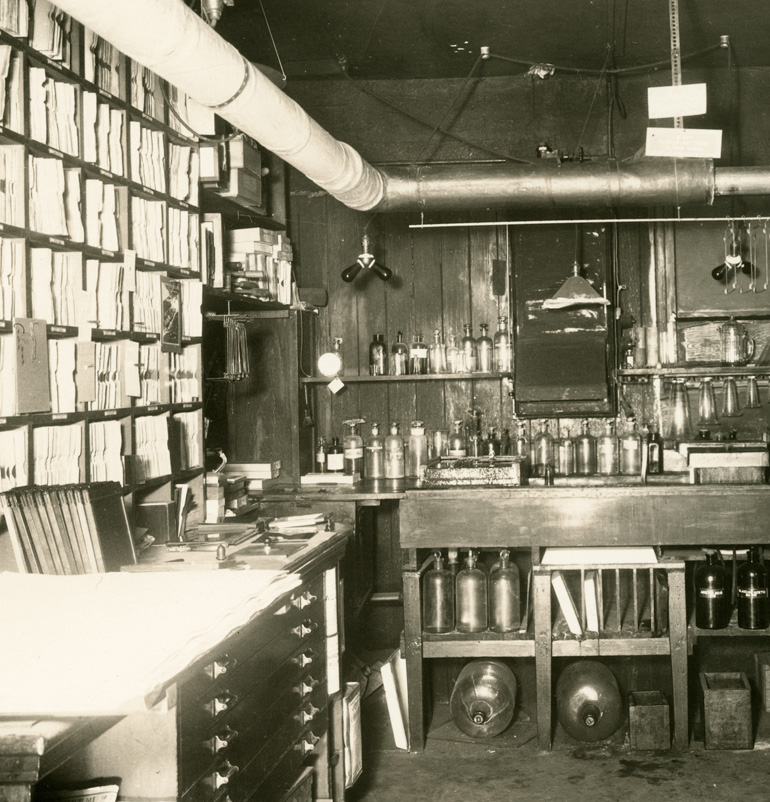 A view inside of the photography lab of the United Railroads, likely taken around the 1920s. The envelopes on the left-hand shelves contain negatives, many of which are preserved today in the SFMTA Photo Archive collection.
The photo lab shown above was under the direction of photographer John Henry Mentz and many of the images that form his life's work are viewable on the SFMTA Photo website. While SFMTA photographers now create digital photos rather than images on glass plates and film, the Archive continues to preserve this historically valuable collection and share it with the public. As always, find more SFMTA photos on Flickr, Twitter, Google+, and Instagram