Coming in September: Better Muni Service, New Buses and More
We're at it again. For the second time this year, get ready for more Muni service, better Muni routes, new buses and expanded service hours.
All this and more is hitting the streets of San Francisco in less than a month as we work to give Muni customers what you value most—your time.
In April we launched the first of a series of four service increases, directly benefiting 165,000 customers. The April upgrades also included a "Rapid Network," which prioritized frequency and reliability along the city's most heavily used routes, and a new Muni map. Next month we're rolling out the second round of citywide improvements aimed at making a safer, smarter, more convenient and more comfortable transportation system in San Francisco.
When these new upgrades launch on September 26, Muni customers will see service improvements like:
Brand new buses for a smoother, more comfortable ride
Increased frequency and shorter wait times on some of our most heavily used routes
Larger buses on our crowded Express routes
Expanded service hours in response to what we've heard from riders, including earlier and later Muni pick-ups
Updated routes with new expanded connections across San Francisco
Thanks to these improvements 140,000 Muni riders will see more frequent transit service just a few weeks from today. 
Here's a sneak peek at the improvements:
Better buses all around!
We're going the extra mile by replacing the entire Muni fleet over the coming years. This September you'll see up to 30 new 60-foot hybrid electric buses on the street and seven new 60-foot electric trolley buses. Already 116 new buses have gone into service, and we're just getting started. For the next 18 months, we'll continue to bring in new 60-foot electric trolleys every week.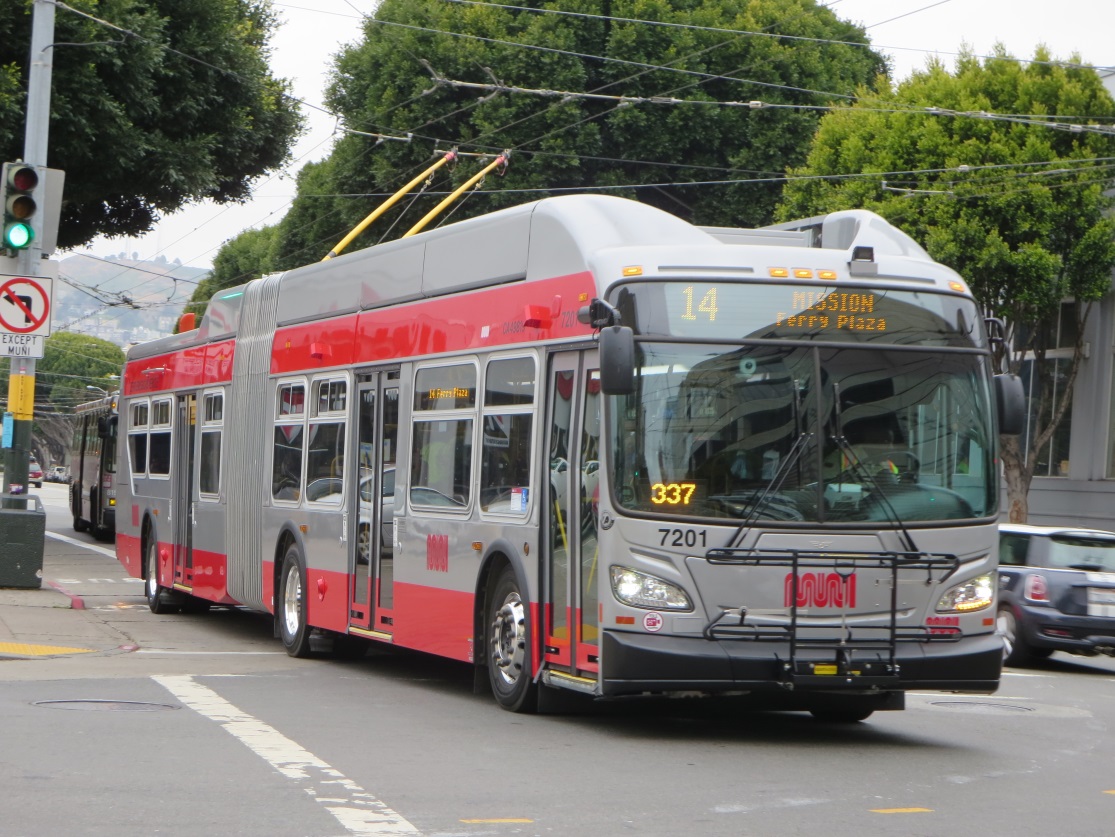 New 60-foot trolley coach on the 14 Mission
Tired of waiting for Muni?
We heard you, and we're increasing the frequency of our buses and metro cars along our most heavily used routes. This means shorter wait times at Muni stops throughout the city.
Specifically, you'll see
More trains on the K Ingleside and T Third lines during morning and evening commutes
More trains on the N Judah in the morning
Increased frequency on the following bus routes:

1 California
9R San Bruno Rapid
18 46th Avenue
21 Hayes
22 Fillmore
24 Divisadero
43 Masonic
57 Parkmerced

A little more room, please!
We know everyone wants more room on Muni during rush hour. Riders along two of our Express routes will be getting larger buses to better accommodate rush hour crowds.
1AX California Express during the morning commute
14X Mission Express during both the morning and evening commutes
Stepping up our AM commute
The early bird gets the worm, and we're pleased to offer morning riders more service on two more lines.
Expanded morning service hours on the 14X Mission Express – service will start at 6:15 a.m.
Extended morning service on the 38AX/BX Geary Express – service will go until 9:10 a.m.
Making new connections
We're updating a handful of Muni routes to help riders make new connections between neighborhoods across the city. These redesigned routes are intended to improve the reliability of our buses and provide better access to major destinations and transit stations, including BART.
We'll be out talking to riders and sharing information along the following Muni routes about how these new connections may change up your trip:
Our goal is to help move Muni forward and make it safer and more convenient to get around San Francisco.
Let us know if we're hitting the mark. Visit TellMuni.com to tell us what changes you'd like to see and to share your thoughts, concerns and hopes for the future of transportation in San Francisco. You can also learn more about our plans for Muni Forward with accessible and easy-to-download project information at muniforward.com.