Commemorating the International Day of Persons with Disabilities
Thursday, December 3, 2015
Today is the United Nations International Day of Persons with Disabilities (IDPD) and we wanted to bring awareness to the day by looking back in time at a few things Muni has done over the years to improve our system to make it more inclusive and easier to use for everyone.

New Wheelchair Platform on L Line at Wawona and Taraval Streets | May 3, 1983
This year's IDPD main theme is "Inclusion matters: access and empowerment for people of all abilities" with a key sub-theme for us at the MTA: "Making cities inclusive and accessible for all." A crucial factor in making San Francisco more inclusive and accessible is designing and building our public transit and transportation infrastructure so that everyone can navigate around town easily and safely.
The above image from 1983 was taken at the opening of a new ramped platform ramp on the L Taraval, an improvement that made the Muni Metro system more accessible. This platform, which provides level boarding into the vehicle, makes it easier to get on and off of Muni trains for both a customer using a wheelchair and someone using crutches.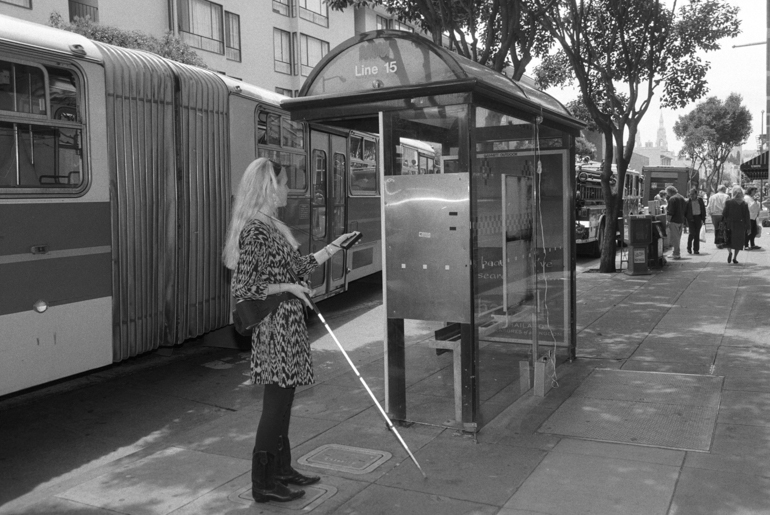 Blind Customer Using Talking Shelter Sign on 15 Line Stop | May 15, 1995
This shot from 20 years ago shows one of our early "talking shelters," bus stops with built in capability to inform visually impaired passengers of what stop they're at. Coupled with loudspeaker announcements from the bus, systems like this help people find their way and allow greater access public transit.
And just because we've only shown photos from the past doesn't mean we're asleep at the wheel when it comes to actively working to improve our system and our city today. In July we profiled the Multimodal Accessibility Advisory Committee (MAAC), a group that keeps the agency in the loop on accessibility problems and solutions. Our Accessible Services team works closely with both the community and our traffic and transit staff to help make transportation easier for everyone to use. For example, the expertise from our staff and the insights from community mean that Muni's newest vehicles have a more user friendly option that allows passengers using wheelchairs to independently back up against a padded wall and lower an armrest for stability. Also, the newest 60-foot hybrid buses are some of the first buses in the nation to have three dedicated securement areas for passengers with mobility devices.
Throwing in a couple more interesting links related to improvements for the visually impaired, our city family at SFO was featured in this Smithsonian Magazine article about a new navigation tool in Terminal 2 and some great information about braille and tactile transit system maps put together by the Lighthouse for the Blind and Visually Impaired, who are one of the organizations helping to develop our Van Ness corridor tactile maps.
Here's to more improvements ahead!  
Follow us on Flickr, Twitter, Google+, and Instagram and check out the SFMTA Photo Archive website for more great photos!