Countdown to the Cable Car Bell Ringing Contest
The Cable Car Bell Ringing Contest is a long-standing tradition at Muni, and, once again, the time approaches for the ringing to commence at this years' 52nd contest. Tonight, hopeful contestants will fill the air at the Cable Car Barn with that famous and unmistakable sound as they compete in the preliminary competition to determine who will go on to the final public event on July 9.
To whet your appetite for this perennial favorite, we thought we'd share a little background on the contest and bring out a photo of one of the most illustrious winners from the past as we countdown to the main event.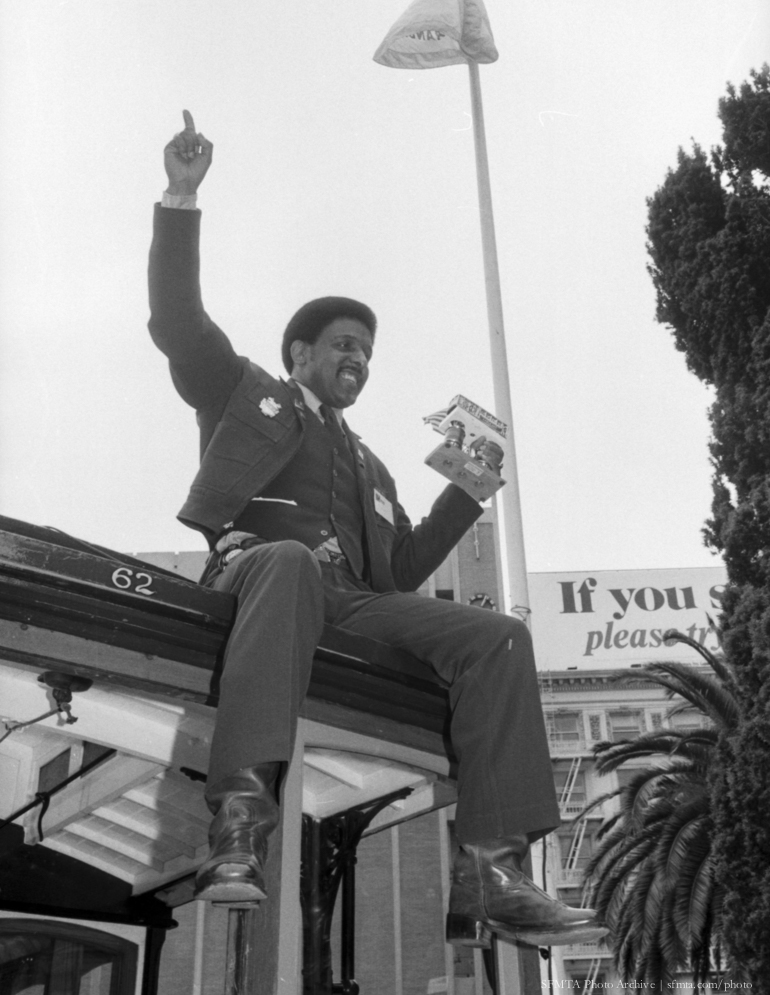 Cable Car Bell Ringing Contest Champion Carl Payne | June 19, 1985
Our feature photo shows Carl Payne sitting atop motorized Cable Car 62, celebrating his victory in the 1985 contest. Mr. Payne is the most prolific winner, having taken home the trophy 10 times in 12 years from 1977 to 1989. Others have had multi-year winning streaks, but no one has yet matched his wins.
According to Muni historian Bob Callwell, the very first contest was held in 1949 to select three gripmen to operate cable car No. 524 on a short section of track at the Chicago Railroad Fair. However, the first of the contests as we know them today took place in 1955 as part of a Cable Car Festival to promote the cable cars as a visitor attraction.
While the contest has had its ups and downs and has certainly changed over the years, the brass bell resonating around the square has remained a constant draw. From the days of Cable Car Queens and wild celebrity appearances (like Cookie Monster in '77), the event is a little less kooky but no less special and has that real San Francisco flavor.
Be sure to stay tuned for more details about the July 9 main event and good luck to all of tonight's contestants, who will duke it out in the Cable Car Barn to see who's got what it takes to go on to Union Square!
Also check out more historic photos on the SFMTA Photo Archive website and follow us on Flickr, Twitter, Google+, and Instagram for more announcements.