This Day in History: Playland on the 5 in 1949
Thursday, February 2, 2017
In 1949, the 5 Fulton took you out to the fun part of town: Playland-at-the-Beach.
Playland was an exhilarating (and often foggy) seaside assemblage of good times, with bumper cars, an infamous fun house with the mechanical Laffin' Sal, an arcade and treats like the famous "IT'S-IT" ice cream sandwiches.
The image of Playland below was taken at the height of the fun, on February 2, 1949 – 68 years ago today. It shows the end of Muni's 5 Fulton route with a new bus turnaround under construction at the foot of a towering wooden ride.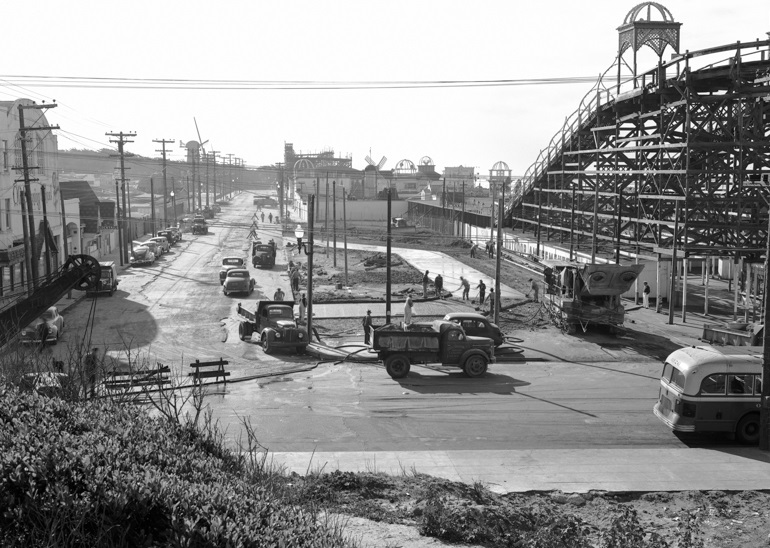 In 1949, a new loop was under construction to allow trolley buses to turn around at the end of the 5 Fulton route at LaPlaya and Balboa streets. Playland structures are visible to the right and in the background.
Playland-at-the-Beach was born in 1926 when George Whitney, looking to create the "Coney Island" of San Francisco, bought up the menagerie of attractions that had existed on the northern end of Ocean Beach as far back as the mid-1880s. In its heyday, Playland featured classic rides like a roller coaster and merry-go-round, as well as a miniature sailboat ride, a diving bell and a wet-and-wild water slide known as "Shoot-the-Chutes."
But in the 1960s, the park fell into decline after the death of Whitney, Playland's primary proprietor. The once-grand amusement park grew seedy and shabby as attendance and revenue dropped, and the city's carnival by the sea was torn down in 1972.
While Playland has been left to the history books, the 5 Fulton is still going strong. Following the addition of 5R Fulton Rapid service in 2013, the route received Muni Forward upgrades with increased service and longer buses. Today, the trolley bus route ends at Cabrillo and La Playa streets – nearly the same spot as their streetcar ancestors.
You can explore more historic photos in the SFMTA Photo Archive, plus find more photos and history over at the Western Neighborhoods Project – and feel free to share your own Playland memories in the comments below.