This Day on Market Street, 1940
For this Throwback Thursday (#TBT), take a ride in the SFMTA Photo Archive time machine to catch a glimpse of a busy day on March 20, 1940.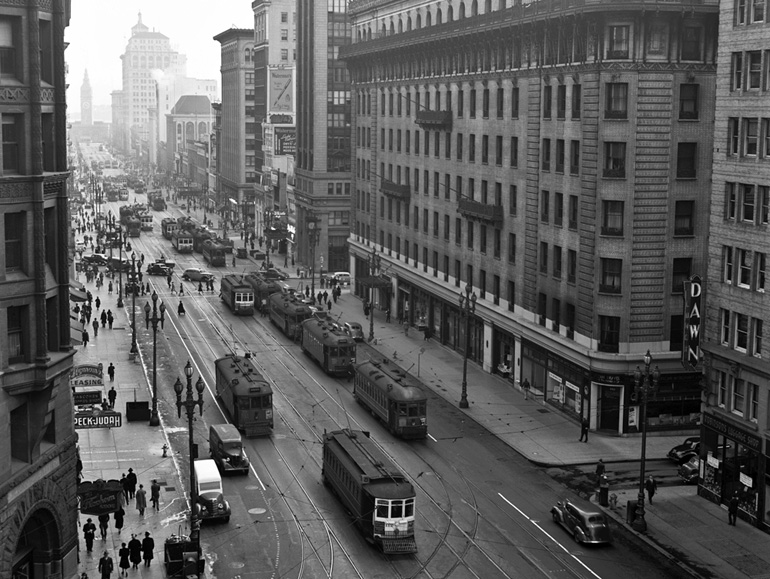 Market Street looking east from Kearny Street on March 20, 1940. 
The scene is a view down Market, east from Kearny, with the Ferry Building in the distance. Market has four—count 'em four!—sets of streetcar tracks.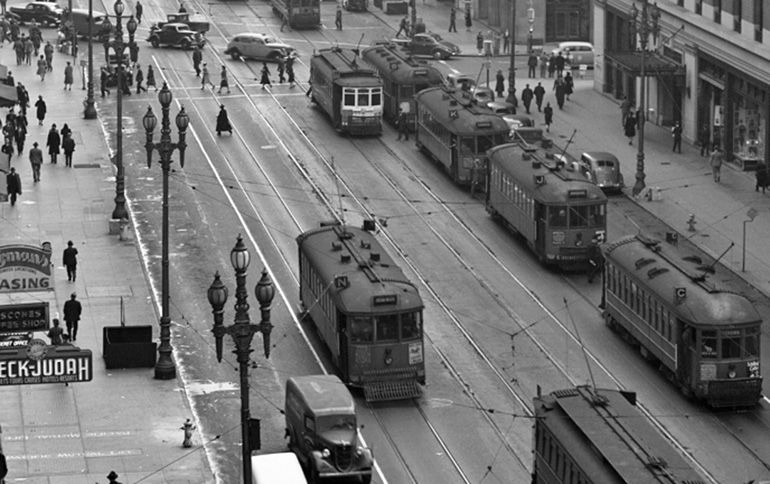 A zoomed-in view shows an N Judah streetcar headed out to the Sunset and a J Church streetcar moving inbound towards the Ferry Building.
In the 1940s, the noise produced by the "Iron Monster" streetcars running on this quadruple set of tracks was known as the "Roar of the Four." Above, a zoomed-in view reveals the streetcars on the outer set of tracks bear familiar letters of the N Judah, the J Church, and the K Ingleside Muni lines that run beneath Market today.
At the time of this photograph, these two pairs of tracks were occupied by two rival agencies: the publicly-operated Municipal Railway (Muni) and the for-profit Market Street Railway (not to be confused with today's non-profit organization of the same name).
In May of 1944, four years after this photo was taken, San Franciscans voted to unify the two systems. Removal of the outer set of streetcar tracks began in December, leaving the inner set of streetcar tracks that remain on Market today.
If today's #TBT feature has whet your appetite for historic images, check out more glimpses of San Francisco history from the SFMTA Photo Archive on Twitter, Flickr and Instagram.