Doing the Worm: A Brief History of Muni's Graphic Art
Thursday, October 1, 2015
It's Art Week on Moving SF! We've transformed 50 Muni buses into galleries on wheels, showcasing the work of local artists throughout the city. We're celebrating by dedicating blog posts this week to art and artists (with a transportation twist).
To celebrate Muni Art Week, we'll take a stroll back in time for a quick look at a sampling of the various Muni logos that have adorned Muni's vehicles and signs throughout the years. Taking snippets from historic and modern photos in the Photo Archive, you'll get a good look at the graphic history of Muni.
A Fledgling Railway's First Marks

Detail of Gold Paint Work on Streetcar 1 | September 26, 2015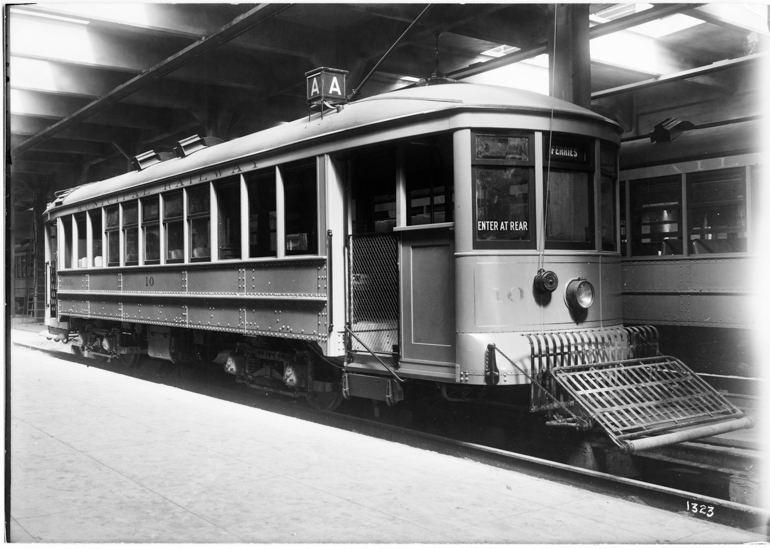 A-Type Streetcar 10 at Geary Carhouse | January 24, 1913 | W1323
The earliest Muni markings we've come across are of the typographic variety and consist of the words "MUNICIPAL RAILWAY" painted in gold above the windows on Muni's first streetcars. Seen above on Car 10 in January 1913 (less than one month after Muni's opening) and in detail on restored Car 1 just last month.
Muni Gets its First Logo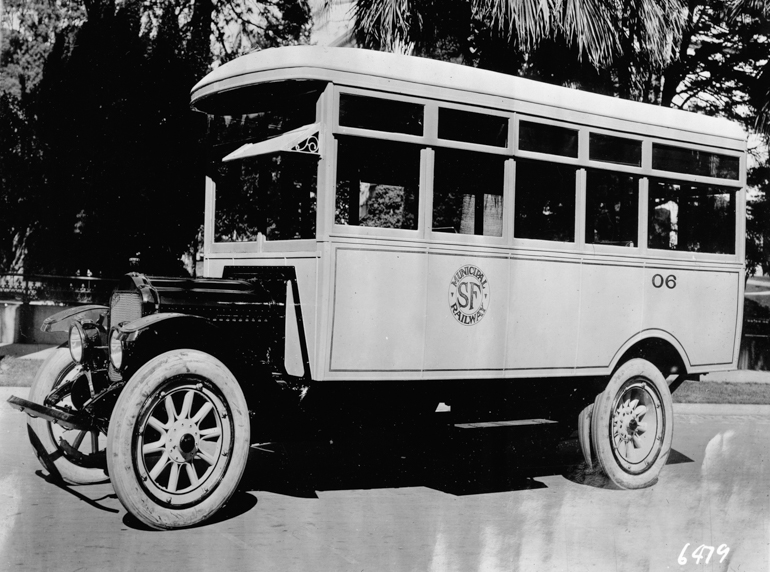 Builder's Shot of Motor Coach 06 | Circa August 19, 1919 | W6479
Muni's first logo-like marking was the "O'Shaughnessy" badge, seen here for the first time in our collection in 1919 on Motor Coach 06. Named for City Engineer Michael Maurice O'Shaughnessy, who gave us the Municipal Railway, among many other incredible public works projects, this circular logo featured the initials "S.F." surrounded by "Municipal Railway". A close look at the 2014 detail shot below reveals slight variations in the "SF" as compared to the 1919 rendition. This logo was the longest running design, in use for at least 49 years from 1919-1968 in various colors matching Muni's different paint schemes.

Detail of O'Shaughnessy Muni Logo on Trolley Coach 776 | November 2, 2014
Times Are A-Changin'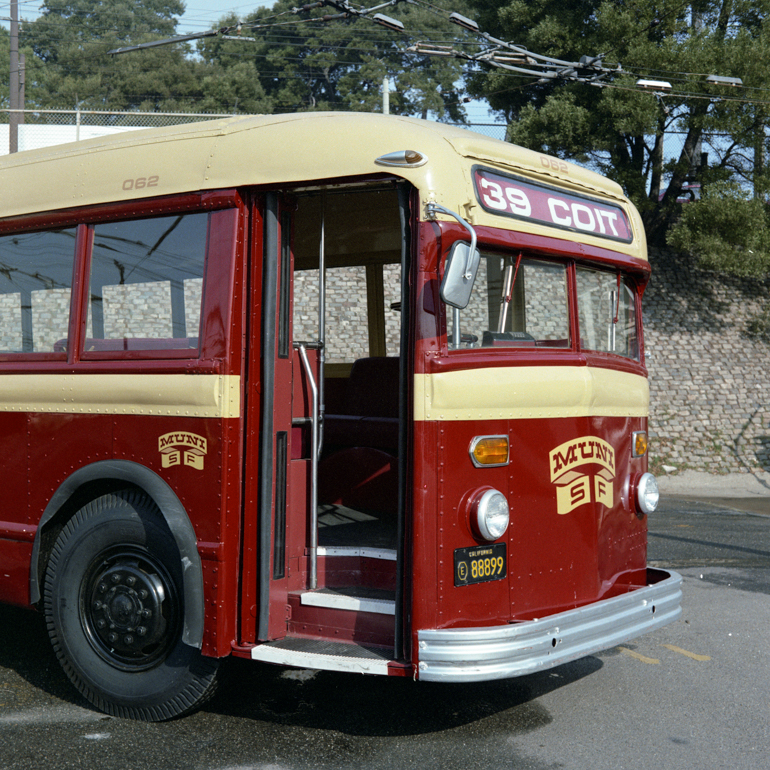 New Maroon Paint Job and Logo on Motor Coach 062 | January 18, 1968 | M278_10
1968 marked a new era of bold colors and design for Muni, with the launch of not only a new paint scheme (or livery) but a whole new logo, the "Ribbon" logo. Seen above in its first appearance on Coach 062 from the Coit Tower line, freshly painted at Potrero Division. And in detail below on restored GMC Coach 3287, which was out this past weekend for our Muni Heritage celebration.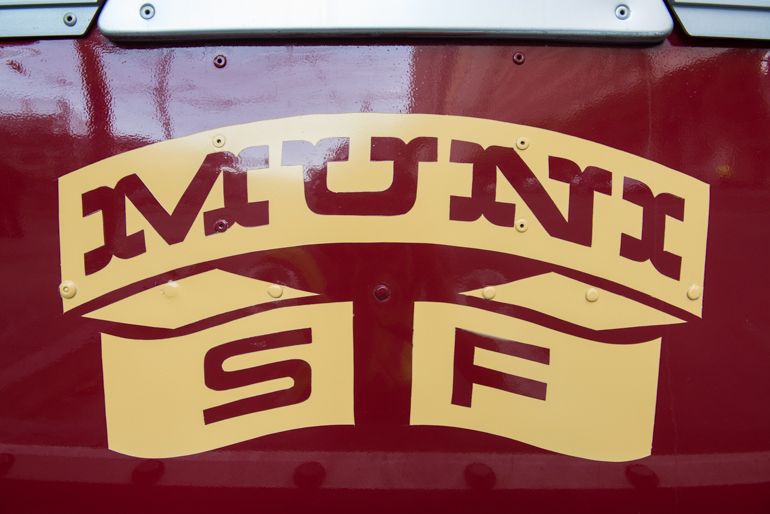 Detail of Muni "Ribbon" Logo on GMC Motor Coach 3287 | September 26, 2015
The Famous "Worm" is Born

New Muni Logo and Paint Scheme on Flyer Trolley Coach 5001 | January 27, 1975 | M1964_10
The 1970s brought about some major changes in our transit system and among them was a whole new redesign of Muni's look. In 1975, the most famous Muni logo of all, the "Worm", designed by Walter Landor, debuted with a very 70s looking "Sunset" livery, as seen here on freshly painted Flyer trolley coach 5001. A detail shot from the '75 debut can be seen below for those who want to study the smooth, flowing lines. On a side note, Landor also worked on some other perhaps even more famous designs like the Levi's, Federal Express, World Wildlife Fund logos and a 1980s Coca-Cola redesign. Pretty impressive work!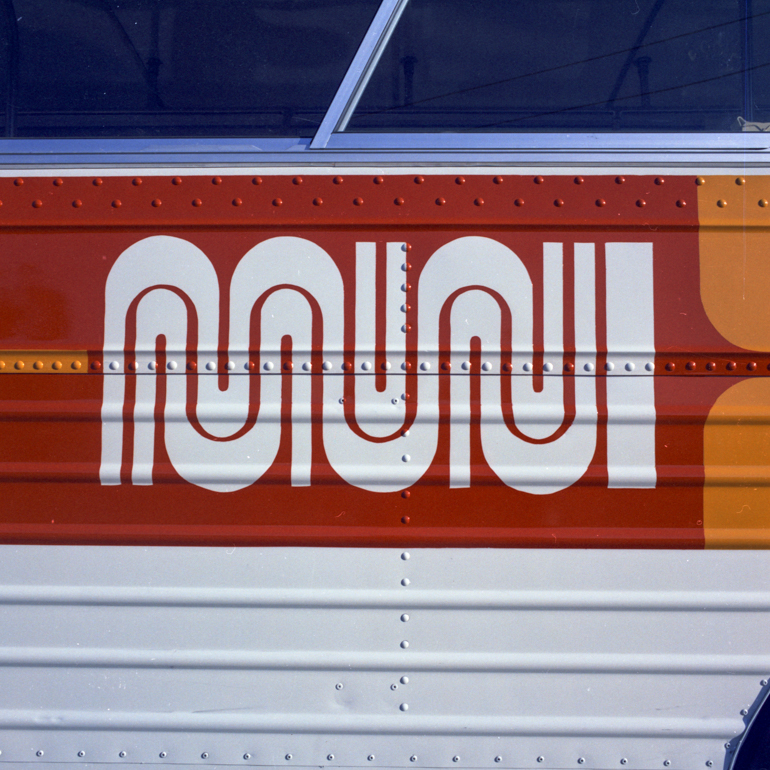 Detail of New Muni Logo and Paint Scheme on Trolley Coach | January 27, 1975 | M1964_9
Fast Forward to Present
Following the creation of the SF Municipal Transportation Agency (SFMTA) in 1999, there was some debate over whether or not to scrap the "Worm" and badge Muni vehicles with the MTA logo instead. Ultimately, the Worm won and today, 40 years after it first appeared on a Muni trolley coach, the Muni Worm can be seen on several sides of our newest trolley coaches. This shot was taken of the very newest articulated trolley coach #7204 being dropped off on Monday next to coach 7201 at Islais Creek Yard.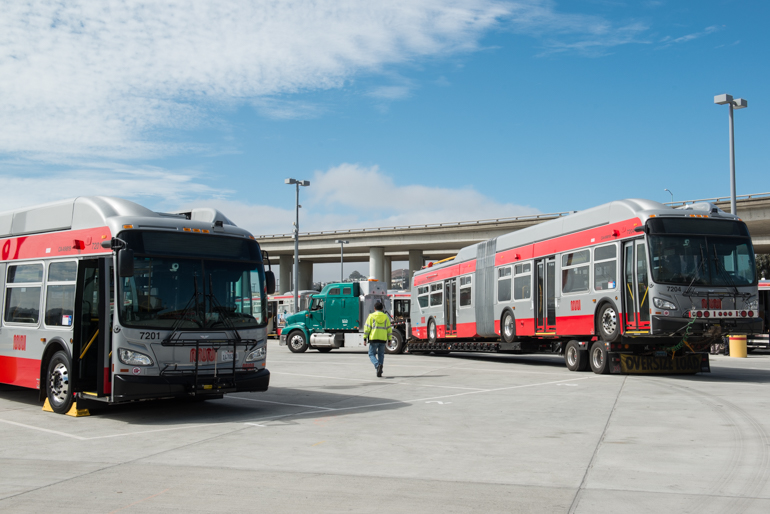 Trolley Coach 7204 Being Delivered at Islais Creek Yard | September 28, 2015
While this history is by no means comprehensive, nor have we even scratched the surface on the various liveries worn by Muni vehicles, it gives a little slice of the graphic artwork that has graced Muni's vehicles, signage, official documents and uniforms over the years.
Be sure to check out more historic transit photos on our SFMTA Photo Archive website and watch for more cool photos on Flickr, Twitter, HistoryPin, and Instagram!