Twice a month we'll share some of our favorite vistas and destinations in the city and the Muni routes and lines that will take you there.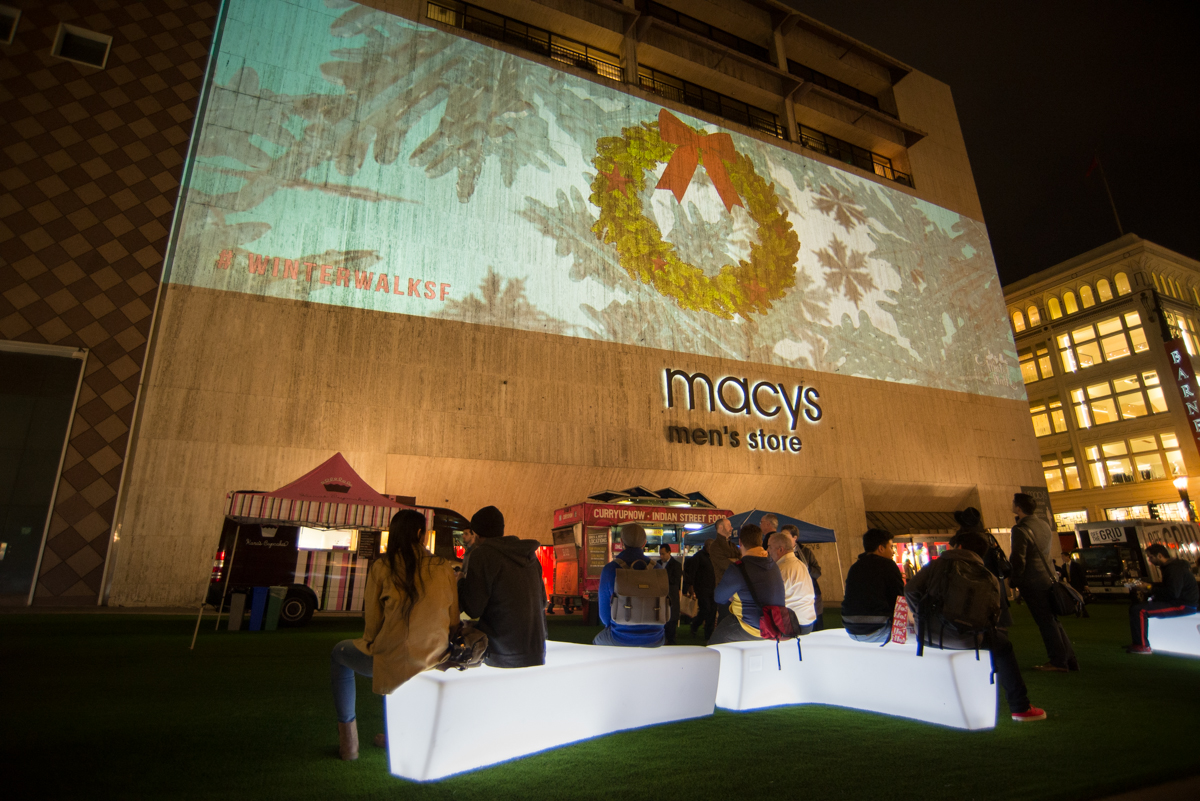 Winter Walk, Dec. 3, 2014
Opening night Winter Walk attendees sit on illuminated benches to watch the Holiday Light Art Show projected on the facade of the Macy's Men's Store building.
 

Mayor Lee welcomes the opening night crowd attending Winter Walk 2014 
For one month (Nov. 8 - Dec. 31), two blocks of the construction consumed Stockton Street beetween Geary and Ellis, where the Central Subway project is building the Union Square Station, will transform into a festive winter wonderland for Winter Walk 2014. Local construction will take a holiday and a car-free street will prevail for pedestrians and people on bicycles on Stockton Street between Geary and Ellis. Revelers will enjoy a festive holiday atmosphere, music and other nightly entertainment.
Did You Know?
From Nov. 8 through Dec. 31 Winter Walk visitors will be treated to a nightly light art show projected on the Macy's Men's Building featuring Jack Frost's adventures as he spreads festive icicles throughout San Francisco.
Every Monday, Wednesday, Friday and Sunday, Winter Walk will feature a diverse selection of some of the city's top food trucks from Off the Grid, available afternoons from 11 a.m. to 2 p.m., and nightly from 5-8 p.m.

Every Thursday and Saturday afternoon, Winter Walk attendees will be treated to live caroling and festive holiday music.

Streets covered in artificial grass will provide unprecedented open space for people to sit, dine and browse through gifts on display from participating local merchants.

Macy's display windows, a celebrated holiday tradition, will once again feature SPCA puppies and kittens  will occasionally be pranced out to make appearances on the Winter Walk 

Macy's will offer a special Concierge Desk each weekend on the Winter Walk (Fridays, Saturdays and Sundays, 11 a.m. - 8 p.m.) where visitors can pick up a holiday brochure, a Union Square Map and Guide, and have general questions answered about San Francisco and Union Square.

If you're driving, make it a merrier holiday season for all by carpooling. The nearby Sutter-Stockton and 5th and Mission garages will offer carpooling discounts every Saturday this month.
How to Get There:
Muni Metro Lines: Take Muni Metro (J, K, L, M, N and T) to the Powell Street Station
Muni Bus Routes: 38 Geary (and Market Street routes)
Cable Car: Take the Powell/Hyde or Powell/Mason Cable Cars