Early Bird Shuttle Service for East Bay Commuters
Tuesday, January 29, 2019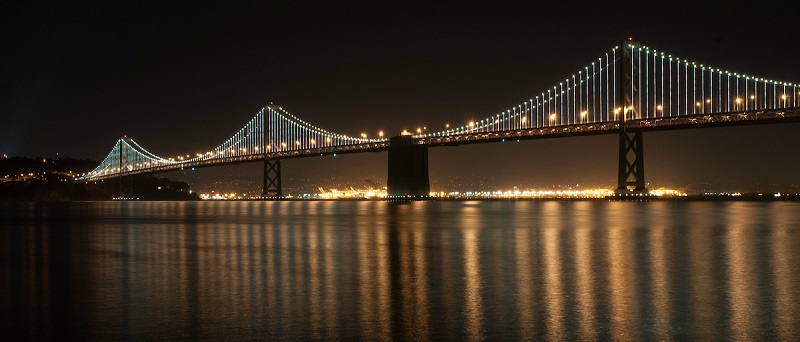 Heads up! If you commute into the city from the East Bay weekdays during the early morning hours, your sunrise commute may need to begin on a Muni bus now.
Beginning Monday, Feb. 11, Muni will be offering early morning bus service between the Daly City BART Station and the Temporary Transbay Terminal as BART shifts its start of service on weekdays from 4 to 5 a.m. to allow extra time for a critical seismic retrofit of the Transbay Tube.
To help offset the closure, BART partnered with local public transportation agencies, including SFMTA, to provide bus service between BART stations from 3:45 to 6 a.m.
Muni will be running our part of the new service known as the 714 BART Early Bird Shuttle every 15 minutes between the Daly City BART Station and the Temporary Transbay Terminal starting at 4:05 a.m. weekdays from Daly City BART, and at 4:45 a.m. from the Temporary Transbay Terminal. 
This service change will last for the duration of BART's construction project, projected to be 3.5 years. Opening BART an hour later is expected to speed up the project by at least 25 percent and provide a minimum 12 percent cost savings.
About 2,900 riders enter the BART system in that first hour of service with the majority beginning trips in the East Bay, 64 percent disembarking at downtown San Francisco stations. Muni Metro stations will maintain regular hours and service during this BART service change.
Making the connection
Customers going to BART stations south of Daly City can connect at the Daly City station. Customers going to East Bay BART stations may connect to shuttles at the Temporary Transbay Terminal. Muni customers who transfer to BART at the Civic Center, Powell, Montgomery and Embarcadero stations will need to go to the Temporary Transbay Terminal or 16th Street BART Station to access BART Early Bird Shuttles to their destinations.
Once the extended weekday BART schedule change takes effect, BART trains will begin service around 5 a.m. from midline stations (Concord, South Hayward and Daly City) with the first train arriving at Embarcadero Station at 5:30 a.m. More specific information about schedules can be found on the BART website.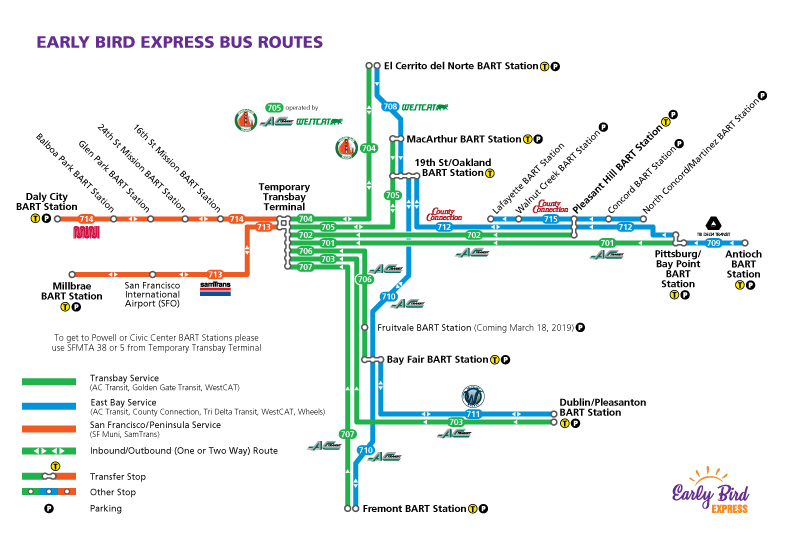 The Early Bird alternative bus service plan establishes 15 bus lines to run between 3:50 a.m. and 5:30 a.m. in both directions between stops. There will be seven Transbay routes, five East Bay routes, two San Francisco/Peninsula routes and a Contra Costa County route. The bus network will serve 21 BART stations and the Temporary Transbay Terminal in San Francisco.