Fast Passes Future and Past
Thursday, November 19, 2015
When hopping on a bus or train in the Bay Area, it's hard to refute the convenience of technology. The little Clipper cards can manage accounts for multiple systems, calculate transfer savings and auto-deposit funds before you know you need them. And just this week, the convenience of smart phone payment was also added into the mix with the debut of the MuniMobile app, which offers an easy way to buy cable car, bus, train or paratransit tickets on the go.
But many San Franciscans who rode Muni between 1974 and 2014 remember with fondness the always colorful and sometimes "cartoon-y" Muni fast pases of yore.  Art has been made with them, and connoisseurs still strive to complete the perfect collection.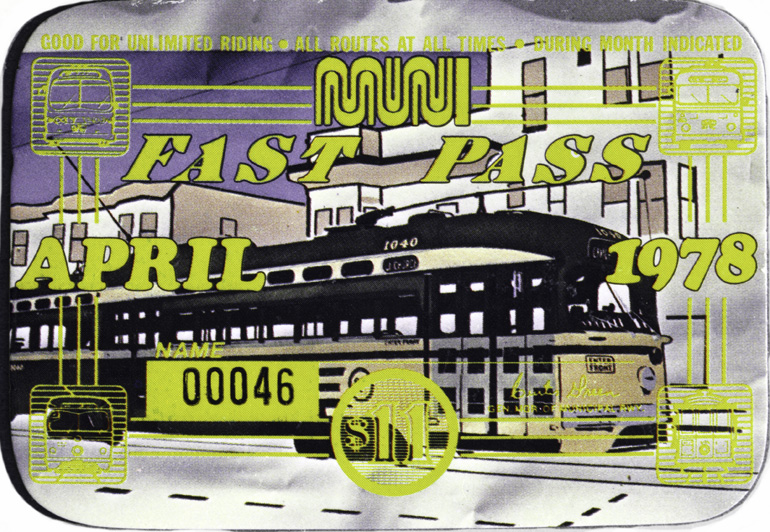 For "Throwback Thursday," we're featuring a few fun Fast Passes from the late 1970s, including a bold streetcar design (above) and a groovy style with an orange daisy "good for unlimited riding, all routes, at all times" (below).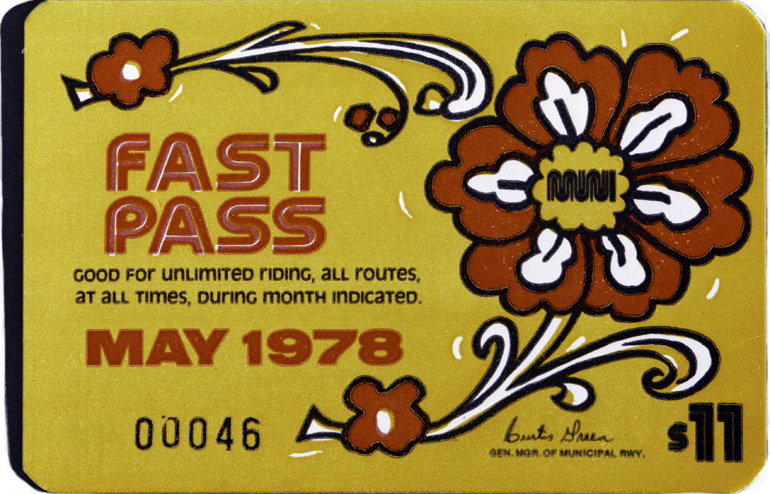 The MuniMobile smart phone app in many ways will continue the Fast Pass tradition of visual validation. Fast Passes were flashed at the driver or fare inspector for verification. MuniMobile tickets are animated displays on the screen of your smart phone and get shown to the driver or fare inspector rather than being tapped on a card-reader like Clipper.
Of course, using an app offers additional benefits: Pay in advance, avoid ticket machine queues and even buy multiple tickets with one device. Here at the SFMTA Photo Archive, we love that the animated Muni vehicles featured on MuniMobile's digital ticket bring back fond memories of the Fast Pass era and its colorful cartoons. Download the MuniMobile app at the Apple Store or Google Play under "MuniMobile." And, as always, there are more SFMTA photos to explore on Flickr, Twitter, Google+, and Instagram.