Fiona Hinze Fills Final Seat on SFMTA Board of Directors
Tuesday, January 26, 2021
Fiona Hinze, transit accessibility advocate and resident of the Outer Richmond, has joined the SFMTA Board of Directors as the seventh member on the board, filling the final vacancy. Nominated by Mayor Breed in late October, Hinze brings a lifetime of experience advocating for transit access for people with disabilities such as herself. Hinze lives with cerebral palsy and uses an electric wheelchair for mobility.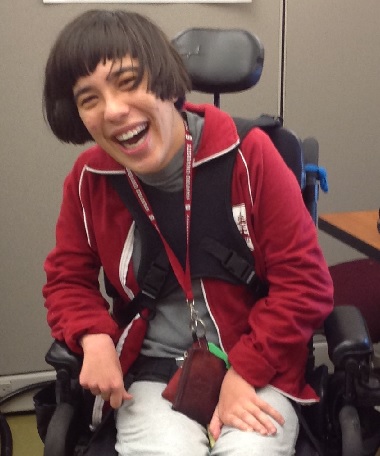 "It is important we have a member on the SFMTA Board who understands the needs of our disability community and the challenges people face getting around our City, whether that's riding Muni or navigating our streets and sidewalks," said Mayor Breed in a press release. "Fiona is a respected and trusted community member and knows how to listen to the needs of people living with disabilities and advocate for change. She will bring an important perspective to the SFMTA Board and I'm confident she'll prioritize equity and work to create a more accessible transit system for the people of San Francisco."
Hinze has been working as director of systems change for the Independent Living Resource Center San Francisco, a disability rights advocacy and support organization, since 2014. There she tracks key state and local advocacy issues and by attending community committee and task force meetings. She works to ensure consumers are aware of advocacy opportunities in the community, such as calls to action on various issues.
She's also co-chair of the Dignity Fund Coalition and has served on several boards and task forces including the Paratransit Coordinating Council, the Senior Disability Working Group of the Vision Zero Coalition, the Sunshine Ordinance Task Force and the Disability Organizing Network.
She just completed two terms on the California State Independent Living Council, to which she was appointed in 2014 by former governor Jerry Brown.
Hinze graduated from Stanford University in 2013 with a Bachelor of Arts degree with distinction in Psychology; Health and Development; also working as a research and teaching assistant. During that same time period, she worked as a legislative intern for Assemblywoman Fiona Ma.
With her approval from the San Francisco Board of Supervisors and being sworn in by Mayor Breed Jan. 14, Hinze's appointment fills the final vacancy on the SFMTA Board of Directors.
SFMTA Board of Directors
Twice monthly the agency's board of directors meet at City Hall to discuss and provide policy oversight for safe and efficient transportation in San Francisco in accordance with the city charter and the Transit First Policy.
This seven-member board, appointed by the Mayor and confirmed by the San Francisco Board of Supervisors, typically meets on the first and third Tuesday of each month at 1 p.m., unless otherwise noted. Meetings are open to everyone and are streamed live through SFGovTV. Additional information such as agendas, resolutions and legislation passed by the Board can be accessed through our public-facing website.