The 'Granite Lady' Comes to Life for 'SF History Days'
Despite the rain last weekend, San Francisco's Old Mint Building—the stately "Granite Lady"—had her day in the sun hosting the 2016 San Francisco History Days festival. Between March 5th and 6th, over 6,000 attendees came to see exhibits and tour the gold vaults of the Old Mint.
We at the SFMTA Photo Archive hosted an exhibit featuring Municipal Railway history and other historic photos.
Left: Visitors look over the SFMTA Photo Archive display. Right: The Old Mint — also known as the "Granite Lady" — opens her doors for San Francisco's biggest history event of the year.
For today's edition of Throwback Thursday (#TBT), we feature one particular image that event-goers had lots of questions about.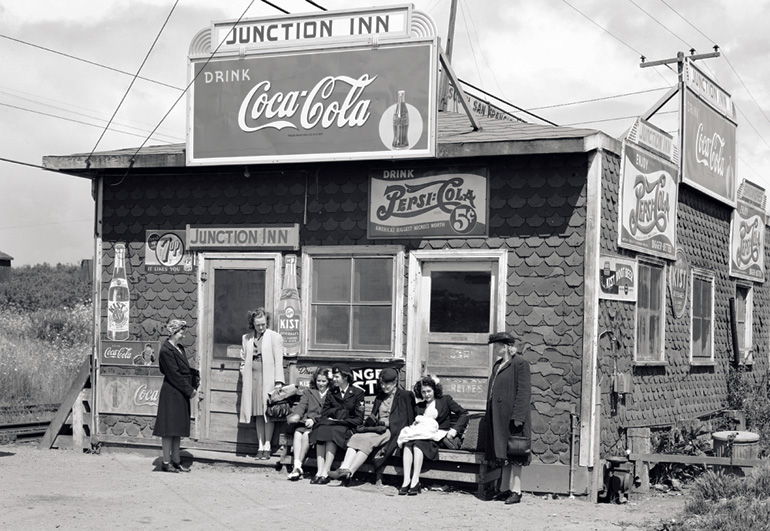 A group of women waits at the Junction Inn in South San Francisco in 1945. The SFMTA Photo Archive displayed this photo at the 2016 SF History Days festival.
"Where was it taken?," folks asked. "Why are these women waiting? Does this building still stand?"
This photo was taken in May 1945 at a stop on a streetcar line that ran from the SF Ferry Building all the way to San Mateo. This stop, and its little refreshment stand the "Junction Inn," was known as "Leipsic Junction." Today, no evidence of Leipsic Junction remains at the location in South San Francisco, near Mission Road and Grand Avenue.
The streetcar line ended operation in January 1949, a few years after this image was taken. But transit history enthusiasts can ride a similar route by taking BART from Embarcadero to Millbrae, then transferring to Caltrain to San Mateo.
We had lots of fun at this year's "History Days" event and would like to thank everyone who came together to make it happen. It was a special pleasure to have the SFMTA Photo Archive display right next to the preservation advocates at Market Street Railway and the Cable Car Museum. We loved hearing both new and seasoned historians share their stories and knowledge.
If you came to the event, thanks for stopping by. If you missed it, stay tuned for next year's event. In the meantime, you can always explore our historical photos on Twitter, Instagram and Flickr.