Halloween Weekend: Treasure Island Halloween and a Fiesta in Bernal Heights
Thursday, October 25, 2018
Events: Halloween weekend is upon us and there will be several fun, spooky events around the city from which to choose. Head down the Stern Grove as it is transformed into Scaregrove this Friday or check out the festivities in the Castro during its Glow in the Streets Halloween block party on Saturday. Throughout the weekend Treasure Island will host its own Halloween-themed TreasureFest full of fun, food and frights. On the less scary side of things, this year's Hussain Day Procession will take place in the Civic Center this Saturday and the Fiesta on the Hill in Bernal Heights will kick off this Sunday. Read more about our featured events below.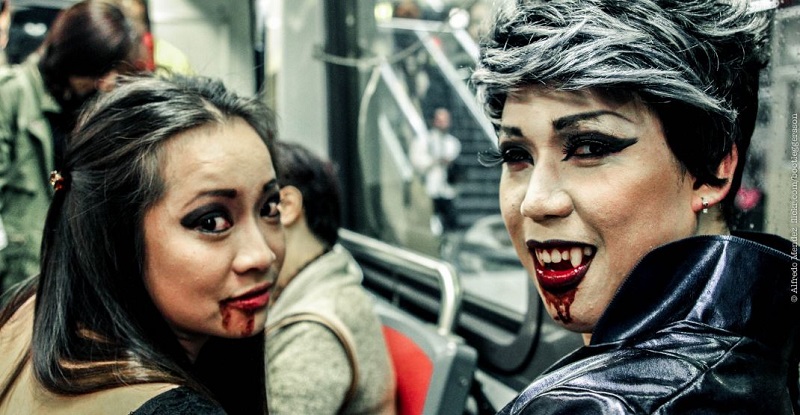 Even vampires take Muni on Halloween. Photo by Flickr member Alfredo Menendez. Used under CC BY 2.0
TreasureFest Halloween
Saturday and Sunday, 10 a.m. to 4 p.m.
Treasure Island
Treasure Island will host its monthly TreasureFest with a Halloween-themed twist this weekend. Along with the more standard fare of food, drinks, live music and numerous local vendors, this month's event will be giving away free mini-pumpkins to the first 1,000 visitors each day, a costume contest on both days for adults, children and pets and trick-or-treating at all vendor booths (vendors will have candy and other treats to give away!). 
---
How to Get There on Muni: Riders may take the 25 Treasure Island Route to and from the event.
Muni Service Notes: There are no planned service changes for this event, though the 25 may see an increase in ridership or minor delays.
Fiesta on the Hill
Sunday, 10 a.m. - 4 p.m.
Bernal Heights
The annual Fiesta on the Hill celebrates the diversity that comprises Bernal Heights and its surrounding neighborhoods. Spanning over seven blocks with arts, crafts, local goods/services and food vendors, this event is a family-friendly, alcohol-free festival featuring activities and entertainment for all ages. Additional highlights include live music, dancing, a children's area with rides, games and more.
How to Get There on Muni: Riders may take the 24 Divisadero and 67 Bernal Heights routes to near the event.
Muni Service Notes: The 24 will have a reroute around the area of the event.
Remember that you can Muni the entire day for a single $5 fare. The new $5 Day Pass, available on MuniMobile®, is part of Muni's recent fare changes. The pass is intended to encourage a safe, convenient way to pay your fare and quickly board Muni vehicles, which reduces overall travel time for everyone. The $5 Day Pass is Muni bus, rail and historic streetcars only. 
"On Tap" gives you a heads up about the big events in town and what Muni routes and lines will get you to the party. Look for this feature to be posted usually on Thursdays for a look ahead to the weekend. Check out our Weekend Traffic & Transit Advisory for more details.